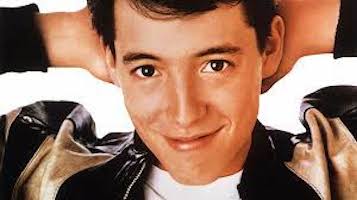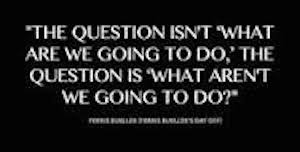 Who doesn't love Ferris?  Young or old, Ferris embodies the concept of stepping aside from everyday life, even for a day, and taking it all in.  And why not?  Sometimes life gets pretty boring, mundane, and downright scary.
Or as Ferris would say: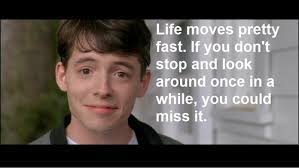 Ferris Fest was created by a movie trailer editor and major movie fan, David Blanchard, along with his wife. They both enjoyed visiting famous movie locations, so while visiting friends in Chicago, they decided to visit the sites of John Hughes movies.  Thanks to all the social media today, he discovered there is a world out there of other fans who enjoy doing the same thing.  When Blanchard and his wife attended a 30th anniversary of Back to the Future, he thought why not throw the same party for Ferris?
The 3-day Ferris Fest runs May 20-22, but I hate to break the bad news that it is already sold out.  While you are collectively groaning, I will tell you what you are missing.  There will be a "1986 Shermer High School Spring Dance," where ticket holders are encouraged to dress in '80's prom wear or come as their favorite Ferris Bueller character to mingle with actors from the film.  The "Twist and Shout" parade is going to be recreated, including a replica of the float designed by the company that made the one for the film.  There will be a "Ferris Bueller's Day Off" screening at the community center where writer and director of the film John Hughes lived in suburban Lake Forest, along with a viewing of Ferris memorabilia.  Bus tours will take you to "Cameron's" house where the Ferrari was displayed, the "Save Ferris" Water Tower, and a trip to the Art Institute where you can view the Seurat painting.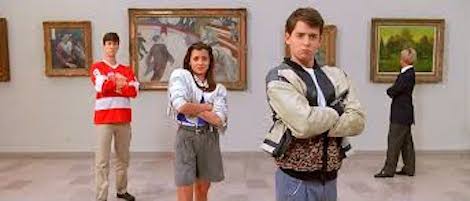 The Virgin Hotels Chicago has recreated Ferris's bedroom for viewing for $10.  You can make a dinner reservation under the name Abe Froman, Sausage King of Chicago, at Lockwood Restaurant in the Palmer House Hilton to receive special white-glove service.  A buffet breakfast for two is in the package.  Hotel Lincoln is offering a "Save Ferris" package including two tickets to the Art Institute, two tickets to the sky deck at Willis (Sears!) Tower, a copy of the movie, and a pair of tickets to a Cubs game.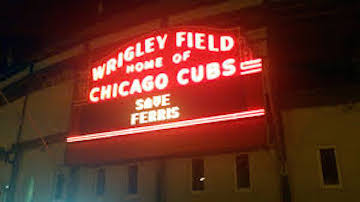 Speaking of the Cubs game, that is a favorite scene of many fans.  Ferris and Cameron enjoy the game, and most likely they devoured Chicago hot dogs.  Which means I can't resist telling you about a Chicago hot dog, which is not like any other.  It has very specific ingredients which you must follow exactly.  And don't even think of adding ketchup to a Chicago dog, unless you want to wonder why someone threw you into Lake Michigan.
Here's how to make an authentic Chicago Hot Dog that Ferris and Cameron might have had.  First you need these ingredients: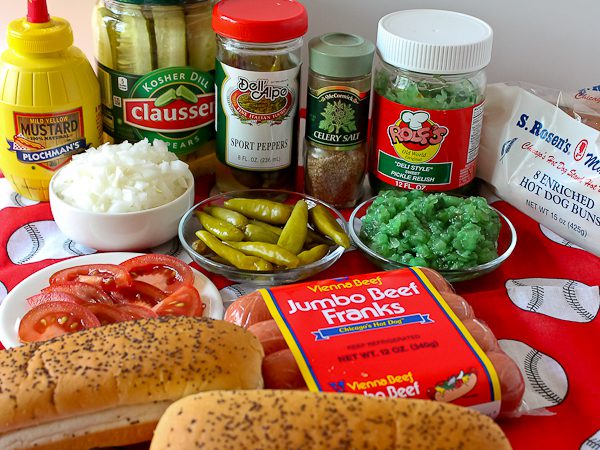 Here are the musts:  Steamed hot dog buns must be poppy seed; peppers must be sport peppers; the relish needs to be as bright green as possible, almost neon green; mustard must be yellow (preferably Plochman's), pickle spears must be kosher dill, and hot dogs must be Vienna Beef, preferably with the natural casings, but I couldn't find those so these Vienna's are good too.
And here's how you put it together: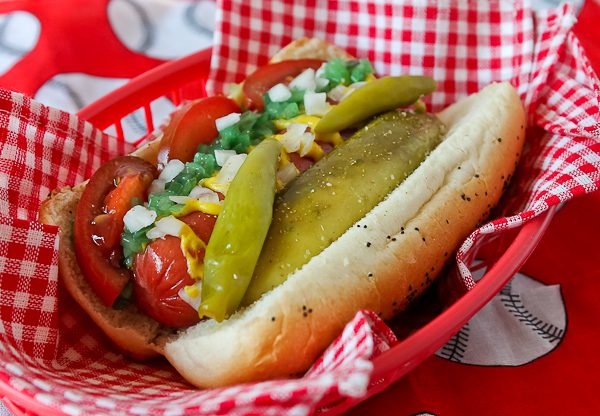 First steam the buns and heat the hot dogs.  Place dogs in the bun and squiggle on some mustard across the dog.  Spoon some relish behind the dog, then sprinkle with the chopped onion.  Slide some fresh tomato slices behind the relish.  Place a pickle spear in front of the dog and then top the pickle with two sport peppers and serve.  This is your official "Chicago Hot Dog through the Garden."  So good and so messy.  Get lots of napkins.
No worries if you can't make this year's Ferris Fest.  Blanchard and his wife have decided to start a business called "Filmed Here," where they will make these sort of events a full-time job.  There are several already in the works, even a possible one devoted to the films of John Hughes in general.  Hmmm… Breakfast Club anyone?  In the meantime, watch Ferris Bueller's Day Off at home while you eat a Chicago hot dog.  Remember, no ketchup.  Seriously.  Not even Ferris could save you.

Chicago Hot Dog, Through the Garden
Ingredients
Poppy seed hot dog buns
Vienna Beef hot dogs
Yellow mustard
Green relish
Chopped fresh onion
Sliced fresh tomatoes
Kosher dill pickle spears
Sport peppers
Dash of celery salt
Instructions
For each hot dog to serve one:
Steam a bun; heat the hot dog as desired. Place dog inside bun.
Squiggle some mustard along the hot dog.
Spoon relish along the back of the hot dog.
Sprinkle hot dog with chopped onion.
Slide tomato slices behind relish.
Place a pickle spear in the front of the dog.
Top pickle spear with two whole sport peppers.
Sprinkle lightly with celery salt and serve immediately.