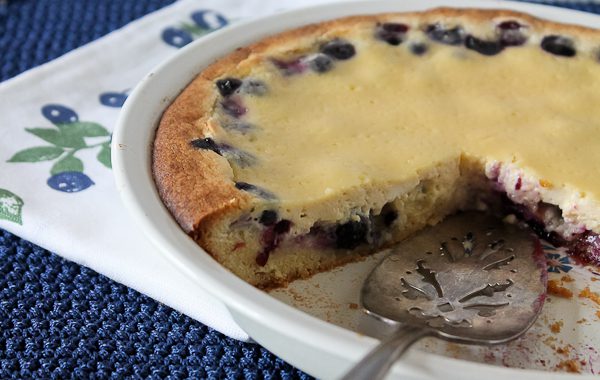 We first tasted this incredible dessert while visiting cousins in Finland last summer and collectively agreed we had never tasted anything like it before.  A thick cake-like batter is first made and spread into the pie pan, although it bakes into sort of like a cookie consistency when done.  Fresh blueberries (preferably wild) are sprinkled over the raw batter, then topped with a sour cream mixture and baked.  I think the only reason it is called a "coffee cake" is because it served with coffee.  There is nothing coffee cake about it, not as we know it anyway.  You'll just have to make it to understand how confusing it is to describe this, maybe a pie/cake/sort-of-cookie/custard hybrid.  All I can tell you is that it is wonderful.  It's good slightly warm, room temperature, or chilled.  I personally like it best when it is completely cooled and at room temperature. It doesn't need anything else; no whipped cream, no nothing.  You can also substitute other berries like raspberries, and someone who I recently gave the recipe to was going to try chopped peaches.  Peaches might be a little watery, but I am interested as to how it turns out.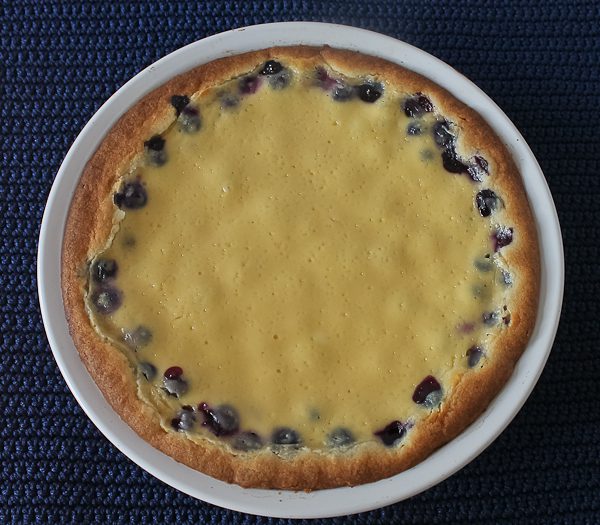 For some reason when I made it this time, only the blueberries on the edges popped up.  Usually they pop up all over the pie, and I can see them almost coming through at the top.  Not sure what happened, but it tastes the same!  So yours may pop up or may not; either way it's all good.  It's filled with blueberries.
The first time we tasted it in Finland, it was made by Paivi, one of our cousins, so to us it became "Paivi Pie."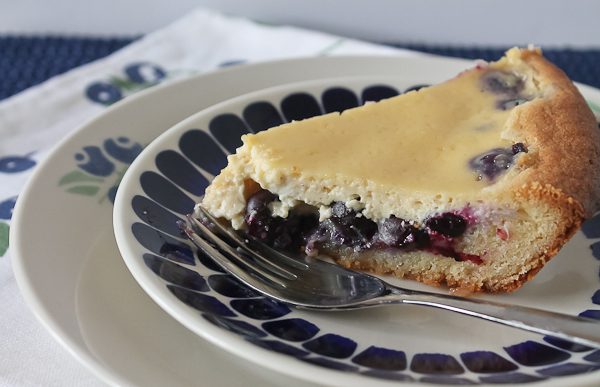 So now let me tell you how I was inspired to bake this for today's blog.  As I said, our family was in Finland last summer, and we were blown away not only by Paivi and her pie, but so many other Finnish family recipes.  Kristina and I could not stop making them when we got home, with the help of cousins Leena and Marja-Liisa who sent recipes that Kristina had to figure out how to convert.  We couldn't get enough of the family recipes.  Kristina decided they should not only all be written down, but she has decided to write a Finnish cookbook with the family recipes.  She is in Finland right at this moment with both an incredible photographer and videographer, cooking with Leena and Marja-Liisa in the kitchen.  You can follow the journey of the cookbook along the way by following their Facebook page, Homefarm Life;  On Instagram pages @homefarmlife @kristinavanni @ebkphoto @snellybean
The trio will be returning to Finland for each season to make and photograph the local and seasonal foods of the family farm and town of Seinajoki.  They are being interviewed by newspapers about their project and everyone around them is so excited to have Seinajoki and the farm in the limelight.  I'll keep you posted of their progress along the way, but be sure and follow them on their social media.
Make it yourself and tell me what you would call it!

Finnish Wild Blueberry Coffee Cake
Ingredients
Crust Batter:
½ cup butter, room temperature
⅔ cup granulated white sugar
1 egg
1 cup all-purpose flour
1 teaspoon baking powder
½ teaspoon vanilla extract * or 1 teaspoon vanilla powder
Filling:
1 cup wild blueberries (or regular blueberries, but try to pick the small ones)
Sour Cream Topping:
1 cup sour cream (full fat, not reduced fat or fat free)
¼ cup granulated white sugar
1 egg
1 teaspoon vanilla extract or 2 teaspoons vanilla powder
*Finns often bake with vanilla powder. I used Nielsen-Massey Madagascar Bourbon Pure Vanilla Powder
Instructions
Heat oven to 375 degrees. Lightly grease or coat with cooking spray, a 9-inch pie plate; set aside.
For Crust Batter: In bowl of electric mixer, cream together butter and sugar. Add egg and mix well.
Add flour, baking powder, and vanilla. Mix to combine.
Spoon batter into the prepared pie plate and spread evenly to the edges.
For filling: Sprinkle blueberries over the batter in the pie plate, all the way to the edges.
For Sour Cream Topping: In a mixing bowl, whisk together sour cream, sugar, egg, and vanilla. Carefully pour evenly over blueberries.
Bake for 27 to 32 minutes, or until the edges are browned and the middle is just set. Cool on wire rack. Cut into wedges to serve. Serves 6-8.