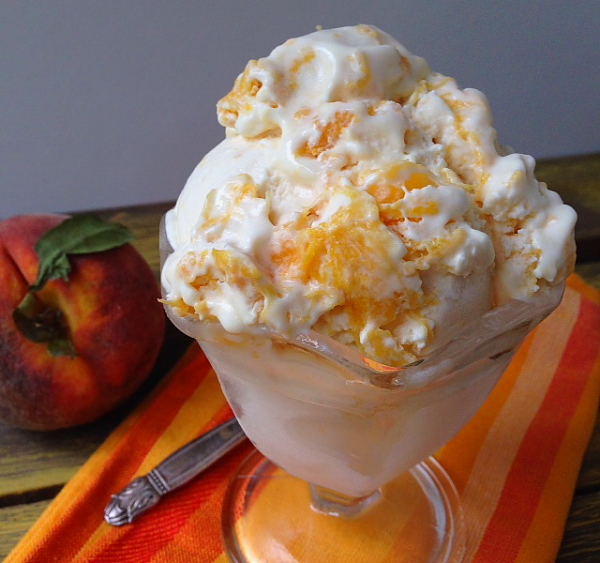 Did you know that the peach has been cultivated since at least 1000 B.C.?  In China, the peach tree is considered to be the tree of life, and peaches are symbols of immortality and unity.  Peaches traveled west via the silk roads to Persia, where they were discovered by Alexander the Great, who introduced them to the Greeks.  Romans eventually grew and sold them and once cultivated, they transported them to other countries of their European empire.  Columbus brought peaches to America on his second and third voyages, and the English took them to the Jamestown and Massachusetts colonies.  Whew!  What a trip!
Peaches are a good source of vitamins A, B, and C, and contain just 37 calories.   Peach juice is found in many cosmetics because of its moisturizing effect.  But beware of the pit, which contains a poisonous substance, hydrocyanic acid.  In addition to this delicious ice cream, peaches are also famous in the Bellini, a drink that originated in the 1930's at Harry's Bar in Venice.  Another is Peach Melba is a dessert of poached peaches, vanilla ice cream, and raspberry puree, named after Nellie Melba, the famous Australian opera singer.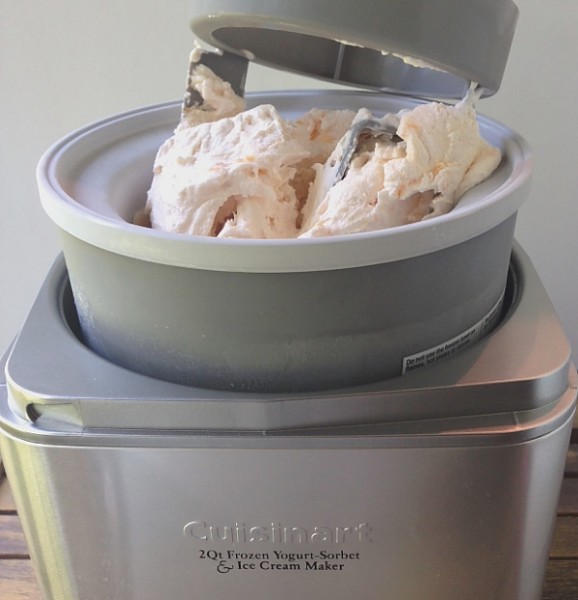 But today it is all about the peach ice cream.  I love my Cuisinart ice cream maker.  All you do is pour in your desired ingredients, turn it on, and it does all the work.  It's ready to serve in about 30 minutes or less, which means if you start the machine right before dinner, dessert will be ready by the time you are finished.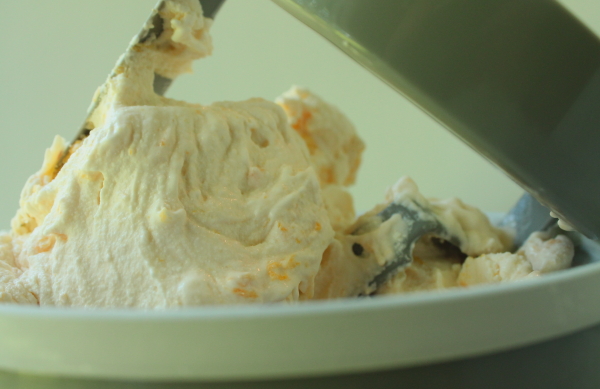 Yes, it is as good as it looks.  The Cuisinart makes 2 quarts, but the recipe I used made about double that.  I used half and put the rest of the mixture in the refrigerator.  I made the other half about a day or so later and it was perfect.  Any leftover churned ice cream can be stored in airtight containers and frozen.  The machine comes with a booklet of great recipes for exactly 2-quarts, but don't be afraid to make bigger batches of your favorite ice cream flavor and chill the extra mixed ingredients to churn in a day or two.  One can't have too much homemade ice cream, right?
Homemade Peach Ice Cream
1 Tablespoon unflavored gelatin (1 envelope)
1-1/4 cups granulated sugar, divided
2 cups buttermilk
1 egg, beaten
1/4 teaspoon salt
4 cups heavy cream
1 Tablespoon vanilla extract
3 cups coarsely mashed peeled fresh peaches
In a saucepan, combine gelatin, 1 cup of the sugar, and buttermilk.  Place over low heat and stir occasionally to just dissolve gelatin.  Gradually add the hot mixture to the egg, stirring constantly.  Stir in salt, cream, and vanilla.  Combine mashed peaches and remaining 1/4 cup sugar; add to mixture.  Pour into ice cream maker and churn.  Makes almost 4 quarts, so check to see how much your particular maker holds.