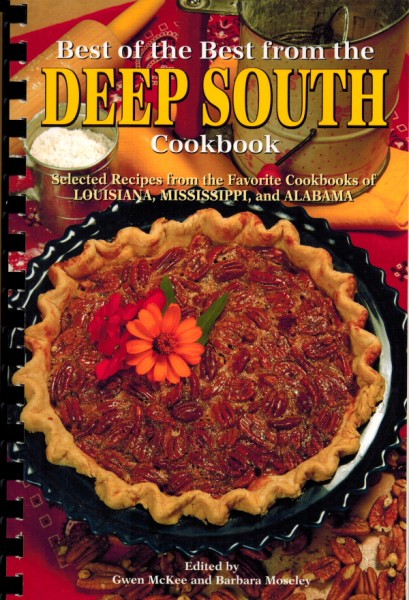 This Northern girl loves Southern cooking.  Recently while in Mississippi for a 4th of July celebration with my daughter's new in-laws, I picked up this cookbook at the Jackson airport as we were headed home.  I have seen many cookbooks in the "Best-of-the-Best" state cookbooks series, but had not seen this one dedicated to the best cooking of Louisiana, Mississippi, and Alabama.  I read it cover-to-cover all the way home and made notes what I wanted to make for dinner in the next week.  First up was this shrimp dish.
The recipe is called "Bob's Barbecued Shrimp" although I'm not sure why because it's not barbecued.  Doesn't matter; it's so good and is something we will be making again and again for parties.  All you do is place the raw shrimp in a large baking dish, heat up a buttery mixture in a saucepan, pour it over the shrimp, and bake for about 20 minutes.  Trust me when I say to serve with tons of hot crusty garlic bread.  Plain bread will not do with this recipe.  We tried it and it didn't even taste the same.  It's one of those fun party dishes where everyone dives in and it's gone in minutes.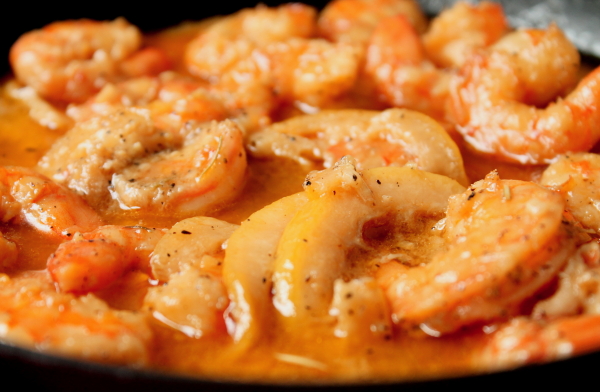 The buttery sauce is made with melted butter, margarine, rosemary, Worcestershire sauce, lots of black pepper, salt, garlic, hot sauce, sliced lemons, and a touch of soy sauce.  Here is a question I have for my Southern readers:  several recipes in the book call for both butter and margarine in the same dish.  Is there some reason for that?  I haven't figured it out yet.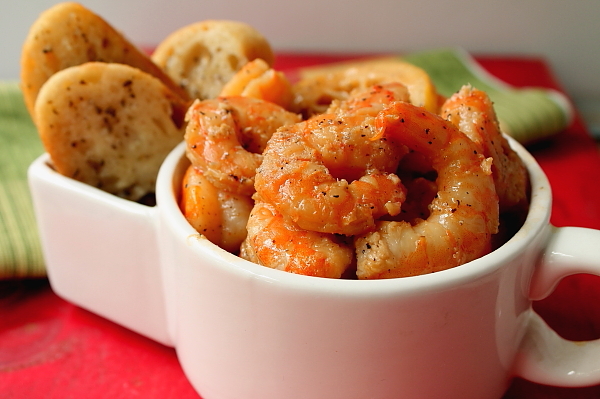 You can offer individual servings, but believe me, it's not as fun!  Half the enjoyment is watching everyone get butter dripping down their chins coupled with the laughter!
I love this cookbook.  I have already made four other dishes which you will see later!
Bob's Barbecued Shrimp
5 pounds large raw shrimp, peeled, deveined, and tails removed*
1/2 pound butter
1/2 pound margarine
1/2 teaspoon rosemary (next time I would add a little more)
3 ounces Worcestershire sauce
2-1/2 Tablespoons black pepper**
2 Tablespoons salt
2 lemons, sliced thin and seeded
2 cloves garlic, minced
1/2 Tablespoon Tabasco ( I might add a touch more next time, but I like spicy!)
1 ounce soy sauce
Heat oven to 400 degrees F.  Wash shrimp and place in a baking dish large enough to hold them.  Combine remaining ingredients in a saucepan and bring to a boil.  Pour over shrimp and bake for 20 minutes.  Serve hot with tons of garlic bread.
*The recipe does not say to remove the tails; I prefer them off so I can place a piece of shrimp on the soaked garlic bread.  It also does not say to peel the shrimp, but I decided to do that, too.  I know some people like to peel it themselves, so whatever you prefer.
**I love the sauce peppery as the recipe is written, but if you prefer less pepper, you could decrease to 2 Tablespoons or even 1-1/2.  Use regular black pepper, not freshly ground.
Here is my favorite recipe for garlic bread.  I have been making it for over 20 years.
Debbie's Garlic Bread
1 loaf French bread
1/2 cup butter, room temperature
3 Tablespoons freshly grated Parmesan cheese
1 teaspoon dried marjoram leaves
1 large clove garlic, minced or pressed (or more if you like it very garlicky)
1/4 teaspoon black pepper
Heat oven to 350 degrees.  Slice bread into individual slices, but keep it in one long piece; set aside.  Combine remaining ingredients in a mixing bowl until blended.  Spread slices of bread with garlic butter.  Wrap tightly in foil and place on a baking sheet.  Bake for 15 minutes until bread is very hot.  (remember, you will need at least 2 of these loaves for serving the shrimp!)