My cookie monster husband requested a peanut butter cookie this week, but I didn't feel like making the same old criss-cross type.  I remembered this cookie from long ago and wanted to see if they were as good as I remembered.  They are.  The delicate butter cookie holds a peanut butter-brown sugar filling that has to be chilled before placing in the center.  Resist the temptation to take a bite of the warm cookie; they are better after they cool.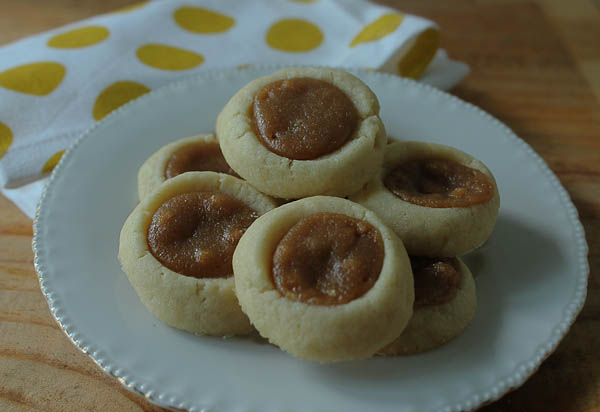 Peanut Butter Polka Dot Cookies
Rich butter cookie with a peanut butter center.
Ingredients
Cookie:
1 cup unsalted butter, room temperature
¾ cup granulated white sugar
1 egg
1 teaspoon vanilla extract
2-1/2 cups all-purpose flour
½ teaspoon baking powder
½ teaspoon salt
Filling:
¾ cup packed light brown sugar
¼ cup chunk-style peanut butter
2-1/4 teaspoons light corn syrup
2-1/4 teaspoons hot water
Instructions
For cookies: In large bowl of electric mixer, cream together butter and granulated sugar until well blended. Beat in egg and vanilla. Stir together the flour, baking powder, and salt; stir into butter mixture on medium speed until well blended. Form dough into a ball, wrap in wax paper or plastic wrap and refrigerate for 2 hours.
For filling: In a small mixing bowl stir together all filling ingredients until well mixed into a paste consistency. Cover and refrigerate at least 2 hours.
To make cookies: Heat oven to 400 degrees. Line a large cookie sheet with parchment paper. Using your hands, form dough into 1-inch balls (no larger) and place 2-inches apart on prepared cookie sheet. With your finger, make a depression in the center of each ball. (note- if you have long fingernails, you can use the handle end of a rounded wooden spoon). Bake cookies for 6 minutes. Remove from oven and place about ½ teaspoon of the chilled peanut butter filling in each depression. Continue baking until topping just starts to bubble, about 4-5 minutes. Watch carefully the last minute that it doesn't bubble over onto cookie sheet. Remove from oven and let cookies sit on sheet for a couple minutes before removing to a wire rack to cool completely.