When fall arrives, it's time for apple recipes!  After I wrote about the September issue of the 1972 Sphere magazine earlier this month, I started looking through the recipes again and came across a cake that sounded intriguing.  It was a simple sponge cake baked in a 9-inch square pan with a filling of vanilla pudding, apple juice, and whipped cream, then topped with sliced baked apples.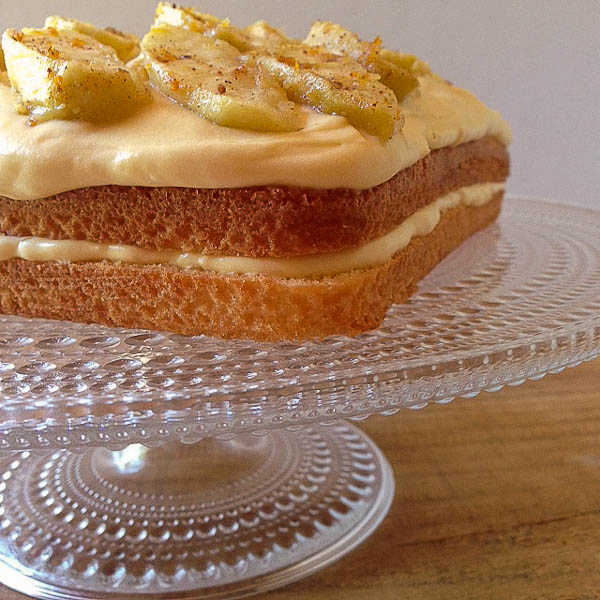 The sponge cake was light, airy, and moist and the filling was creamy and good.  It was the apples on top that I wasn't so sure about.  The apples are really good, but they are baked separately then placed on top of the cake.  I found that the cake was hard to cut with sliced apples on top, and they also slipped around a little on the creamy filling, which is also spooned on top.  I baked the apples as instructed, but instead placed some alongside each slice of cake with a little dollop of whipped cream.  I liked it much better that way, but choose your favorite way to serve it.  Either way, fall has arrived!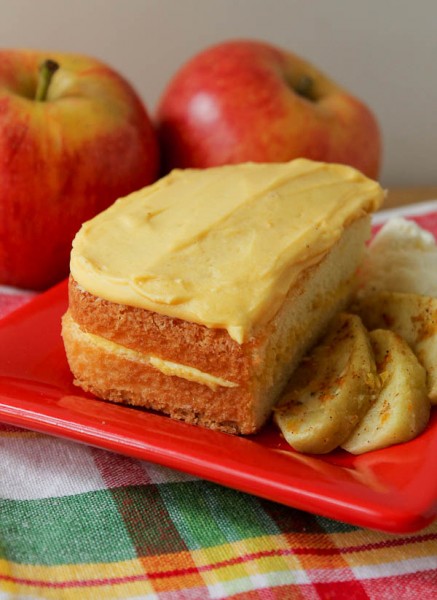 Apple Sponge Cake with Apple Cream Filling
Apple Sponge Cake with Apple Cream Filling makes a beautiful dessert for Fall.
Ingredients
Sponge Cake:
3 eggs
1 cup sugar
⅓ cup water
1 teaspoon vanilla extract
1 cup cake flour
1 teaspoon baking powder
¼ teaspoon salt
Apple Cream Filling:
3 ounce package Cook & Serve Vanilla Pudding (not instant)
1-1/4 cups apple juice
½ cup chilled whipping cream
Sliced Apple Topping:
2 Tablespoons sugar
2 Tablespoons brown sugar
1 teaspoon grated orange peel
½ teaspoon grated lemon peel
¼ teaspoon ground nutmeg
2 medium apples
1 Tablespoon butter
Instructions
For Cake: Heat oven to 350 degrees. Grease and flour a 9-inch square baking pan. Beat eggs in bowl of electric mixer until very thick and lemon-colored, about 5 minutes. Gradually beat in sugar. Blend in water and vanilla on low speed. Gradually add flour, baking powder, and salt; beat just until batter is smooth.
Pour batter into prepared baking pan. Bake until wooden pick inserted in center comes out clean, about 25 minutes. Cool on wire rack for 15 minutes; remove from pan and cool completely.
While cake is cooling prepare filling: Place the dry pudding mix and apple juice in a small saucepan. Heat to boiling over medium heat, stirring constantly. Press wax paper directly onto pudding. Set aside to cool completely. When cooled, beat the cream in a chilled bowl until stiff; fold into cooled pudding.
Split the cooled cake horizontally into 2 layers. Place bottom layer on serving dish and spread with half of the apple cream filling. Top with the second layer and spread with remaining filling. Place in refrigerator while preparing apple topping.
For apple topping: Heat oven to 400 degrees. Mix all apple topping ingredients except apples and butter; set aside. Pare, core, and slice apples into a 9-inch baking pan, making rows of the slices. Sprinkle the reserved sugar topping mixture over the apples; dot with the butter. Bake until apples are tender, about 15-20 minutes. Drain off any liquid and let cool. When cooled, arrange apples on top of cake, or serve some apples alongside each slice of cake with a dollop of whipped cream, if desired. Keep cake refrigerated.