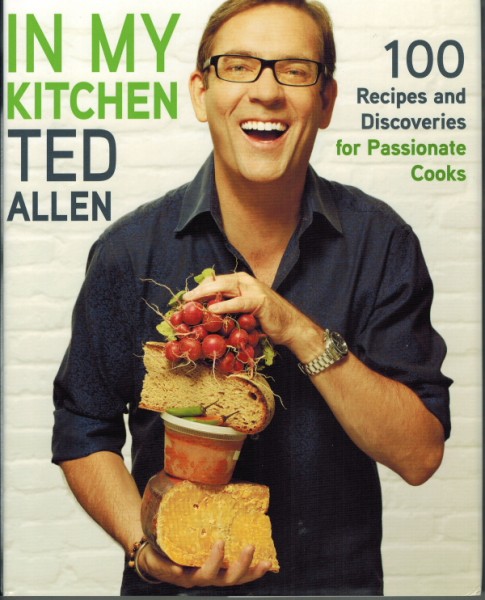 I've been a Ted Allen fan for a long time.  His background as a food and wine expert, host of Chopped and past judge on Top Chef show his passion for food while encouraging others to be their best.  He's the kind of cook that it would be fun to share a kitchen with, rolling up our sleeves and diving into his recipes.  This great new cookbook, Ted's second, is a good place to begin.
The  recipes make you want to get into the kitchen and then invite your family or friends over.  There are recipes for weeknight meals along with entertaining a crowd for a weekend.  You quickly figure out that the recipes are meant for those who truly love good food.  For Ted, the kitchen is the best room in the house and a place for adventure and discovery, trying new ideas and sharing the results.  He wants us to think of cooking as a joy and an opportunity to express creativity, generosity, and love.
Ted claims his recipe for these refrigerator pickles made him as excited as anything else he's cooked in a long time.  I can attest to that – they are fabulous, and so easy.  I made these with my daughter Kristina while I was visiting her in Los Angeles recently.  This is the first recipe we wanted to try, not just because the ingredients are colorful and seasonal, but they would make a great photo.  We couldn't stop eating them.  What makes them great is that there is no sterilizing jars, no pre-cooking the vegetables,  no need to make a giant batch, and they can last for weeks in the refrigerator.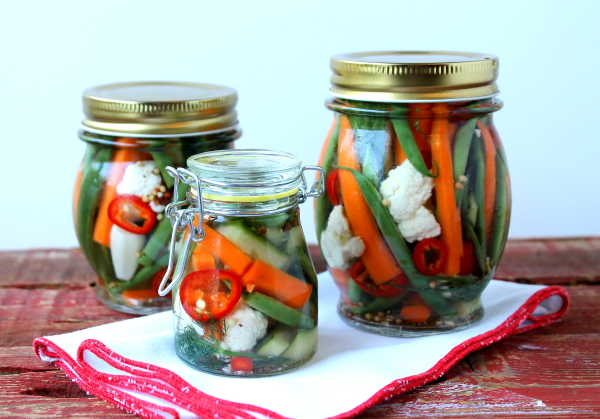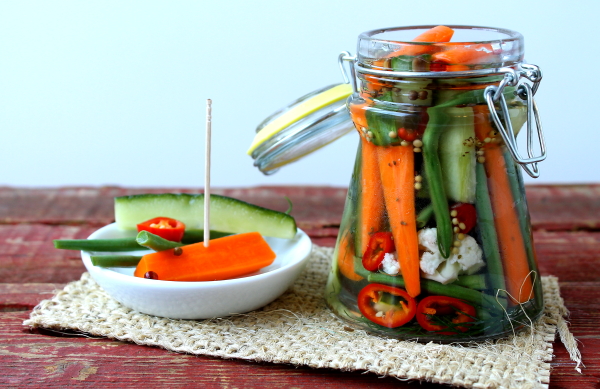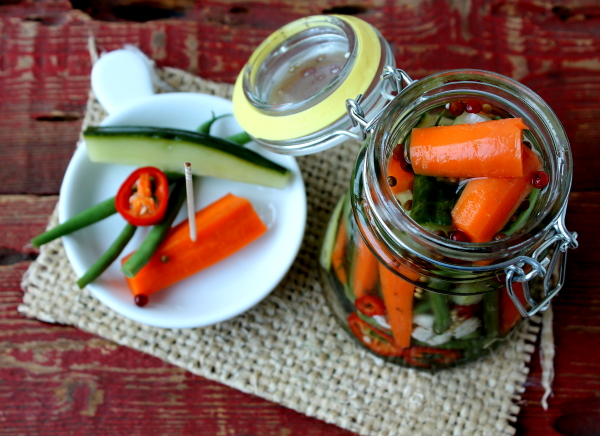 Don't you want a bite?  How beautiful are these?!
The next recipe Kristina and I wanted to try was the Brunch Tart with Swiss Chard, Bacon, and Leeks.  It's so good for a light meal served with a simple tossed salad.  Using ready-made puff pastry makes it a breeze to prepare.  The filling also has ricotta cheese and fresh thyme.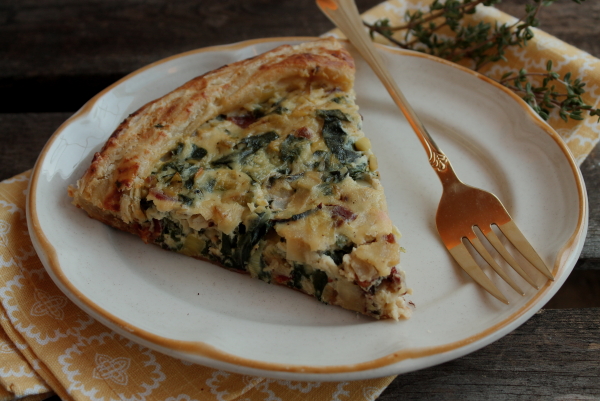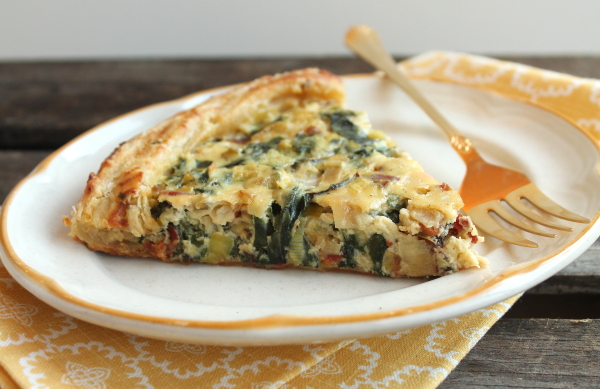 There are recipes for appetizers, salads, sides, main courses, desserts, and breakfast and brunch.  It will be hard to choose!  I'm looking forward to trying the grilled skirt steak with a roasted jalapeno chimichurri as soon as my peppers come in my garden; the sabayon with seasonal berries, and when my Meyer lemon tree decides to produce, the show-stopping triple layer Meyer lemon cake.  In the meantime, it looks like the turkey burgers with crispy oven fries are on the agenda for this weekend.  But first, it's time to make more of those pickles.
Refrigerator Pickles (adapted from Ted Allen)
First pick your favorite vegetables to pickle: cucumbers, carrots, green beans, cauliflower, asparagus, onions, jicama, small hot red chiles or jalapenos, etc.,  all cleaned and  sliced as you like them (I like them on the long side), plus your favorite fresh herbs.  Just remember they have to be tucked into the jars with a tight fit, otherwise they will just float around the jar. This recipes makes about 2 quarts of vegetables, using clean 1-quart mason jars.  Place a few sprigs of fresh herbs (I like dill) into the jars.  To each quart jar add 1/2 teaspoon each of celery seed, coriander seed,  mustard seed, and black peppercorns (or a combo of black and pink peppercorns) and set aside.  Bring 4 cups of water to a boil, reduce heat to simmer and add 8-10 peeled whole garlic cloves.  Simmer for 5 minutes, then add 2 cups white vinegar and 6 teaspoons kosher salt.  Bring to a boil and stir until the salt dissolves.  Remove from heat.  Using tongs, remove garlic from the brine and divide between jars.   Now pack in tightly, all your favorite prepared raw vegetables.  Bring the brine back to a boil and pour into the jars to cover completely.  (use a funnel it 's easier and safer since the brine is hot).  Let them cool, then refrigerate.  The pickles will taste good after several hours, but even better after a couple of days.  These will keep for weeks in your refrigerator, but I guarantee they won't last that long!  I am going to be making these the entire summer finding items at my Farmer's Market.
Brunch Tart with Swiss Chard, Bacon, and Leek  (adapted from Ted Allen)
6 slices of bacon, cut into 1/4-inch strips
2 leeks, washed and coarsely chopped (white part only)
1/2 cup chopped onion
2 cloves garlic, chopped
1 pound Swiss Chard, coarsely chopped with ribs removed
Kosher salt and freshly ground black pepper, to taste
15 ounce container ricotta cheese
3 large eggs, divided use
1 teaspoon fresh thyme leaves or 1/2 teaspoon dried (or your favorite herb)
1 sheet frozen puff pastry, thawed in the refrigerator
In a large sauté pan, fry the bacon until crispy.  Drain and set aside.  Reserve fat in pan.  Add the leeks and onions to the pan and cook over medium heat, stirring frequently until softened, about 5 minutes.  Add the garlic and cook another minute.  Add the Swiss chard and cook until wilted, about another 5 minutes.  Remove from heat and season to taste with the salt and pepper.  Set aside to cool.  Whisk together the ricotta, 2 of the eggs, thyme, and 1/2 teaspoon salt.  Fold in the cooled vegetable mixture and the bacon.  Preheat the oven to 375 degrees F.  On a lightly floured work surface, roll out the puff pastry sheet until it is about 12 inches square.  Cut the dough into a 12-inch circle.  Transfer the dough to a parchment-lined baking sheet.  Spoon the filling into the center of the dough and then smooth out leaving a 2-inch border.  Lift the pastry edges up and fold over into the filling, creasing the dough as needed, and leaving a 5-inch circle or so of the filling exposed.  In a small bowl, whisk together the remaining egg with 1 Tablespoon of water and brush a thin layer of egg wash on the exposed pastry, being careful not to let the egg run down the sides to the pan.  Bake until the pastry is golden brown, about 45 minutes.  Remove from the oven and let rest for 10 minutes before cutting.  I liked it served with a little freshly grated Parmesan cheese.  If you don't like or can't find Swiss chard, you could use spinach or kale.  If you want to make it a vegetarian dish, substitute 1/2 cup pitted and sliced kalamata olives.