Funny how taste and appetite can change as one ages.  I was always a fan of the warm and gooey big cookie oozing with melted chocolate chips… and about a million buttery calories, right?  Sigh.  Well, I still love them, but can't eat so many of those anymore.  This cookie changed my mind about crispy cookies.  Not that I ever disliked crispy cookies, but none as good as this.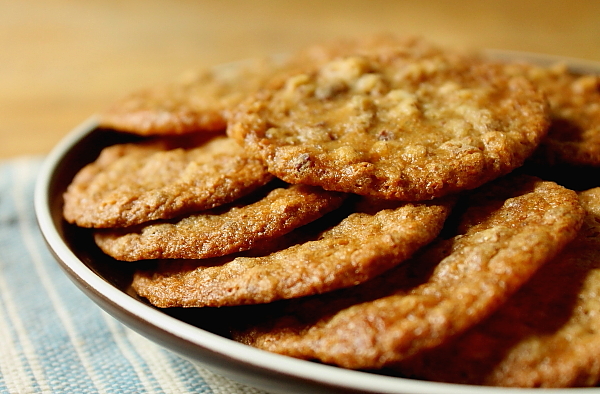 Doesn't look like anything exciting, right?  Don't let looks deceive you; they are not only bursting with a toffee-like goodness, but each cookie only has ONE level teaspoon of dough!  They spread more than you think when you see that tiny dab of dough on the cookie sheet.  The cookies are so thin and crispy, they will practically shatter if you drop one.
As I was looking through some old church cookbooks while shelving them this summer, this recipe jumped out at me because it was so simple.  Whoever submitted it to the cookbook raved about them and I was curious how something so simple could be quite that exciting.  I was wrong.  They will now be a staple cookie around here.  My husband is crazy for them.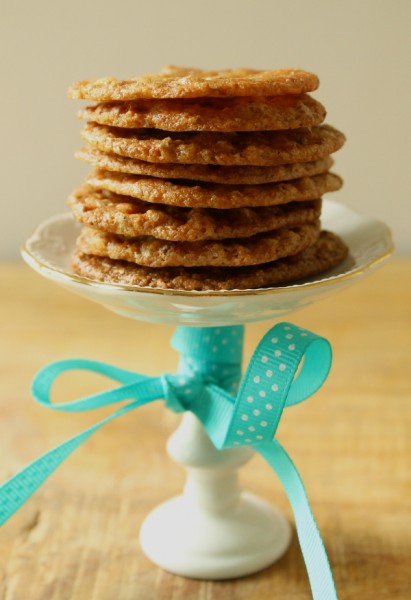 Now these will not turn out unless you make them exactly as described.  Don't try to make them bigger, because it doesn't work.  Only use parchment paper on a cookie sheet for baking, and leave them on the sheet after baking for at least 6-7 minutes before removing.  Got that?  And last but not least, when I say ONE level teaspoon of dough, I'm not kidding.  Not a heaping one, a level one.  And I mean a measuring teaspoon, not that teaspoon you stir your coffee with in the morning.  Use that great little rubber scraper you have to get every bit, but only one teaspoon.  Okay, only now will I give you the recipe.  You will thank me for these demanding instructions.  They are that good.  You're welcome!
Crispy Praline Cookies
1 egg
1 cup packed light brown sugar (don't even think of using dark brown)
1 cup finely chopped pecans (only pecans)
2 Tablespoons all purpose flour
1/4 teaspoon salt
1/4 cup melted butter (cool slightly)
Heat oven to 350 degrees F.  Line a large rimless baking sheet with parchment paper.  Do not spray or grease paper.
In a mixer bowl, beat egg.  Blend in brown sugar and mix well.  Stir in pecans, flour, and salt.  Add butter and mix well.  The dough will be sticky and not look like cookie dough you are used to seeing.  That's okay.
Drop dough by level teaspoons onto prepared baking sheet, placing at least 3-inches apart.  You don't want the cookies to touch when they spread.  Bake for 8-9 minutes, or until cookies are nicely golden.  In my oven it takes exactly 9 minutes, but every oven is different, so be sure to check at 8 minutes.  Or your oven could take 10 minutes, but I doubt any longer than that.
Remove cookie sheet from oven and place on wire rack to cool for at least 6-7 minutes before you even attempt to remove them from the sheet.  If you do, they will be very sticky, gooey, and lose their shape.  When cookies can be lifted with a spatula in one piece, place them on a wire rack to cool completely.
The cookies actually get better with age, but of course you can have one right away.  How could you wait after all these intense instructions for such a simple cookie, right?  This will make about 5-1/2 dozen cookies, but it could be more.  My husband kept stealing them and I lost count.
Caution:  may be addictive, and not even close to having as many calories and fat as those giant cookies.  How many calories can possibly be in one teaspoon of dough? Smile…