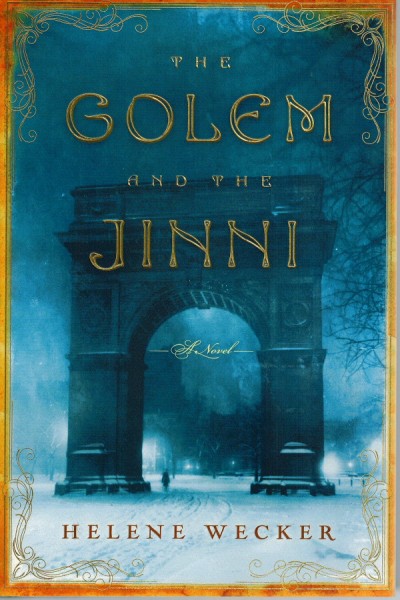 Move over Marlon Brando and Adlai Stevenson.  My hometown of Libertyville, Illinois just added a new celebrity to that impressive list.  Helene Wecker and her first novel, The Golem and the Jinni, will blow you away.  The first time I heard about the novel was when my daughter Kristina called me a couple of months ago and said, "Did you know that Helene Wecker has written a best-selling novel!?"  Kristina is good friends with Helene's brother and he mentioned the book on his Facebook page.  The Wecker family also happen to live in my neighborhood one street over which made this news doubly  exciting.  I was looking for a new book to read, and since I didn't feel like running out to the mall to buy the book, I immediately downloaded it onto my iPad.  To say I couldn't put it down is an understatement.  I carried my iPad around with me and read it wherever I happened to be.
The book is a mixture of historical fiction and magical creatures that pull you immediately into their world, which is set in turn-of-the-century immigrant New York.  The golem is a creature made of clay brought to life by a rabbi, and the jinni, as we may think of a genie, has been trapped in an old copper flask and released accidentally by a tinsmith.  Just as immigrants in 1899 New York City must find their way in a strange new world, the golem and the jinni must learn to survive while hiding their supernatural origins that could destroy them.  While the characters may be mythical, their emotions are universal.  The book is so rich and vivid with human desires, sacrifice, joy, sorrow, friendship, expectations, and love, just as many immigrants of the time trying to find their way into a new world.  Surrounding the golem and the jinni are many more colorful characters in the book that weave through the storyline with all their lives intersecting in ways that will take your breath away.  I was completely mesmerized.
As I dove headfirst into this captivating book, in the back of my mind I kept thinking how I wish it could be a subject on my blog, but it's not a cookbook and I didn't know how to justify it being on a cookbook blog.  But then something happened.  Not long after I started the book, I would take my iPad with me to bed much to my husband's chagrin, because the light of the iPad makes it difficult for someone next to you to fall asleep.  I kept saying to him, "Just one more page, I promise!"  As I started to hear the soft snoring of my husband, I was glad that he had been able to doze off despite the glowing light.  Then it happened.  I turned a page and found the saving grace for my blog.  The golem needed a job and taught herself how to bake using the Boston Cooking School Cookbook by Fanny Farmer!  That's it!  I was so excited that I sat upright and said- "The golem has a COOKBOOK!!" which then of course woke up my husband who said sleepily, "What's a golem?"  Now I could happily fall asleep, thanking Helene for giving me an in to write on my blog.  My husband wasn't too pleased being jolted out of sleep, but he got over it.  I think he's learned to accept his cookbook obsessed wife.
Shortly after finishing the book, I read that Helene was coming back to our hometown in July to talk about her journey of writing the novel.  I registered immediately at our Cook Library website and was more than ready for her program to be held at the Libertyville Civic Center.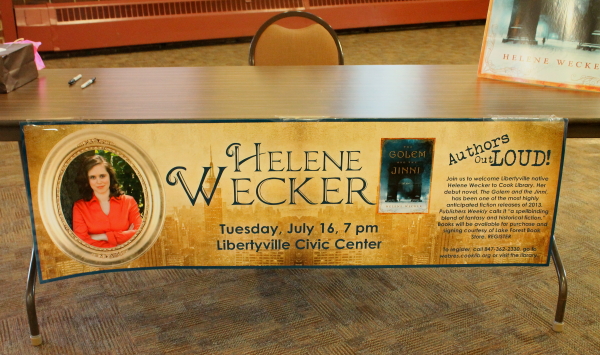 As I was walking out the door to attend the program, it crossed my mind that I should take my own copy of The Boston Cooking School Cookbook with me.  The cookbook was first published in 1896, and I have my grandmother's copy that she bought as a young girl.  My grandmother was born in 1897, and she bought the book in 1914.  Helene did well on her  cookbook research for the golem.  The book was very popular and the cookbook to own at the turn of the century.  She couldn't have made a better selection.
As I entered the Civic Center, the room was already packed.  A table was set up to purchase the book, which I did even though I already had it on my iPad.  I knew I would treasure a signed copy.  I immediately saw Helene's mom (seen in the center with the orange shirt) and gave her a hug and congratulated her on being the mom of a famous author!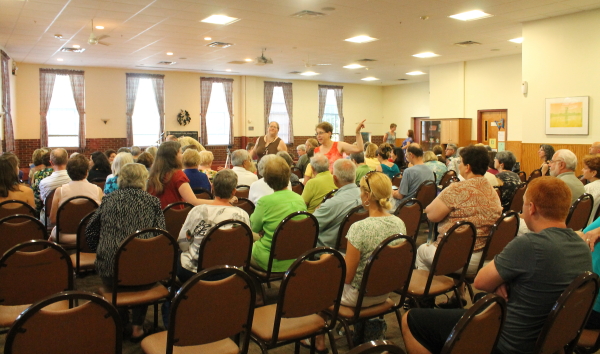 Helene was introduced and claimed she was never so nervous as speaking to her own hometown.  But we have a great town full of friendly people and I think she immediately felt at ease as soon as she saw the anticipation and pride in our faces for the hometown girl.  People had many questions, ranging from how she came up with the idea of the book, to what Libertyville High School teachers had an influence on her life.  I wish I could have a recording for you to hear, but suffice it to say, Helene mesmerized us with her heartfelt talk and we wished it could have lasted longer.  Just like the book,  we didn't want it to end.  Helene received her masters degree from Columbia University, and spent years writing and researching for the book.  She told us that during her time in school, a friend pointed out to her that she should write what she knew best.  Helene calls herself a "geek" who likes fantasy and comic books, but wasn't writing about anything from those genres.  Her friend's remark got her thinking, and the golem and the jinni were born.
After the program it was time for the book signing.  I approached the table and Helene welcomed me with a big hug and asked how Kristina was doing.  After a little chat, I pulled out my grandmother's Fanny Farmer cookbook and Helene's eyes opened wide.  She knew that book very well.  After signing my book, she also signed a piece of paper for me to keep in the Fanny Farmer book.  And, of course, I had to get a photo of her holding both of them!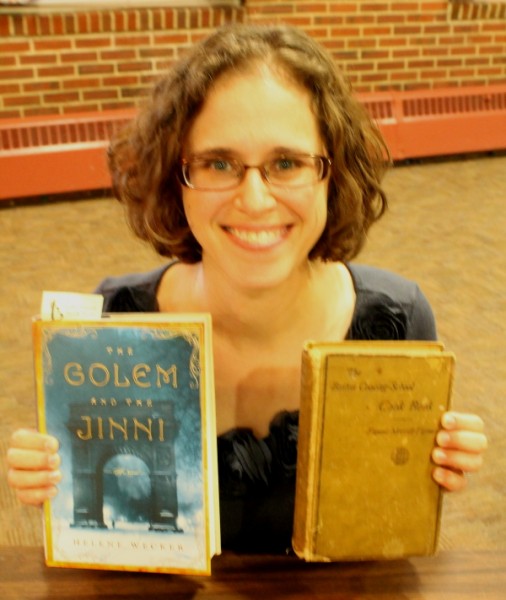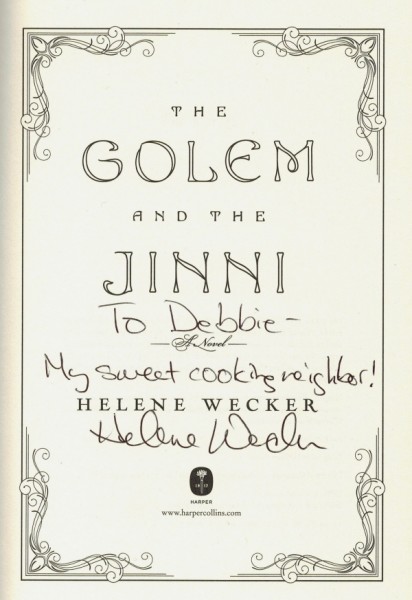 My signed copy:  "To Debbie, my sweet cooking neighbor!"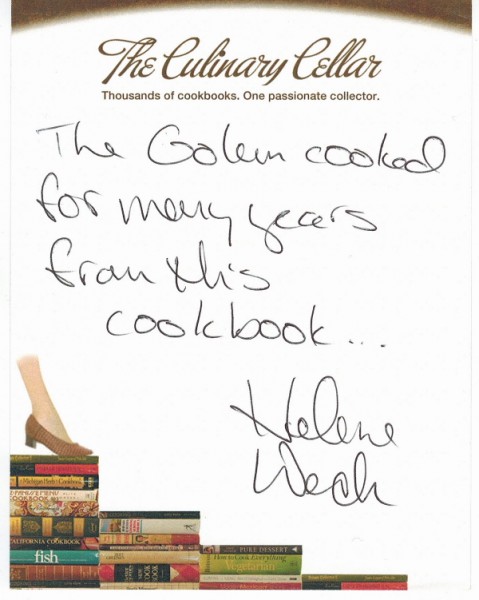 And for my cookbook:  "The Golem cooked for  many years from this cookbook"
Thank you, Helene.  Libertyville is so proud of you.  Next thing we hope to hear is that Steven Spielberg and George Lucas are turning your novel into a blockbuster film.  Someone in the audience said she wanted to see Johnny Depp as the Jinni!  After reading this book, I think you will all agree that a movie must be made.  Someone in the audience also asked if she was going to write a sequel.  Without giving anything away, the book ends in a way that it could be the final story, but it is also open to a sequel, or actually several sequels.  Helene could be the next J.K. Rowling.  I would love to read a sequel because the Golem has to continue with her cooking, and I will look forward to see how she fares with Julia Child.  I think she will do just fine.