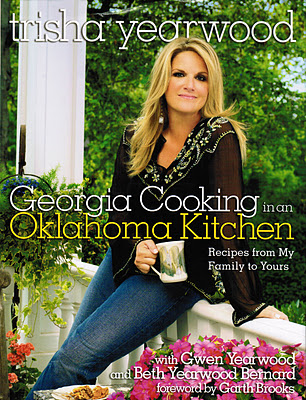 As a former Okie, how could I not buy this cookbook?  My dad was transferred to Oklahoma City after my 7th grade year, and I spent the rest of junior high, high school, and two years of college in Oklahoma.  I have so many fond memories of Oklahoma, and a couple bad experiences, like finding scorpions in the bathtub, and a creepy praying mantis bug that followed me around the house once.  But my friends from those years are forever friends.  There is something about high school friendships that never leave you, even when you are spread apart by thousands of miles and don't see each other as often.  Whenever I talk to any of my old friends, it's like going back to a comfortable place and time.  I love them all.  And miss them.  So I had to buy this book and see if country singing mega-star Trisha Yearwood cooked some of the foods I remember. 
Trisha says besides her "singing thing," she is best known among family and friends as being a great cook.  It's something she takes great pride in, and says that people enjoying her food gives her the same feeling as getting applause from an audience.  When she first moved to Oklahoma with her husband, Garth Brooks, also a country legend, she missed her family back in Georgia.  She missed the family dinners, and when she was lonely for them, would find herself making her mother's chicken noodle soup, or her niece's banana bread.  One year, Trisha's mom and sister decided to do something special for her birthday.  They compiled a notebook of family recipes and called it "Georgia Recipes for an Oklahoma Kitchen," which of course was the seed for this cookbook.  I think she did pretty darn good cooking in her Oklahoma kitchen.  There is nothing fancy in this cookbook, and as Trisha says, she will not send you out looking for strange ingredients.  The recipes are easy, filling, traditional, and most importantly, comforting. 
While the book has familiar recipes like chicken fried steak and milk gravy, barbecued chicken, homemade biscuits, and sugary-glazed hams, the one recipe I wanted to see if Trisha included was my all-time favorite Oklahoma recipe – fried okra.  Her version looks just as I remember.  I could never get enough fried okra.  You could go into almost any restaurant in Oklahoma and find it on the menu.  I miss Oklahoma fried okra, but I don't miss the scorpions, bugs, and heat.