There is something very weirdly comforting about those cheesy, happy, unrealistic, and predictable Hallmark Christmas movies.  What is it?  Is it because our world is very messed up and sometimes downright scary, that we need an escape?  Are our brains so overloaded with all the social media like Facebook, Pinterest, Twitter, and more, not to mention our smart phones, iPads, and computers that our brains might explode?  It seems like there is no way to escape the noises of our environment.  But there is, actually, at least for a couple of hours.  Tune into  the Hallmark Channel's "Countdown to Christmas" movies, or even catch one of the Hallmark Hall of Fame movies that are not always Christmas, but still have that "good feeling" that everything will be all right and the world will go on.   Apparently I am not alone in my addiction, because over 75 million people will tune into the movies this season.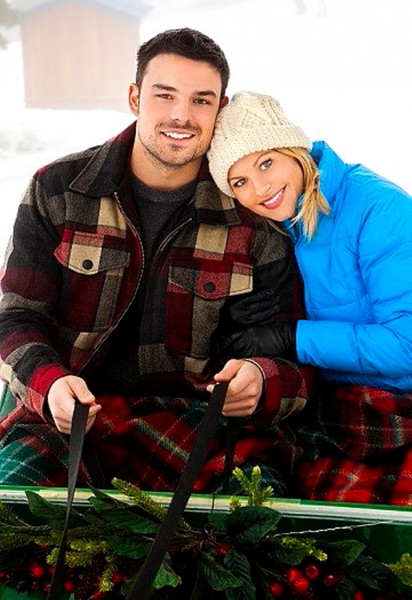 One from this season is called "Let it Snow" starring Candace Cameron Bure who was a child actor on the popular series, "Full House."  I liked it because there is an excess of snow, crackling fires, and comfy winter clothing.  In addition, this particular one has a great food stylist who made all kinds of Christmas goodies throughout the course of the movie.   Most of these movies feature an actor who was previously on a sitcom or other acting gig from years ago such as Alan Thicke, Nicollette Sheridan, Bruce Boxleitner, Patty Duke, Shelley Long, Ed Asner,  and many more, although once in a while you will find an Olympia Dukakis or Ellen Burstyn.  The popularity of the movies has no end in sight as Hallmark is in its fourth year of "Countdown to Christmas," and addicts like me are finally admitting to being glued to the television all through the season and especially on Saturday nights when new movies are offered.
I have sort of blackmailed my husband into watching these with me.  I told him that I put up with all his news and political shows and now he owes me.  Lucky for me, he just wants to be with me so he will endure them for a couple hours.  But now he has a game he likes to play, which is for me to tell him after watching the show for less than five minutes, what is going to happen, which two people will fall in love, what conflicts are going to occur, and what will be the final scene.  I am almost always 100% correct.  So then that means that I sit there and say to him – "I could write this stuff,"  as I'm sure all of us addicts will say.  Sad thing is, I have a folder in my desk marked "Hallmark" and I actually have ideas I throw in the file and then let it go.  It's just fun to write them after Christmas is over when I miss "Countdown to Christmas."  However, next up will be Valentine movies, wedding movies, summer vacation movies, and everything in between.  My ideas will probably be tossed around in my head all year , and they will also find a final resting place in that file.  But who cares, it's Christmas and time to feel happy.  I can live with that.