Our wonderful library in town offers programs throughout the year with chefs and cookbook authors, the latest being a local chef demonstrating the process of making a festive "Buche de Noel."  Also known as a "Yule Log," it is a tradition in France to serve for Christmas dessert.  It's in the form of a large rectangular cake with a filling added,  then rolled up into a cylinder.  One end is lopped off and stood on end to resemble the rings of the log, then the entire cake is frosted.  Meringue mushrooms are usually scattered around the log, and some chefs add little whimsical pieces for added color and fun.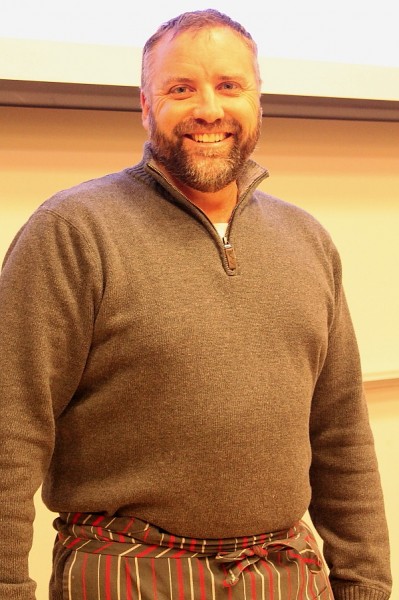 Chef Michael Maddox, former owner of the popular restaurant in suburban Chicago, "Le Titi de Paris" was our host.  The restaurant is now closed, but was a haute cuisine fixture for nearly forty years.  It is missed, but Chef Maddox and his wife still conduct cooking classes and food events such as the one at our library.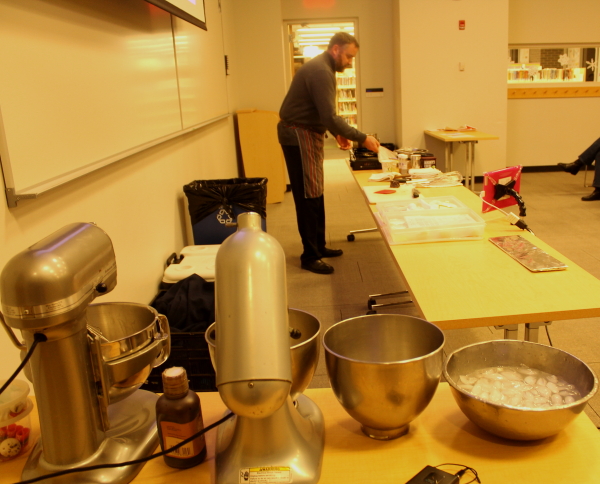 The chef was setting up his work station when I entered.  I could already smell the aroma of coffee which was very welcome on this cold and frigid evening.  I took a seat and wandered around snapping photos.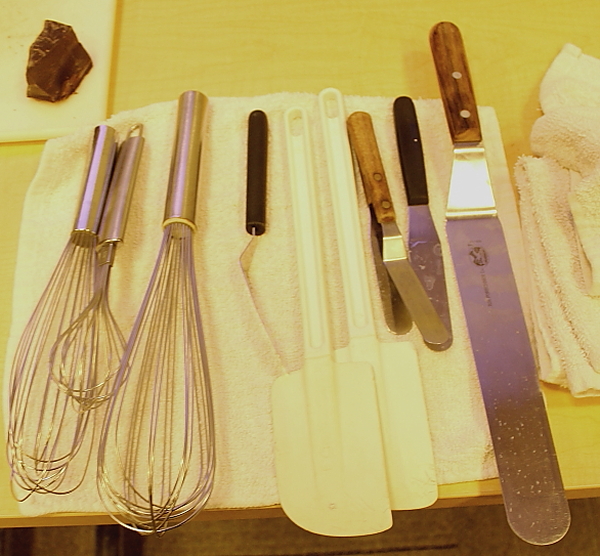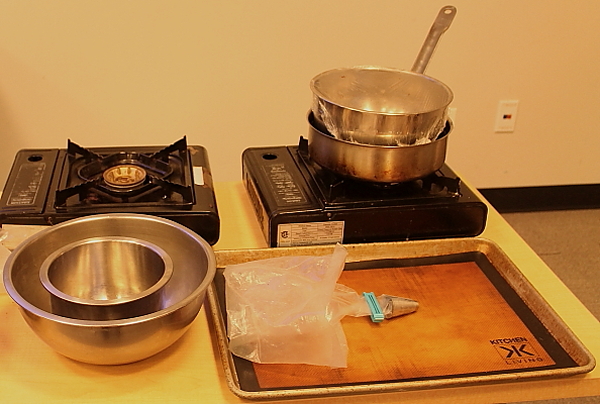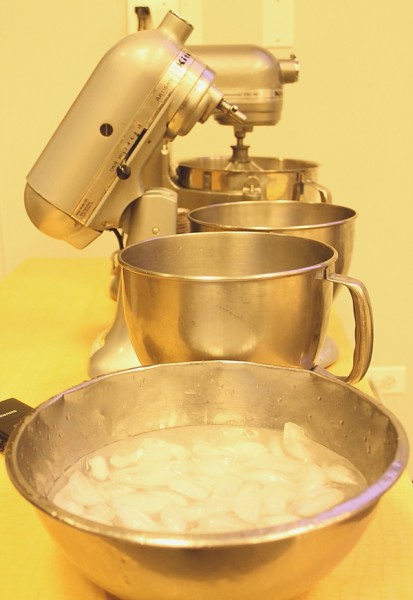 The stainless KitchenAid stand mixer was the first thing I noticed because I have one just like it.  But here's another thing about that mixer-   it was given to Chef Maddox by world-renowned chef Jean Banchet of Les Francais.  If you don't know who he is, google him.  There is too much to write about him here.  Let's just say he is legendary, and his unexpected death just a short time ago saddened the culinary world. Chef Maddox explained the process of making a yule log, which is not difficult, but it can be time-consuming.  He did everything step-by-step, cheerfully and patiently answering questions along the way.   As he demonstrated the chocolate mousse filling, he did it slowly and walked around the room with his bowl for everyone to view.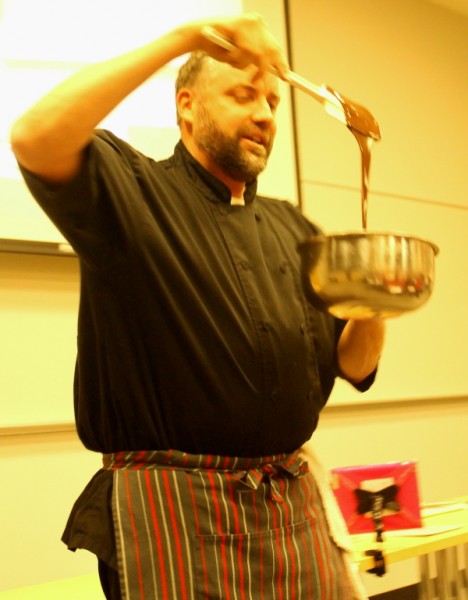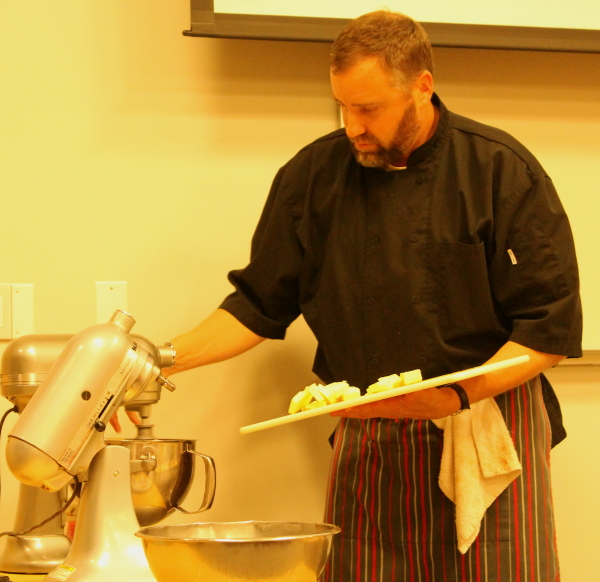 I love when I learn something new.  Chef Maddox added the diced but still chilly butter pieces.  He then proceeded to pulled out a blow torch, which he used directly on the outside of the mixing bowl to warm it up just enough to make the smooth and creamy rich buttercream. Genius!  Now I have another way to used my own blow torch besides just using it for creme brulee.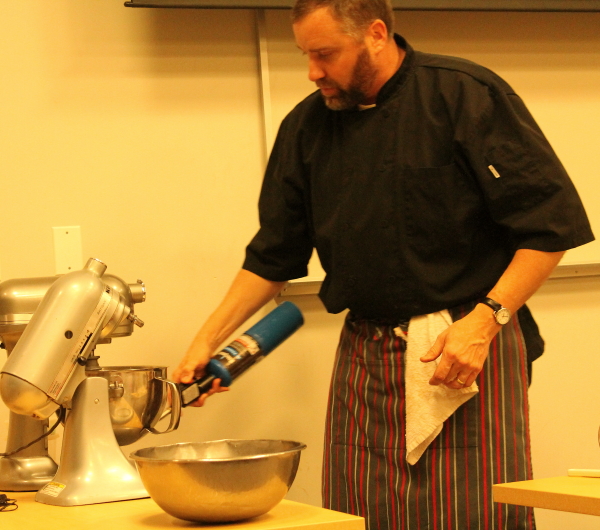 After making the cake roll, mousse filling, meringue mushrooms, and coffee buttercream, it was time to start putting the log together.  Chef Maddox frosted the outside and set it down on the table.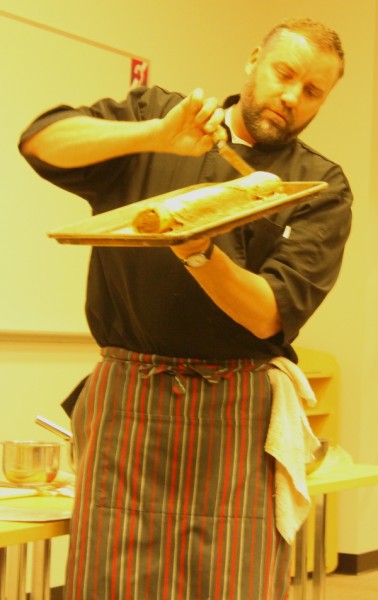 After the log was frosted, the chef took off a piece to be used as a split part of a log that shows the rings.  He made the ring circles of the log by dipping graduated sizes of round cutters into cocoa powder and pressing into the side piece.  He added some of his favorite items such as ribbon candy, a little toy ax, and the meringue mushrooms.  He dusted with confectioner's sugar and cocoa powder and proudly presented his masterpiece.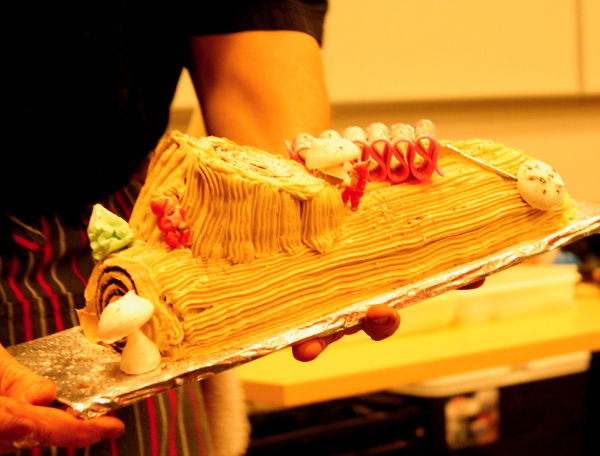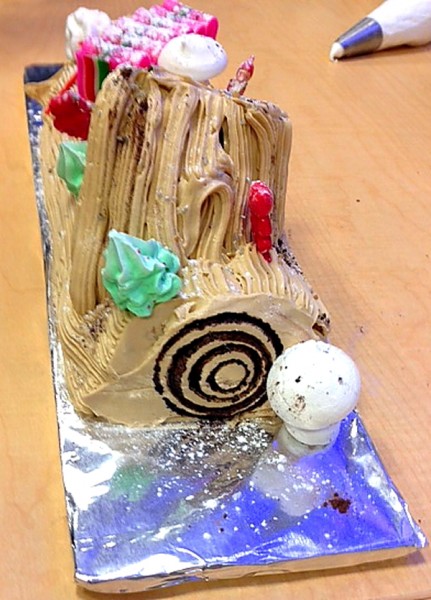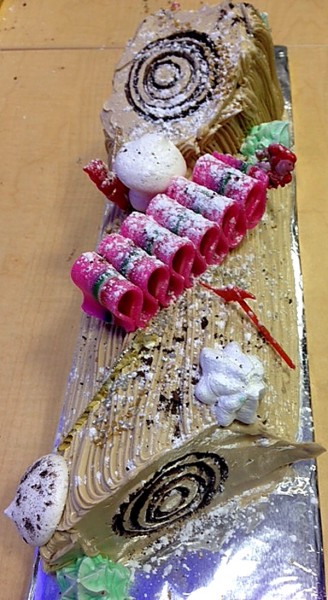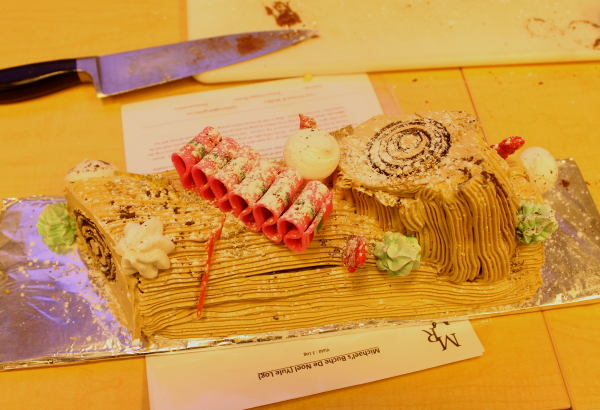 Waiting for the audience along a side table were samples of the dessert.  I can tell you that each bite was heavenly!  Creamy, rich, and beautiful.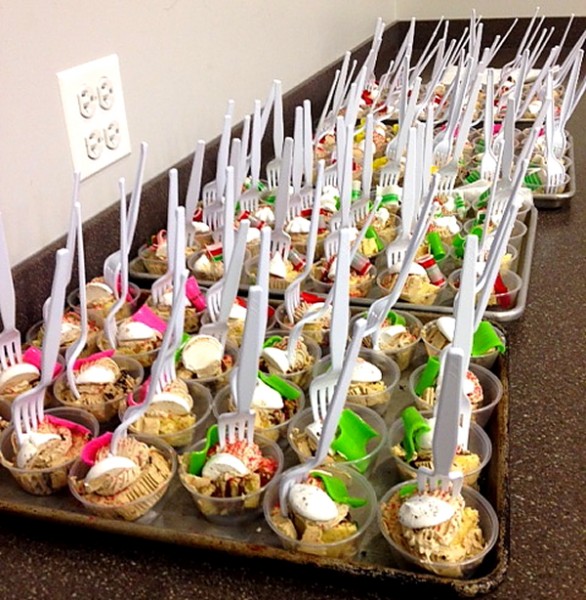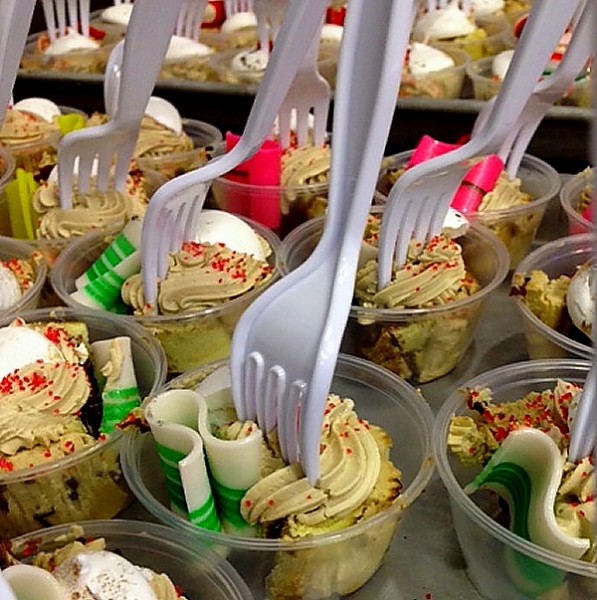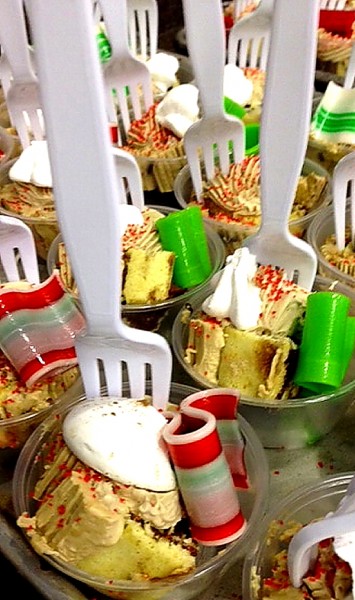 Of course after all the fun, comes the inevitable clean-up.  But the fun is not over.  Now you have the recipe and can make your own. Merry Christmas, everyone!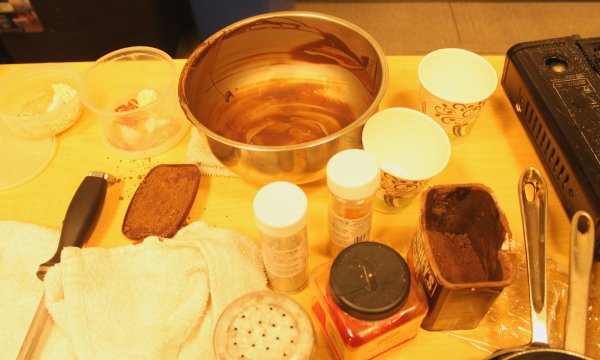 Buche de Noel (Yule Log)  by Chef Michael Maddox
Chocolate Mousse: 1 cup sugar, with water to liquefy sugar 5 egg yolks 1 egg 2 cups bittersweet dark chocolate, melted over a double boiler 2 cups heavy whipping cream, whipped to soft peak
Jellyroll: 3 egg yolks 3 eggs 3 egg whites 1/2 cup sugar 2/3 cup pastry flour, sifted 1 teaspoon vanilla extract
Coffee Buttercream: 5 egg yolks 1 egg 2 cups sugar, with enough water to liquefy 1-1/2 pounds unsalted butter, diced and chilled 1 to 2 teaspoons coffee extract, to taste
Procedure: 1) For chocolate mousse:  Cook sugar/water mixture to softball stage.  Meanwhile, whip egg and yolks to ribbon stage.  When sugar is to correct temperature, slowly add to mixer with eggs on low setting.  Increase speed after added; allow to cool but still warm.  Fold in melted chocolate.  Add soft peak whipped cream and fold until combined.  Chill.
2)  For jelly roll:  Preheat oven to 350 degrees.  Combine eggs, extract, and yolks with sugar in mixer with whisk and take to ribbon stage.  In separate mixer, whisk whites to stiff peak.  (Can add some of the sugar in this).  When yolk mixture is ready, add flour.  Fold in, then gently add egg whites until combined.  Spread evenly on sheet pan lined with parchment paper.  Bake until set, approximately 10-12 minutes.  Cool.
3)  For buttercream:  Cook sugar to softball stage.  Meanwhile, whisk egg yolks and egg in mixer until ribbon stage.  Add correctly cooked sugar to eggs on slow speed until all added then increase speed.  Allow to run until mixture is cooled, slightly warm.  Add butter slowly, little by little, and then add extract.  Let mixture continue to whisk until completely mixed and room temperature.
4)  To assemble:  Remove old parchment from jelly roll.  Lay down piece and put jelly roll on top "baked" paper side up.  Spread mousse all over sponge cake evenly.  Gently roll up jelly roll using the paper to make it easier, forming a log (be sure it is rolled tight).  Allow to chill in refrigerator or freezer until set.  Take buttercream, place in piping bag.  Gently pipe along the side starting at the bottom and working the way up from both sides to look like bark.  Smooth off ends with the buttercream.  Cut off a piece to make log piece and stand up (see photo above).  Decorate as desired.  Allow to chill at least 30 minutes before serving, or as long as overnight.  Bring just to room temperature before serving.