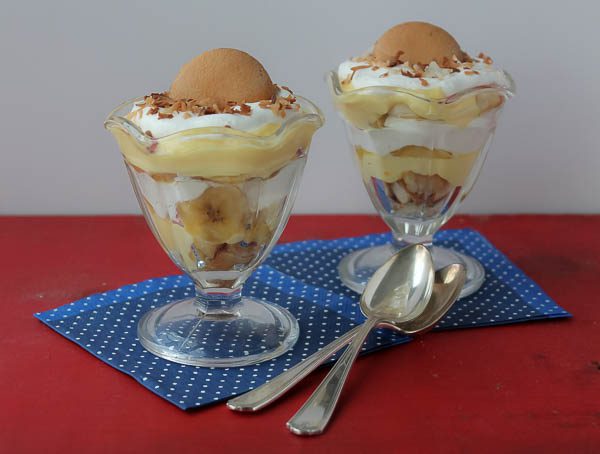 My husband Bill's sweet tooth is usually cookies, but sometimes he gets a taste for the classic banana pudding with vanilla wafers.   I thought I would save him a few calories by using reduced fat milk, reduced fat vanilla wafers, lite whipped topping, and to make it just a little different, a sprinkle of toasted coconut for an extra touch.  I also used small dessert parfait cups.  Looks cute, tastes good, and Bill is happy.  He prefers vanilla pudding, but if you like banana/chocolate combo, use chocolate pudding, chocolate wafers, and chocolate sprinkles on top instead of coconut.

A Little Bit Lighter Banana Pudding Parfaits
Ingredients
1 package (3.4 oz) instant vanilla pudding mix
2 cups 2% milk
20 reduced fat vanilla wafers, broken into pieces
2 small bananas, sliced
¾ cup thawed lite whipped frozen topping
3 Tablespoons toasted coconut (optional)
Instructions
Prepare pudding according to package directions.
Place 1 Tablespoon of broken cookies into the bottom of 6-ounce tall parfait glass.
Top with 2 Tablespoons of pudding, 4 banana slices, and 1 Tablespoon of whipped topping.
Repeat to form identical layers; set aside and repeat with remaining glasses. Top each with a sprinkling of toasted coconut, if desired.
Chill for 30 minutes and serve. Serves 6.