Old cookbooks sometime have the most intriguing recipes that you can tell just by reading if they will be a huge flop or completely delicious.  This cookie recipe caught my eye and I actually didn't know which it would be.  So of course I had to try it.  The cookie sounded rather delicate which is why it surprised me that it was baked twice like a biscotti.  And why in the 1940's it was called a French cookie is a mystery.  Or maybe it actually is a French cookie.  If there is an expert baker out there, please tell me if this cookie sounds French.  What makes this even more fun is that this recipe is from my old stand-by of late, the Iowa church cookbook from 1949 which I have already written about twice this month.  I almost didn't tell you that because I was afraid you might think I don't cook from anything else.  Well, lately, I have been rather obsessed with reading it.  It has so many good recipes I can't put it down.  What is it about these wonderful rural Iowa church ladies from the '40's and their great recipes?  I love them.
Since it was a vintage recipe, I decided to use some of my old vintage baking items like the sifter for the flour, the old nut grinder, measuring cup, and scoop.  One must get into the feel of the times, right?  However, no Eiffel Tower in sight.  (I put on some Chanel face cream this morning, does that count?)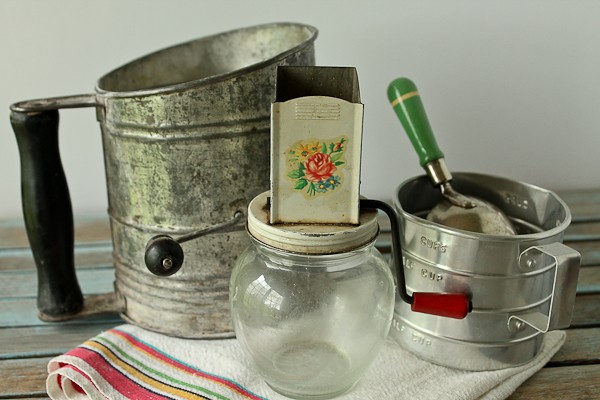 The cookie is called "French Nut Sticks."  First butter and sugar are creamed together, eggs and vanilla are added, then sifted cake flour.  The dough is patted out onto a jelly roll pan and covered with apricot jam and baked very briefly, only about 7-8 minutes.  It cools for a few minutes before spreading on a topping of beaten egg whites, sugar, and a little flour and salt, and some chopped pecans folded in.  It is then refrigerated until cold enough to cut into little sticks, squares, or however you would to cut them, and baked again until the meringue-pecan topping is golden and crackly.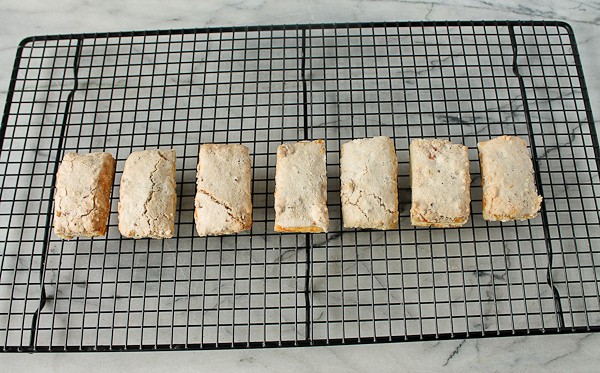 The base of the cookie is like delicate golden shortbread, then a layer of apricot jam, and the meringue topping with the pecans is perfectly crunchy.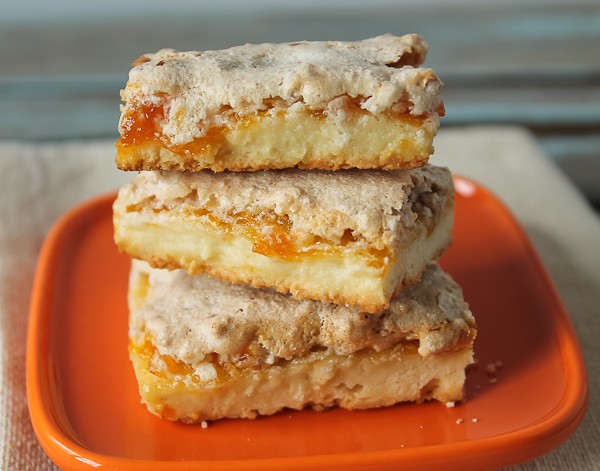 I loved the cookie, but also realized it is the kind of cookie that can be played around with to make with different flavor possibilities.  Next time, I am going to add a little almond extract to the cookie base, use raspberry jam instead of apricot, and chopped almonds instead of pecans.  Grated lemon peel could be added to the dough and then use lingonberry jam.  Maybe even toasted coconut could go into the meringue. Think of the possibilities.  What would you do with it?  I would love to hear your ideas!
I was going to put the cookies in my cookie jar, but it's not very vintage looking.  I found an old bowl that belonged to my great-aunt and decided to pile the cookies into the bowl.  What the heck, a cookie bowl.  My husband was thrilled.  He's never seen a bowl filled with cookies before.  I reminded him it was just for a fun photo, not to be eaten like a bowl of popcorn.  That's certainly not very French.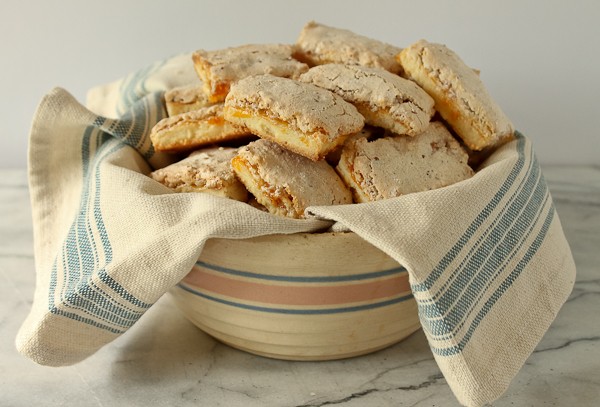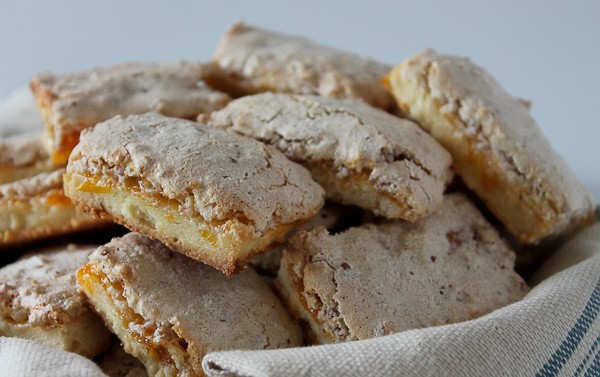 French Nut Sticks
Ingredients
¾ cup salted butter, room temperature
2 cups sugar, divided
2 whole eggs
1 teaspoon vanilla
3 cups sifted cake flour
1 cup apricot jam
2 egg whites
⅛ teaspoon salt
1 Tablespoon all-purpose flour
1 cup finely chopped pecans
Instructions
Heat oven to 350 degrees. Lightly grease a jelly roll pan (15-1/2-by-10-1/2-by-1)
In bowl of electric mixer, cream together butter and 1 cup of the sugar until light. Beat in the whole eggs, one at a time; beat in vanilla. Gradually add flour and beat until well blended. Place dollops of the dough all over the prepared pan, then pat down evenly. (Tip- the dough is a little sticky, so use slightly dampened hands to pat down the dough).
Place the jam in a small bowl and stir with a spoon to loosen up, breaking any very large pieces. Carefully spread jam over the dough in pan. Bake for 7-8 minutes or until the edges are just a little firm. Don't worry; the middle will seem raw, but that's okay. It hardens as it chills and it gets baked again. Remove from oven and place on wire rack for 10 minutes to cool slightly while preparing topping.
Beat the egg whites and salt until frothy. Gradually add the remaining 1 cup sugar that is combined with the 1 Tablespoon flour. Fold in chopped pecans. Spread mixture carefully and evenly over the jam.
Place pan in refrigerator for at least 1 hour.
When dough is cold enough to slice, first heat the oven to 375 degrees. Cut the dough into desired size pieces, squares or sticks. I cut mine into pieces 2 inches by 1-1/2 inches. Place the cut pieces on parchment-lined cookie sheets about an inch or so apart. (they do not spread, but get a little puffy). Bake for 14-15 minutes or until the tops are golden and getting puffy. Remove to wire racks to cool completely.