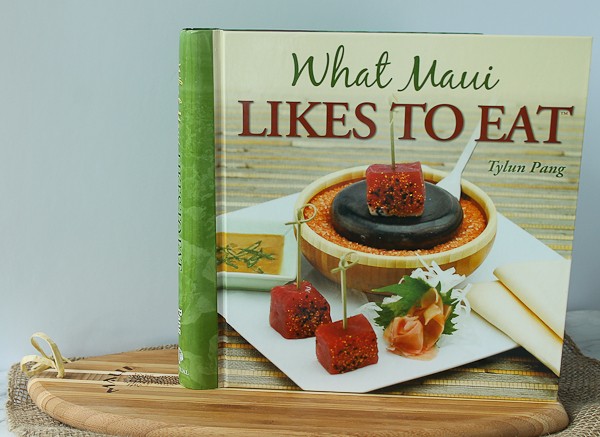 Lucky me.  Every time my daughter Kristina goes to a food event, she always brings back a cookbook and other fun things for my blog.  This beautiful cookbook and the surfboard cutting board are from one of her latest culinary adventures.  This one was spectacular!  It was the James Beard Foundation Celebrity Chef Tour held at the Grand Wailea in Maui, Hawaii.  How can you get any better than that?  Read Kristina's full report on the event here.
According to the cookbook, Mauians love food.  What they eat reflects their island's Polynesian roots and plantation heritage.  Many of their recipes have been handed down through the generations; paniolo food eaten over campfires, plantation kaukau and regional cuisine using Maui grown produce, island range beef, and fish caught in the local waters.
The chapters list many of the local favorites.  In Makai Catch you will find recipes like macadamia-crusted mahimahi; tiger prawns with a pineapple-chili sauce; or Kaku Katsu with a sweet and sour sauce.  Ocean Treasures offer crispy calamari; spicy tako poke; steamed clams; and black and blue Aku.  Maui Kine Grindz has specialties such as Shoyu Short Ribs Pipikaula-Style; Poi Waffle Dogs; Maui Cattle Company Teriyaki Beef Rib-Eye;  and Chef Ribucan's Award-Winning Chili.  There are also chapters with many great recipes from guest chefs and a long list of community favorite recipes.  In the dessert chapter, there are some different recipes that you will want to try for a perfect ending to a tropical adventure such as a mango and strawberry crisp; green tea shortbread cookies; coconut custard pie; ginger thumbprint cookies; pineapple pudding cake; or Liliko'i creme brulee.
I have never been to Hawaii but am completely sold on experimenting with Hawaiian cooking.  This cookbook is a good place to start.  Since I love fresh tuna, my first choice was to try the 'Ahi Poke Hawaiian Style.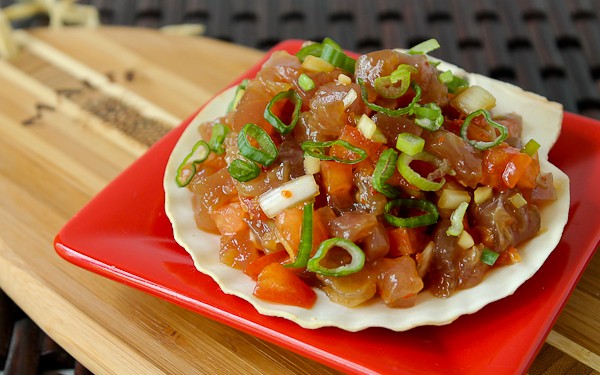 This dish typifies contemporary Hawaiian-style poke, blending traditional Hawaiian ingredients with Asian touches.  It was fabulous!  Serve it with warm and crispy baguette slices rubbed with some fresh garlic and olive oil.
Why not have your own backyard luau tonight?

'Ahi Poke Hawaiian Style
Author:
What Maui Likes to Eat by Tylun Pang
Ingredients
1 pound sashimi-grade 'ahi tuna, cut into ¾-inch dice
1 medium-sized tomato, trimmed and cut into ¼-inch dice
½ cup sweet Maui onion, peeled and chopped
2 Tablespoons soy sauce
1 teaspoon sesame oil
½ teaspoon granulated sugar
½ teaspoon red chili pepper flakes or 1 hot chili pepper, trimmed and minced
2 Tablespoons green onion, chopped, for garnish
Instructions
Combine all ingredients in a bowl except for green onion; mix well. Cover and refrigerate for one hour to allow flavors to blend. Stir again and garnish with chopped green onion before serving. Serves 6-8 as an appetizer with warm and crispy baguette slices or crackers.