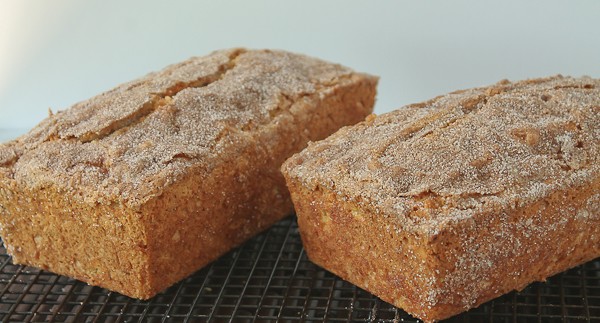 My husband loves having quick breads with his morning coffee.  The Maui cookbook from Monday's blog has a recipe for a pineapple nut bread with quite a history behind it.  In the chapter of the cookbook called Restaurants Gone By, The Hotel Hana Maui was mentioned as a hot spot for Hollywood celebrities such as Clark Gable, Susan Hayward, Roger and Dale Evans, and Vincent Price.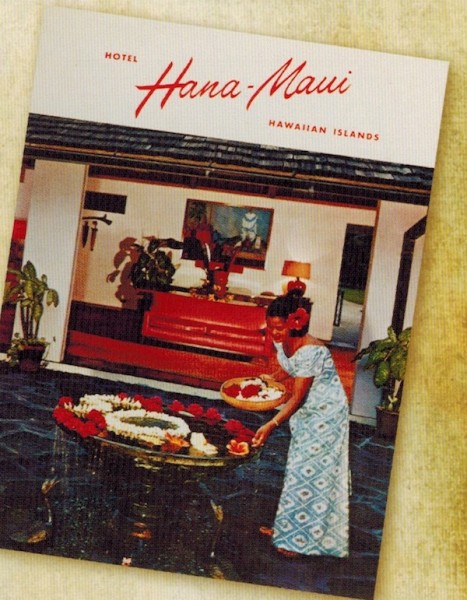 Vincent Price of movie horror fame, was also a gourmet cook and cookbook author.  In 1965 he published a wonderful cookbook (I have it in my Culinary Cellar!) that provided recipes of "famous specialties of the world's foremost restaurants adapted for the American kitchen."  The Hotel Hana Maui was the only restaurant from Hawaii included in the book.  Mr. Price called the recipe for this pineapple nut bread "most unusual, most delicious."  He liked to serve it in thin slices with a cup of coffee at any time of the day or night.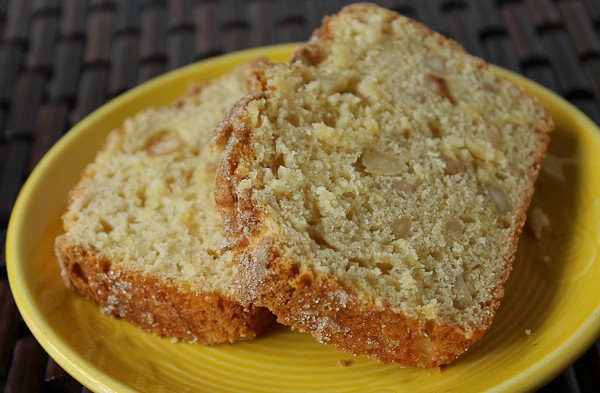 The bread uses an entire jar of macadamia nuts and two cans of crushed pineapple.  There is a cinnamon-sugar topping that adds flavor and a nice crackly top.  (I found that the bread is best if you wrap it up in plastic wrap for a couple days.  It gets a nice moist texture and slices beautifully.  I have to agree with Vincent that thin slices are great with coffee, but also good sliced thin and served with fresh sliced peaches or strawberries and sweetened whipped cream!)

Maui Pineapple-Macadamia Nut Bread
Author:
What Maui Likes to Eat by Tylun Pang
Ingredients
3-1/2 cups all-purpose flour
4 teaspoons baking powder
½ teaspoon baking soda
1 teaspoon salt
1-1/2 cups coarsely chopped macadamia nuts (6.75 ounce jar)
6 Tablespoons butter, room temperature
1-1/2 cups firmly packed light brown sugar
2 eggs
2 cups crushed pineapple with juice (2- 8 ounce cans, undrained)
4 Tablespoons sugar
1 teaspoon cinnamon
Instructions
Preheat oven to 350 degrees. Butter two 8-by-4-inch loaf pans.
Sift together the flour, baking powder, baking soda, and salt. Stir in the macadamia nuts; set aside.
In bowl of electric mixer, cream together butter and brown sugar. Beat in eggs and continue to beat until mixture is smooth. Stir in half of the flour-nut mixture and stir until blended. Stir in the pineapple with its juice. Stir in the remaining flour-nut mixture until blended.
Divide batter between the two prepared loaf pans and smooth the tops. Combine the cinnamon and sugar and sprinkle evenly between the two pans. Bake for about 45-50 minutes or until bread just tests done. Let cool in pans for 5 minutes, then turn out on wire racks to cool.