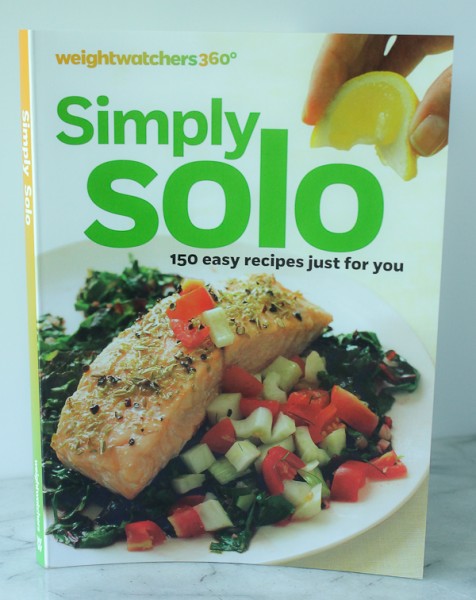 Whenever my husband is out-of-town on business or gone fishing with his cousins in Upper Michigan, I have a field day in the kitchen.  I can mess it up for days, cook all the foods he doesn't like, and enjoy every second of it!
It doesn't matter if you are on Weight Watchers or any weight loss or healthy eating program, Weight Watcher cookbooks are so fabulous.  You can find recipes to fit your needs whether it be low-calorie, low-fat, low carb, or gluten-free. The books list all nutritional information, the recipes are healthy and so delicious, and of course if you are following the Weight Watchers program, the point values are included for you.
I have been cooking from this great cookbook since yesterday, and my daughter Kristina said to me – Mom! Take pictures and share the recipes.  Your readers will love it!  So here I am, giving you the first great recipe I had for breakfast this morning.  How I wish I had taken a photo of the Steak with Shallot-Blue Cheese Sauce I made last night.  I can't tell you how incredible that was.  I could have licked the plate clean.  But here was my breakfast this morning, Asparagus-Dill Frittata with Caviar.  However, I did not have any caviar hanging around my pantry, but the recipe said chopped capers could be substituted, and I always have capers.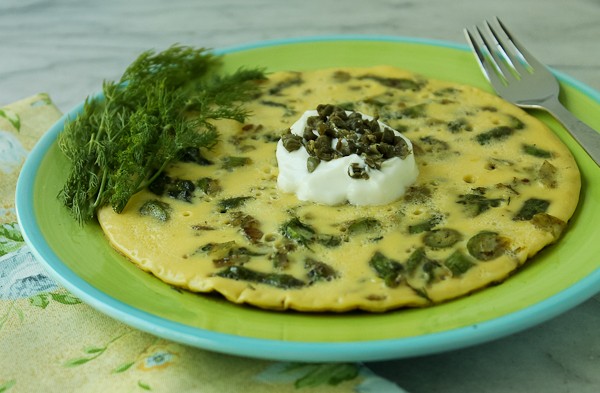 It tasted as good as it looks.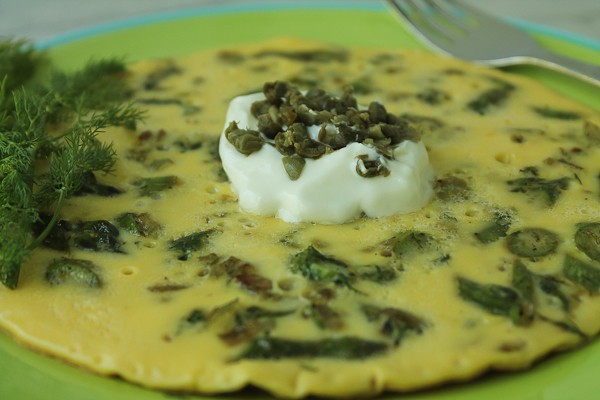 And was gobbled up very quickly.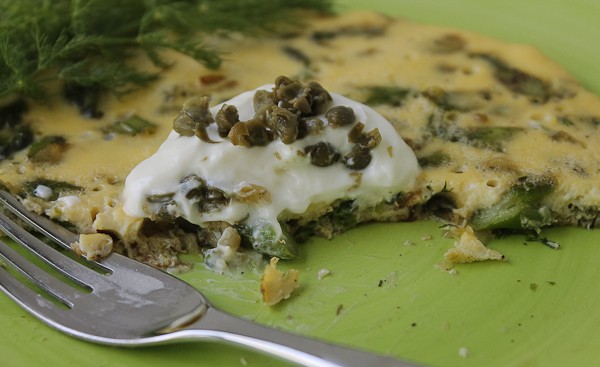 The frittata is only 198 calories, 11 grams of carbs, and 5 points!
Get the book!  More recipes and photos this weekend…
Asparagus-Dill Frittata with Caviar
Author:
Weight Watchers Simply Solo cookbook
Ingredients
2 large egg whites
1 large egg
1 teaspoon olive oil
4 fresh asparagus spears, trimmed and cut into ½-inch pieces
2 Tablespoons minced shallot
2 teaspoons minced fresh dill (or ½ teaspoon dried)
⅛ teaspoon salt
⅛ teaspoon black pepper
1 Tablespoon fat free sour cream
1 teaspoon black caviar or capers
Instructions
Whisk together egg whites and egg in small bowl until blended; set aside.
Heat oil in 8-inch nonstick skillet over medium heat. Add asparagus and shallot; cook stirring often, until vegetables are softened, about 3 minutes. Stir in dill, salt, and pepper.
Add egg mixture and cover skillet. Reduce heat to low and cook, undisturbed, until the bottom of frittata is firm, about 6 minutes. Transfer to plate; top with sour cream and caviar or capers.
Per serving: (serves one) 198 calories; 10 grams total fat; 2 grams saturated fat; 0 grams trans fat; 248 mg Chol; 571 mg Sod; 11 grams carb; 3 grams sugar; 2 grams fiber; 17 grams protein; 85 mg calcium; and 5 points on the Weight Watchers program.