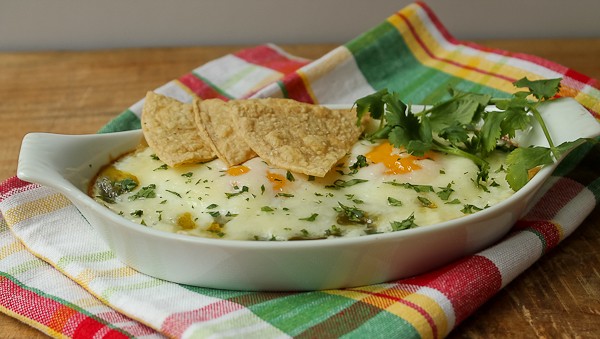 My weekend of solo cooking continues while my husband is up north fishing.  Since I love hearty breakfasts, and especially eggs, I decided to try another egg recipe from the Weight Watchers cookbook from the last blog, Simply Solo.  This one was spicy and spectacular!
There are only four ingredients to this recipe and it's ready in minutes. The bottom layer is green salsa.  I used La Victoria Salsa Jalapeno Extra Hot, but you can use mild if not a spicy fan.  The salsa is placed in the baking dish and heated up for about 10 minutes, removed from the oven and two eggs are cracked into the salsa.  It's then baked for 5 minutes, removed, topped with some Monterey Jack cheese, returned for another 5 minutes to the oven and that's it.  Sprinkle with chopped cilantro and enjoy.  The eggs can be eaten as is, or served with a piece of toast or an oven-baked tortilla as I made here.  The serving for the eggs is 220 calories, 11 grams of carbs, and if you are counting points on the Weight Watchers program it is 6 points, but add 2 points if you decide to add a 7-inch whole wheat tortilla.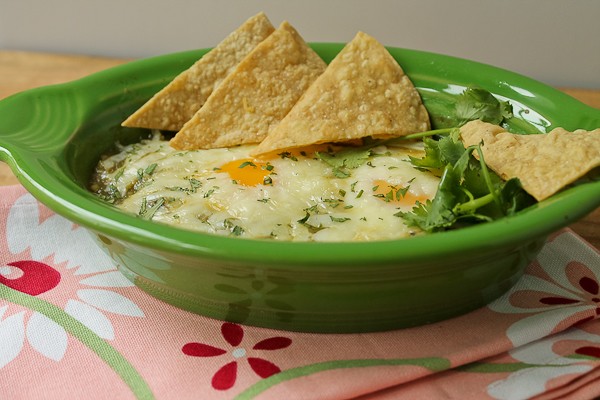 Since this recipe is so easy and I love playing around with dishes and napkins, I made the recipe twice.  (Hey, when no one is home but me, why not?)  Which do you like better, the white dish and plaid-looking napkin or this Fiesta dish and colorful fun napkin?  I couldn't decide.  Tastes great no matter what.

Monterey Eggs
Author:
Weight Watchers Simply Solo cookbook
Ingredients
½ cup fat-free green salsa
2 large eggs
2 Tablespoons shredded low-fat Monterey Jack cheese
1 Tablespoon minced fresh cilantro
Instructions
Preheat oven to 400 degrees. Spray a shallow 2-cup baking dish with nonstick spray.
Place salsa in prepared dish; bake for 10-15 minutes until salsa is hot.
With the back of a spoon, make 2 wells in salsa and carefully break 1 egg into each well. Bake 5 minutes. Sprinkle eggs with cheese; bake another 5 minutes or until whites are opaque and yolks are almost set. Sprinkle with cilantro and serve.
Nutritional info: 220 calories; 12 g total fat; 5 g sat fat; 0 g trans fat; 438 mg chol; 705 mg sod; 11 g carb; 4 g sugar; 0 g fiber; 16 g protein; 240 mg cal; 6 points on Weight Watchers program. Add 2 extra points for 7-inch whole wheat tortilla, if used.