My husband Bill and I celebrated our 38th wedding anniversary today, Thursday, May 28th.  After being married that long, we don't always feel the need to go out to dinner every time.  When Bill went fishing with his cousin Benny over Memorial Day weekend a few days before, I knew what dinner would be for our anniversary. We love fish, and what's better than one freshly caught from the beautiful waters of the Upper Peninsula of Michigan.  Benny has a secret fishing hole that he would never allow me to tell, not that I could ever find it anyway, but let's say it's a little river that runs into Lake Superior.  But don't tell anyone.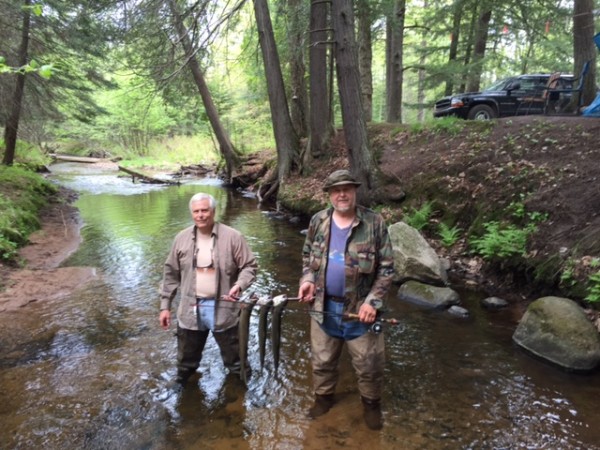 The fishermen with their catch.  My husband Bill is on the left.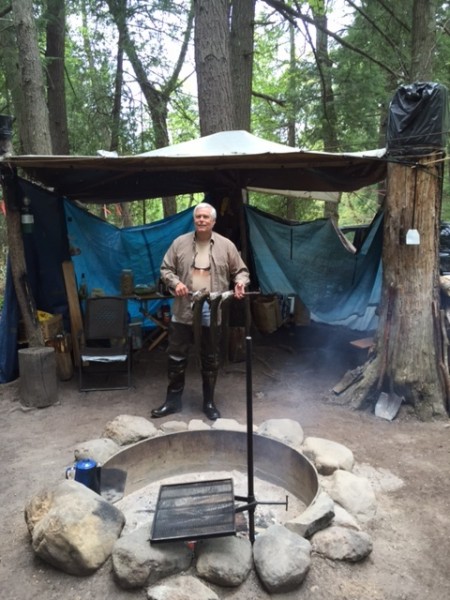 Here's Bill back at the shelter, and where Benny cleaned and boned the fish.  He even vaccum-wrapped, labeled it, and kept it on ice for Bill to bring home.  Notice Benny calls these "Prime Eaters," his term for the best of the best.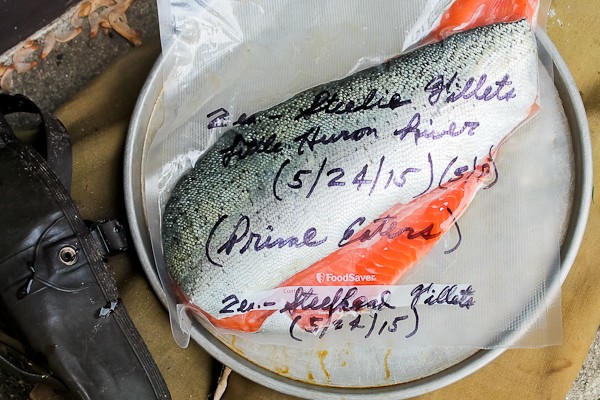 I couldn't wait for Bill to start grilling tonight.  I mashed up a large garlic clove with some salt to make a paste, then spread it evenly over the meaty part of the fish.  Next I squeezed the juice out of a couple limes, scraped out the pulp with a grapefruit knife and let it marinate while Bill got the charcoal grill ready.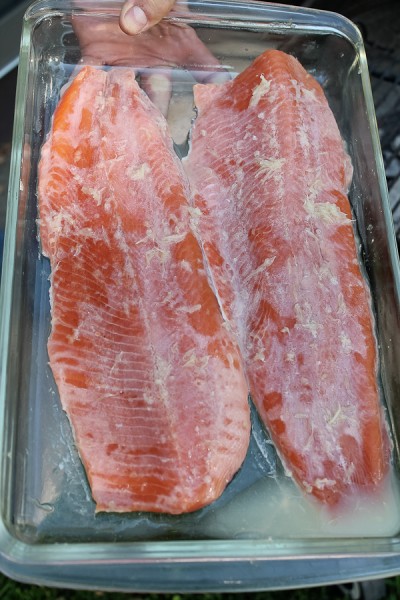 I made some orzo and sautéed sugar snap peas and sprinkled with fresh dill.  Bill put the steelhead on the grill.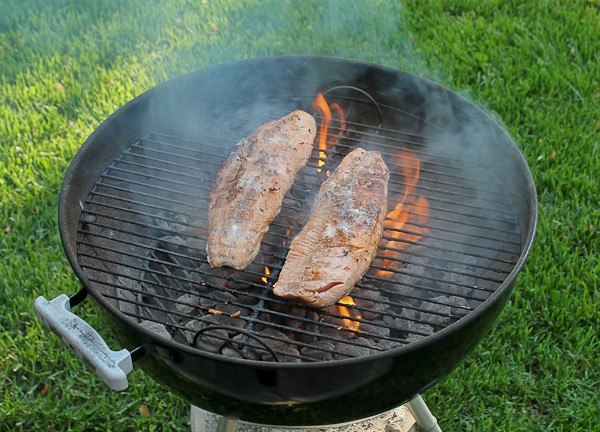 After he flipped the fish over, Bill likes to scatter little bits of butter on top to keep it moist and add a great flavor. It was absolutely delicious.  So good that I forgot to take a photo of the plated dinner.  The fish literally melts in your mouth.  A perfect dinner for our anniversary.  Now we can settle back and relax tonight and reminisce about our wedding thirty-eight years ago in California.  It's been a good night.  Thanks for sharing it with us.
Happy Anniversary, Bill.  Let's keep on dancing.