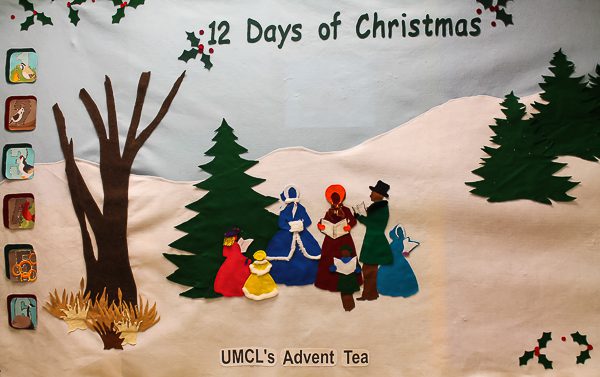 Every year I look forward to our church's Advent Tea event.  There is always a theme to decorate the tables, and this year it was "Twelve Days of Christmas."  This beautiful wall hanging greeted everyone as we walked in.  There were fifteen festive tables using the twelve days theme or other related Christmas scenes.
Tickets must be purchased in a timely fashion for this event, as it fills up quickly.  Ticket holders are assigned seats and I was at a table that included my friends Lyn and Jean.  After taking photos of the tables, we sat down and started reading our program.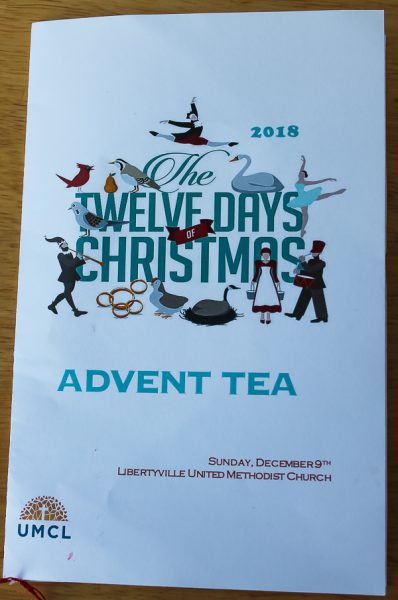 It first listed the items for Breads and Scones:  Banana bread, classic English scones, English scones with dried cherries, Devonshire cream, and raspberry jam.  The second course was the tea sandwiches:  Chicken Salad in Puff Pastry, Egg salad with watercress on oatnut bread, sliced cucumber and herbed cream on white bread, Roast beef with Horseradish Cream on Tomato Basil Bread, and White Cheddar and Chutney on whole wheat bread.  Desserts consisted of  chocolate-covered strawberries, Millionaires shortbread, chocolate peppermint cookies, lemon ricotta cookies, mini pecan tarts, and French macarons.  The delicious tea was an organic Saigon Chai.  Everything was graciously served by the Methodist men dressed for the occasion.
Here are the photos of all the tables carefully planned and lovingly put together for the event.  (In all the excitement and awe, I either missed Six Geese A-Laying, Ten Lords A-Leaping, and Eleven Pipers Piping or they weren't done, plus there were Two Turtle Doves).
Of course, we need to start with a Partridge in a Pear Tree!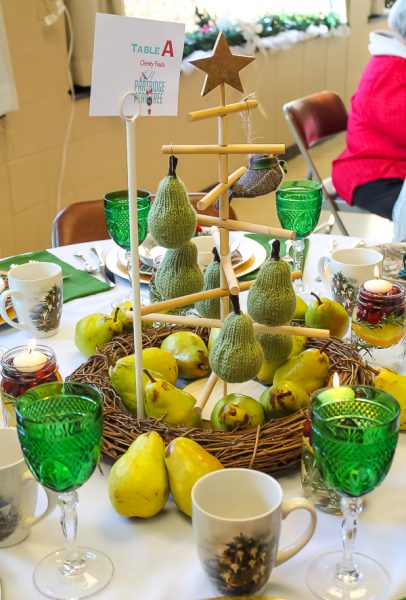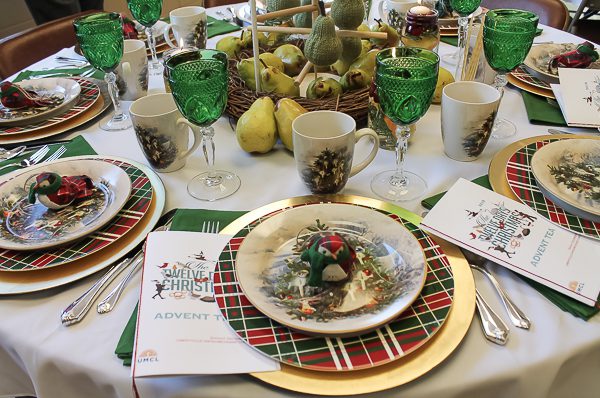 Followed by Two Turtle Doves: (two different tables)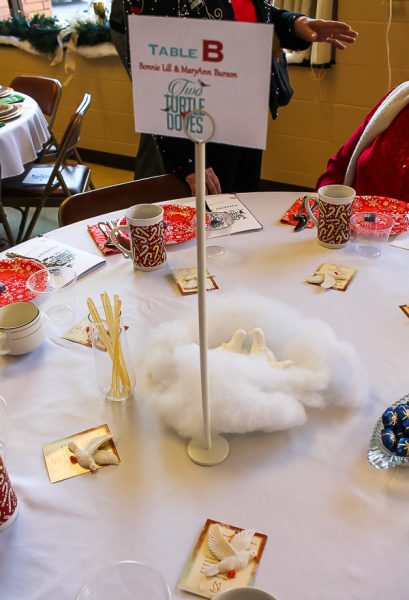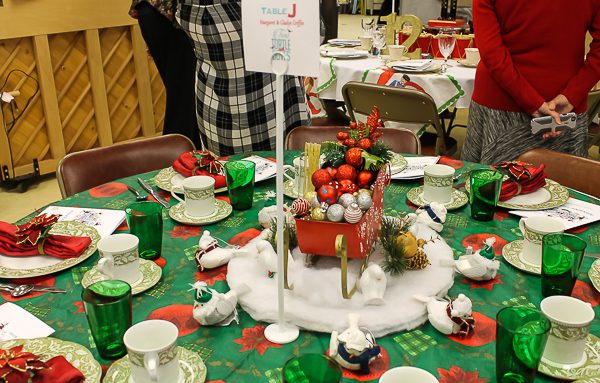 Three French Hens: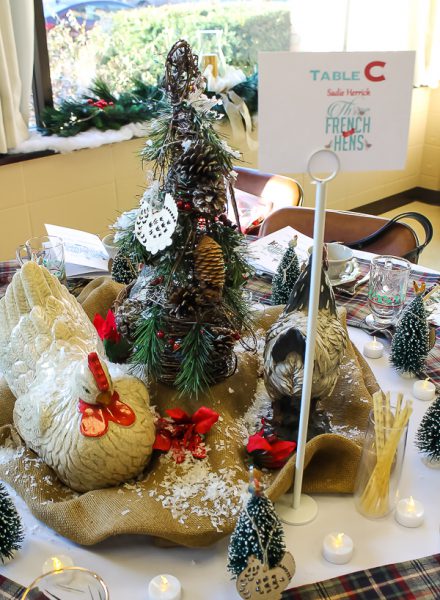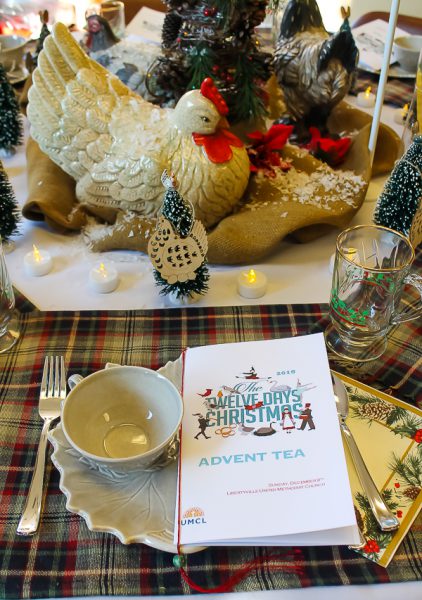 Four Calling Birds: (my assigned table)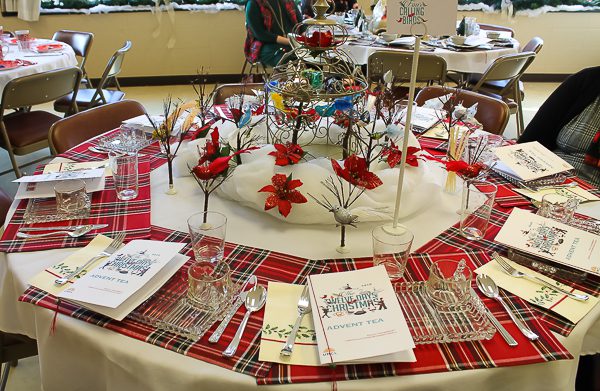 Five Golden Rings: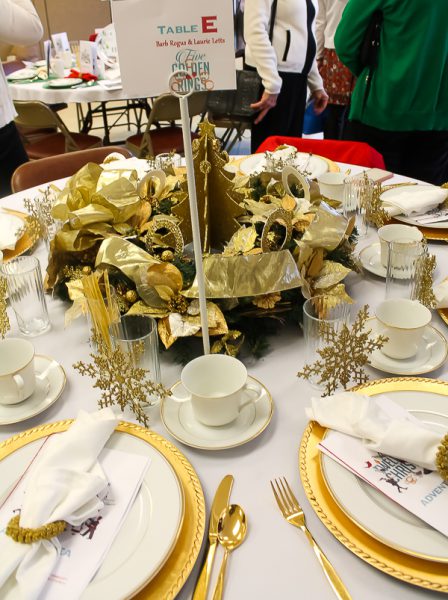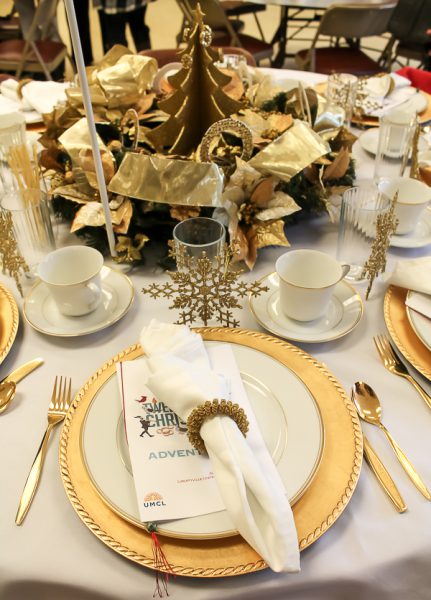 Seven Swans A-Swimming: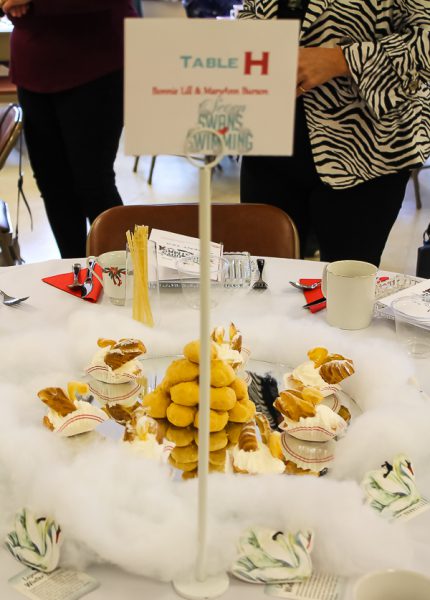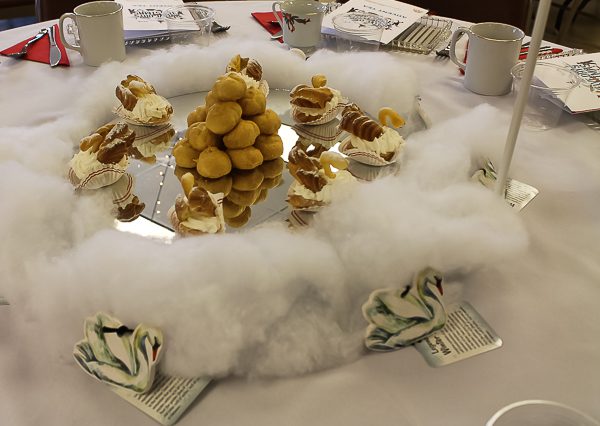 Eight Maids A-Milking: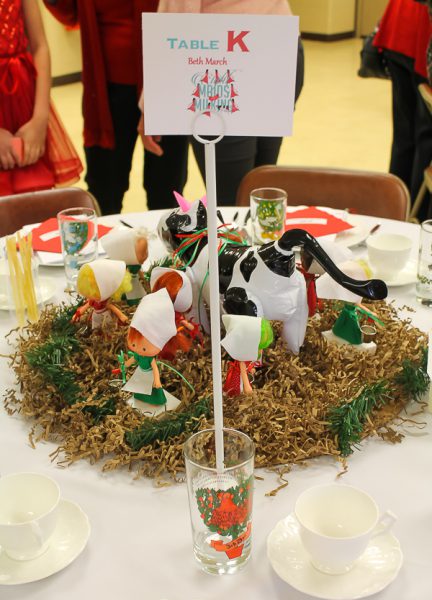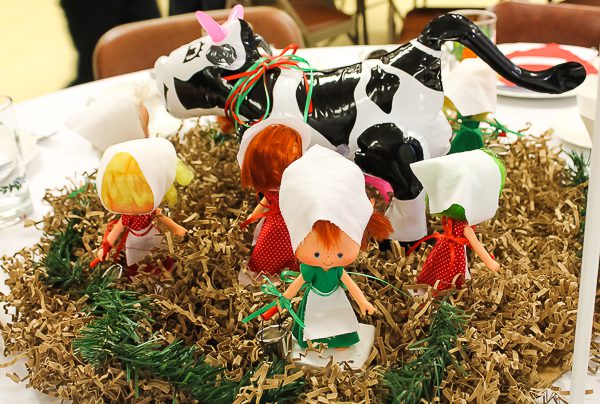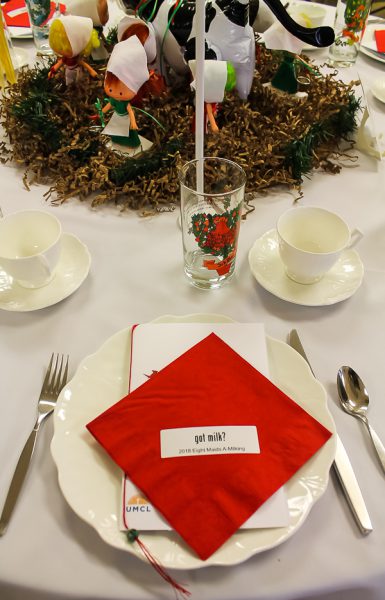 Nine Ladies Dancing: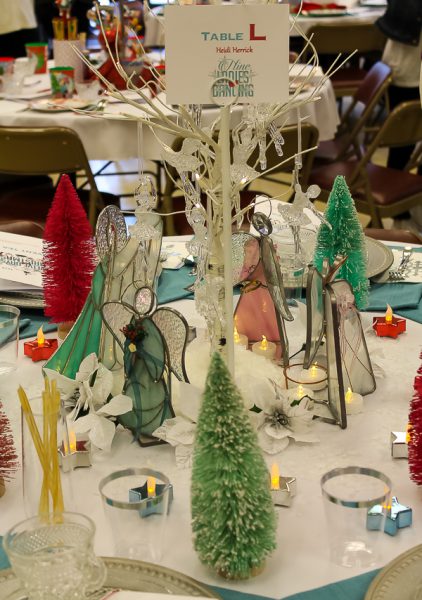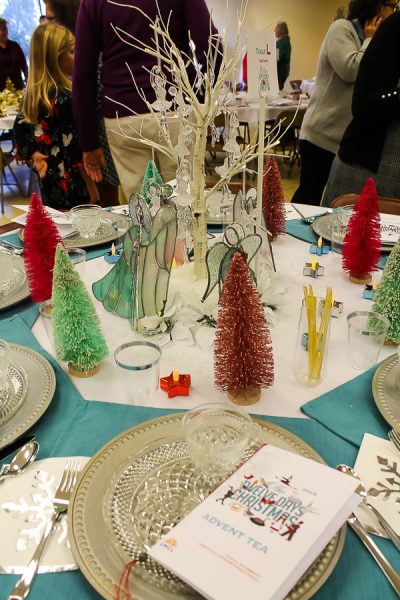 Twelve Drummers Drumming:  (He was huge!!)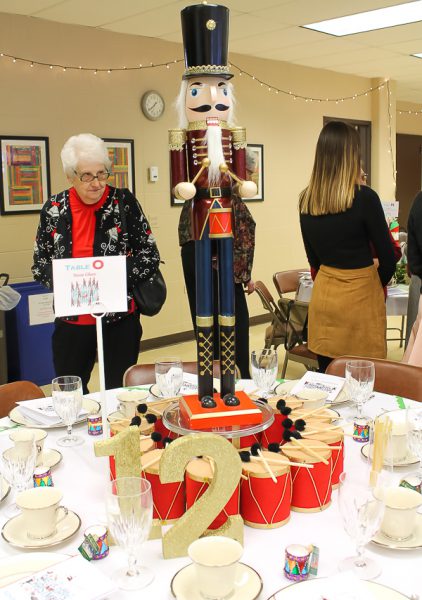 The rest of the tables had different titles. (I LOVE these plates!) This is a Twelve Days of Christmas combination: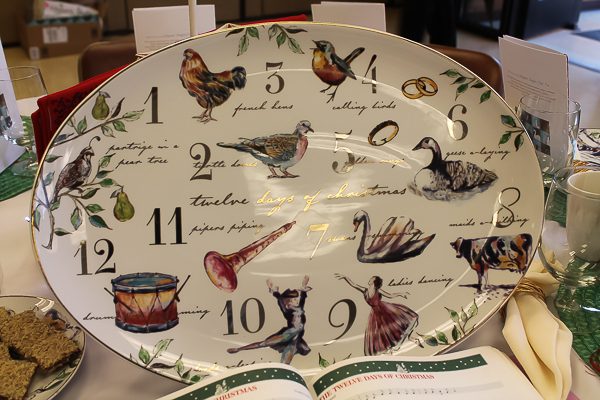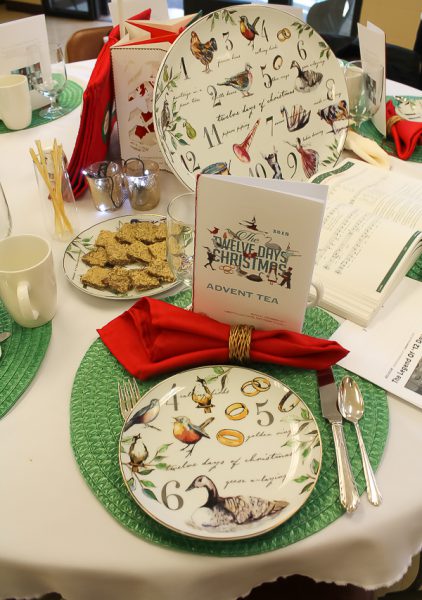 Twelve Days of Mickey Mouse for the kids: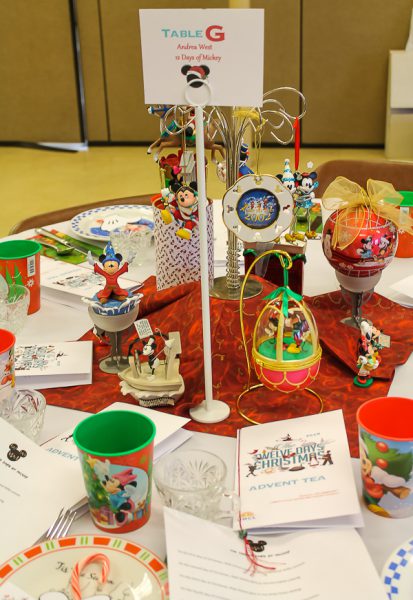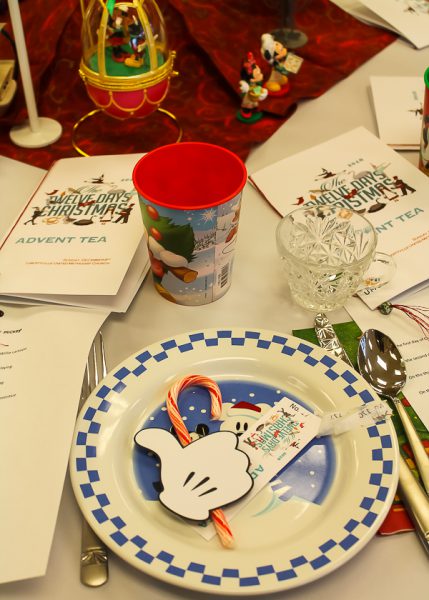 A Country Christmas: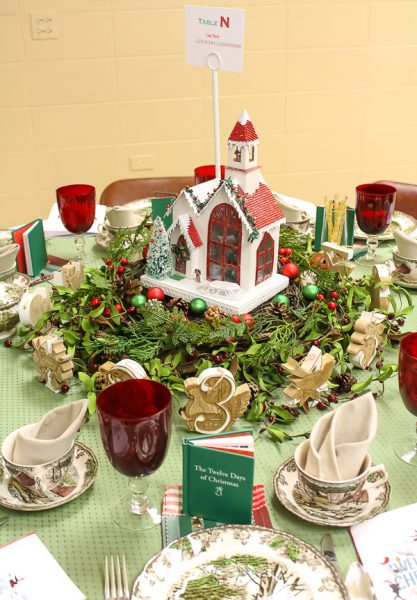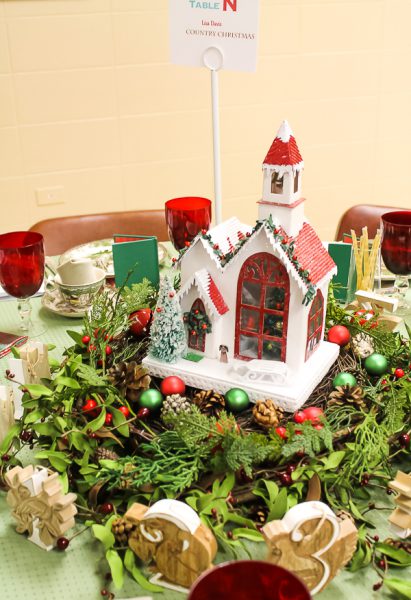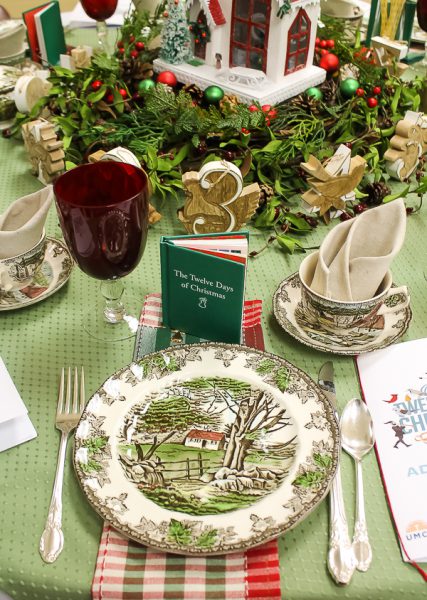 Another Twelve Days of Christmas combination: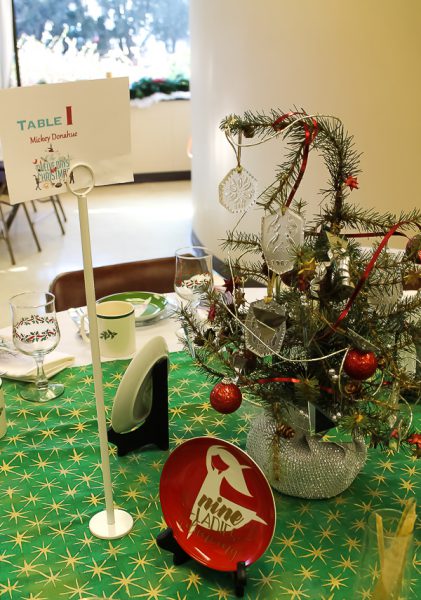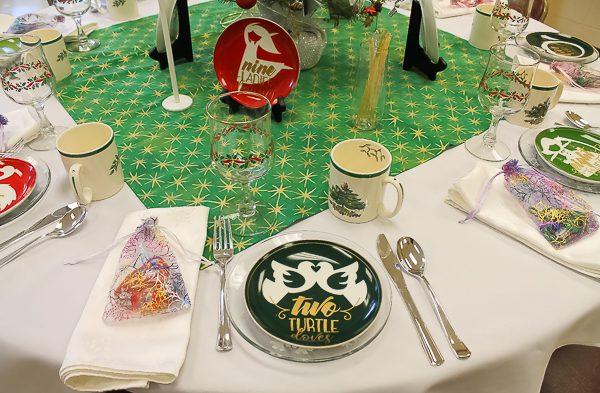 This first food photo was the first taste; banana bread, and a scone with lemon curd, along with the wonderful spicy chai tea.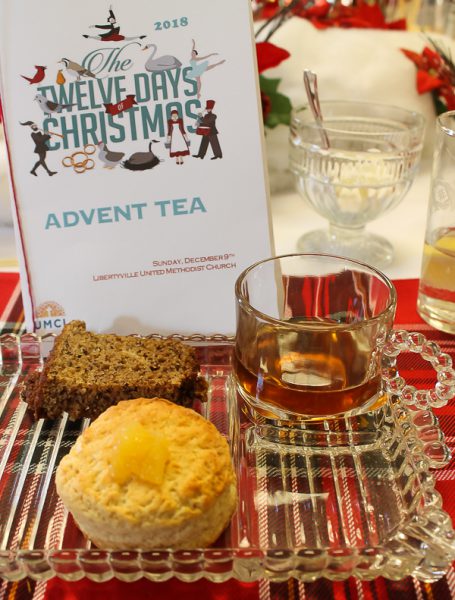 Here are a few of the delicious and dainty sandwiches: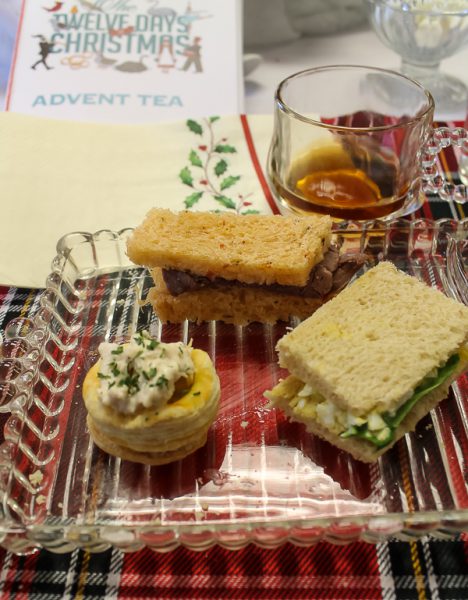 And there is always room for tempting bite-sized desserts: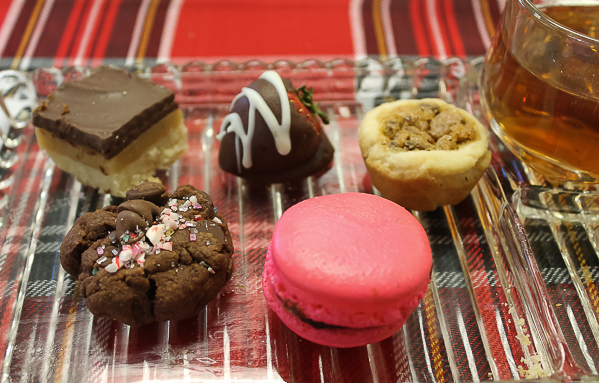 During serving time, we were entertained by all kinds of music from flutes to children singing, a sing-a-long of the Twelve Days of Christmas, and some readings.  It was a joyous afternoon for all.  Until next year's Advent Tea, I wish a Merry Christmas to all who celebrate this holy season.