Usually it's Chicago that's to blame for plane delays and cancellations due to winter weather, but not this year for the annual International Home and Housewares Show held at McCormick Place.  My daughter Kristina and I attend the show every year, but this year it was Kristina who was stuck in New York City because of the snow.  After two days of endless delays and frustrating cancellations, she finally made it to the windy city and our annual weekend of culinary excitement.  We missed a few things and had to change some appointments, but in the end we had a blast as we always do.  It takes a lot to keep us from having fun, especially when it's an event we look forward to every March.
The weekend started out with a bang because we stayed at the Four Seasons Chicago.  Best hotel ever.  So great in fact, that it gets its own blog this week.  Can't wait to tell you about it.  But for now, let's get on with the Show!
I need to start with the first thing I am going to buy – a can opener.  Not just any can opener, but an award-winning very different one from the fabulous Joseph Joseph.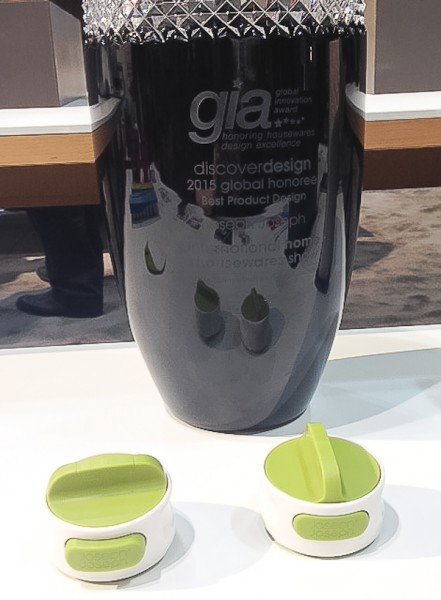 Yes, that tiny little thing that fits in the palm of your hand and fits in a drawer!  No more heavy and cumbersome counter top can openers or those ugly long silver things that are hard to twist.  This lightweight lovely can opener won the coveted "Best Product Design" at the show this year.  I've been looking for a new and better one for a long time.
The next booth on our list was to see a new collection of dinner plates and accessories with images from Turner Classic Movies.  We love movies in our family and they will be a big hit at Kristina's Academy Awards parties.  The first movie to be featured is "An American in Paris," the classic starring Gene Kelly.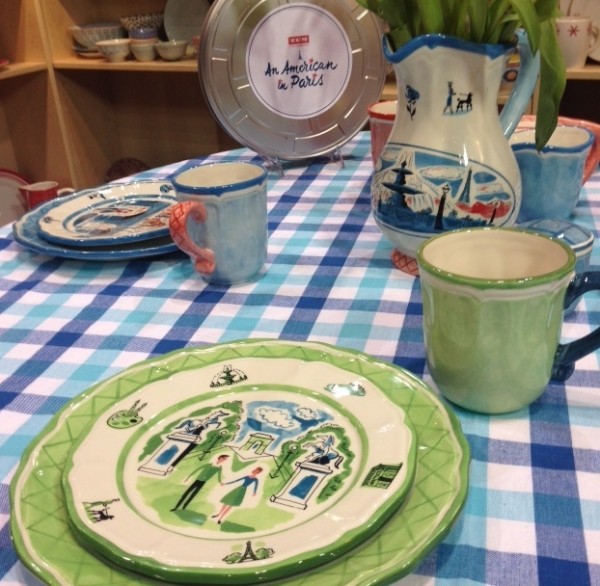 There are four plates, each a different color and depicting a different scene.  Other accessories are available such as pot holders, dish towels, cups, pitchers, aprons, and more.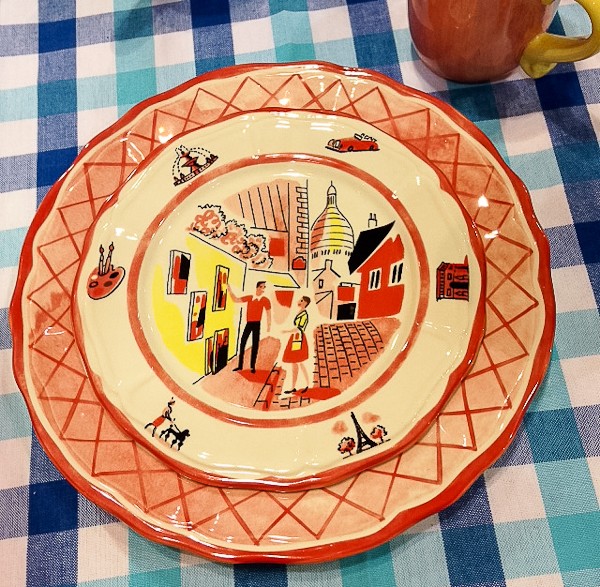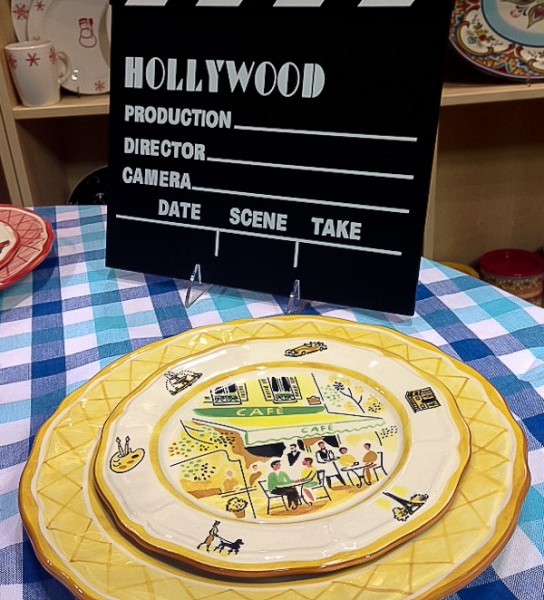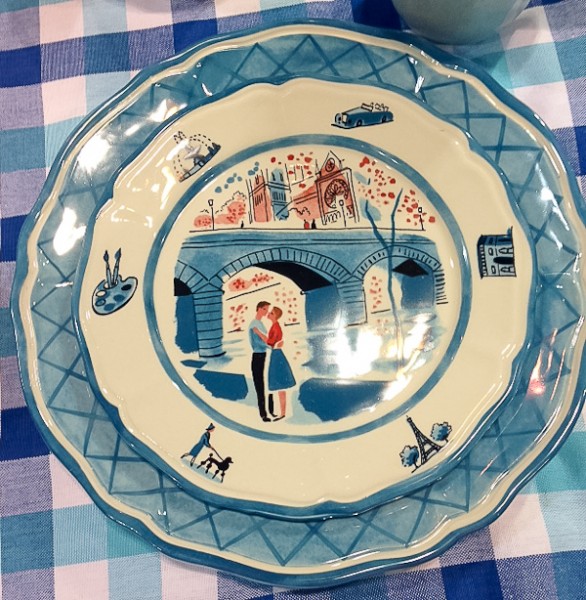 Aren't they adorable?  Rumor has it the next set of plates will be "Viva Las Vegas!"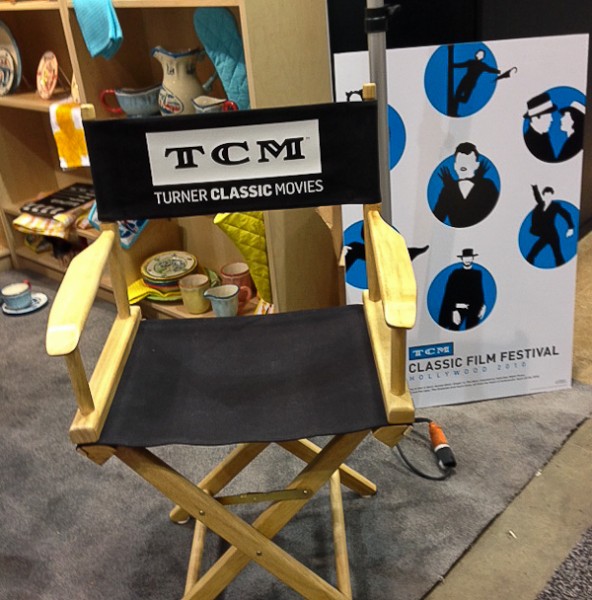 Next it was time for the huge Nordic Ware booth, one of our favorites.  They always have new pans with cooking demos.  This year someone was making savory waffle dippers made with shredded salmon, fresh dill, and chives, then served with a Greek yogurt-sour cream sauce with more fresh dill, garlic, lemon juice, and a few dashes of hot sauce.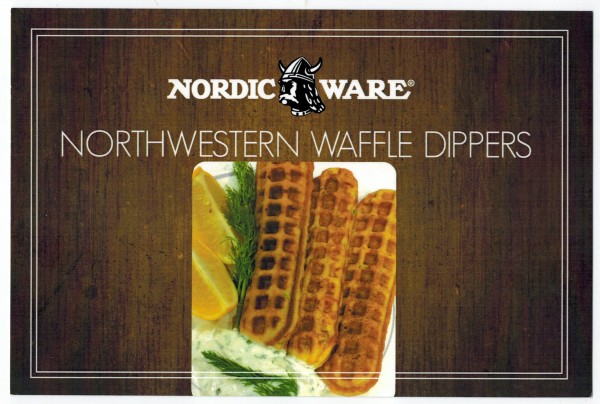 I love popovers and was excited to find a mini popover pan, also on my list to buy after the show.  Don't forget that Nordic Ware is a Made in the U.S.A. product!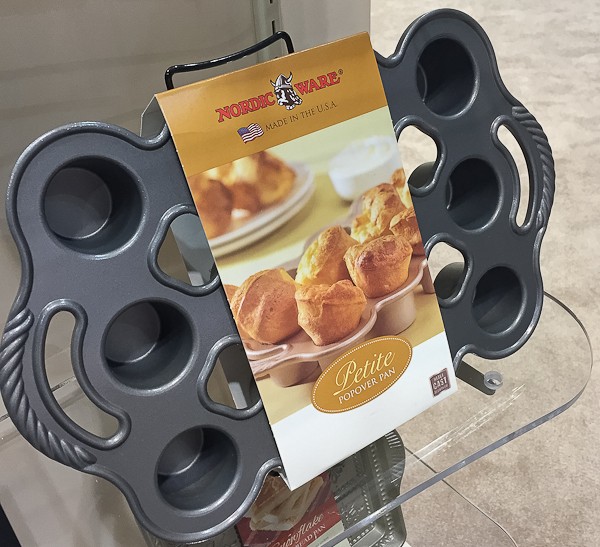 It seemed like every time we turned around there was something related to popcorn.  We loved the West Bend area. Popcorn kernels of every color, flavored salts and butters, bowls, napkins, aprons, air poppers, mini poppers, huge poppers, movie-sized poppers, you name it, it was there.  I think America loves popcorn.  Oh, and coffee makers.  I can't even begin to tell you about all the new coffee makers. Endless.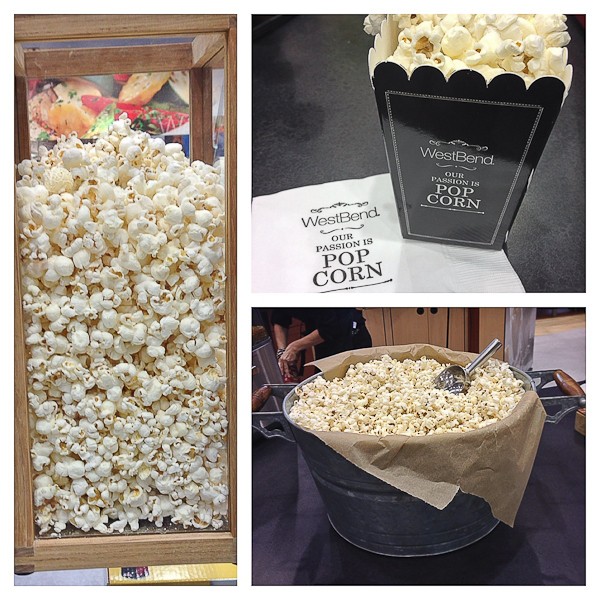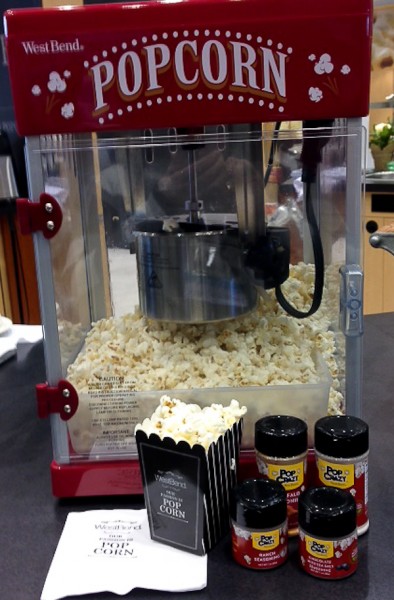 For those who love Kitchen Aid, there is a new spiral attachment coming out soon!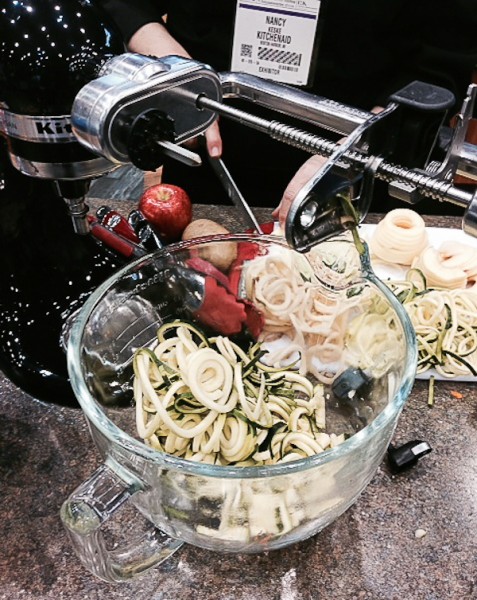 Fiesta displayed their new colors, slate and sage.  There will also be a line of "The Twelve Days of Christmas" plates, which I love.  Actually, I love anything Fiesta makes.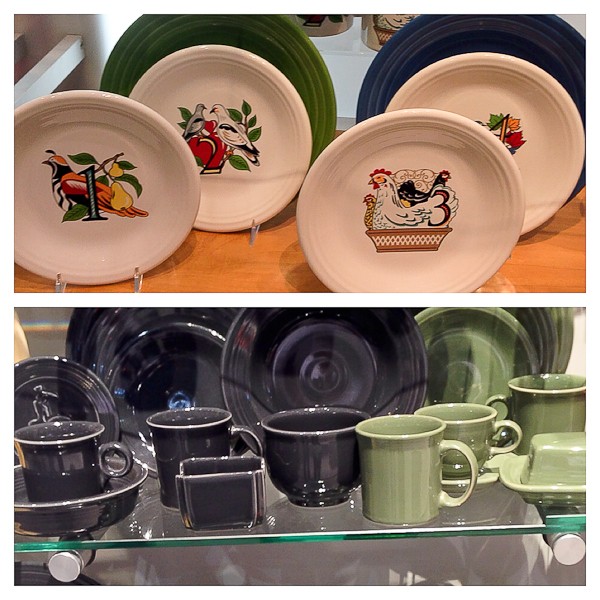 I even found a product my husband would love and he doesn't even cook.  It's a toaster from West Bend that in addition to making toast, will make eggs or even breakfast sandwiches possible all in one appliance.  First place water in the bottom of the side part next to where the toast is placed and add the egg holder, crack in the eggs (the amount of water will set the eggs for hard or runny yolk, or you can even hard-boil); add the next rack where you put slices of Canadian bacon or sausage; then place toast or English muffins in the toaster part and push down the button.  The machine does it all in about five minutes – cooks the eggs, heats the desired meat, toasts the English muffin and will keep it warm until the rest is done.  Voila!  An almost instant breakfast that even my husband can make.  The nice thing is, it's not much bigger than any other toaster.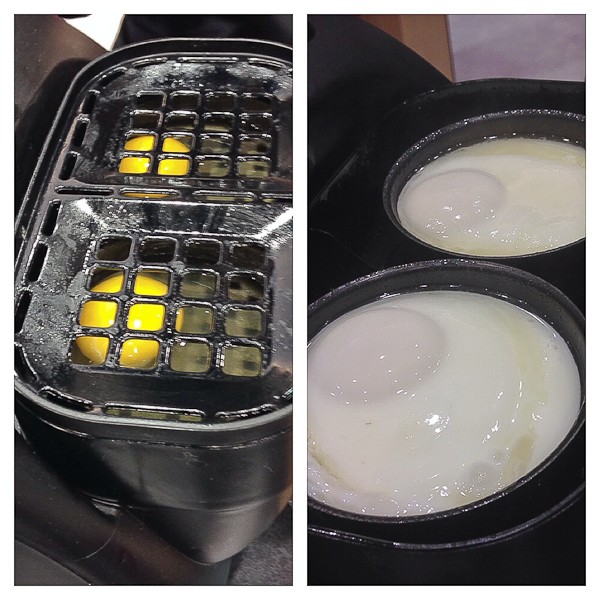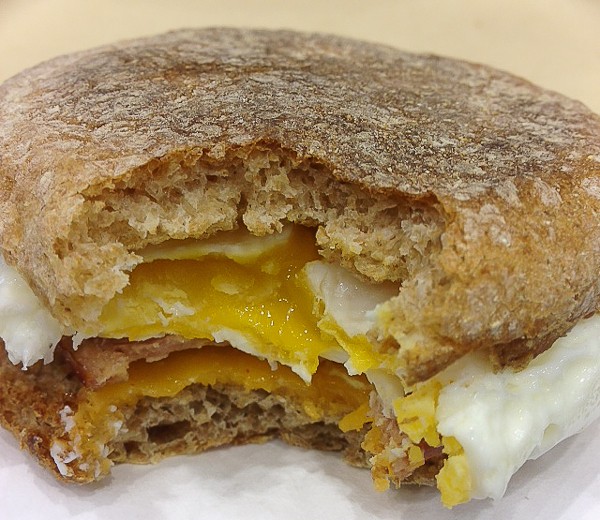 If you are a baker and love to display mini pastries, you will love the pastry stands from Epicurean.  They fold up and can be easily stored away with hardly taking up any space.  They are so cute!  I need these.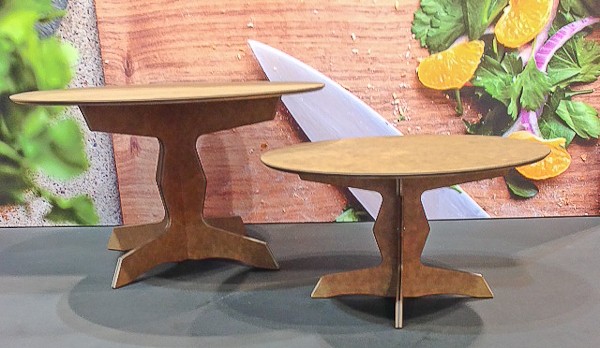 If you love Indian cooking, you will really love Anupy Singla.  This charming woman has written three great cookbooks, has a line of spices, and so much more.  So much in fact, that she will also be getting her own blog coming up soon, but here is a sneak peek!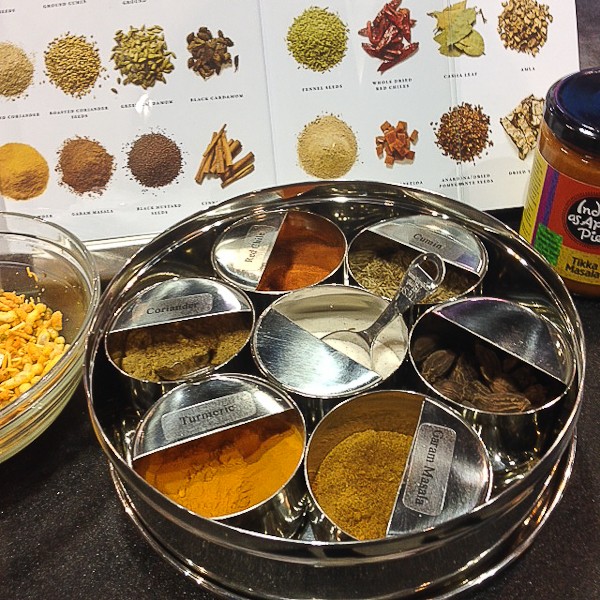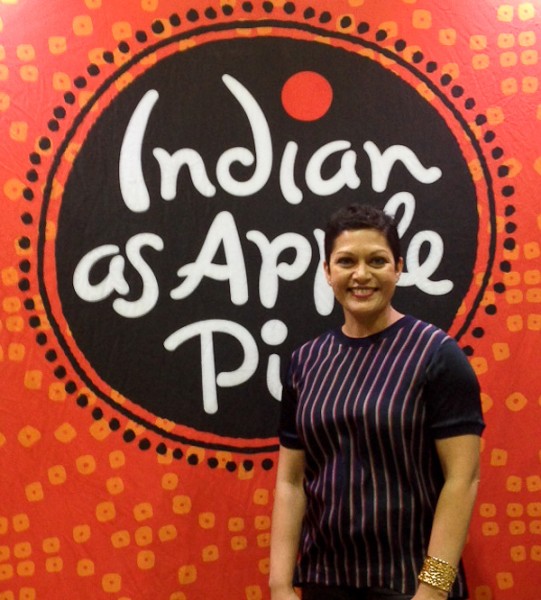 Watch for my Anupy Singla blog in the next week or so!  You will be blown away by all she is doing.  I'll be making some recipes from her cookbooks.
There was also a Guinness Book of World Records set by Pyrex for having the world's largest measuring cup.  If one made cupcakes using that size cup, there would probably be enough to feed the thousands of attendees!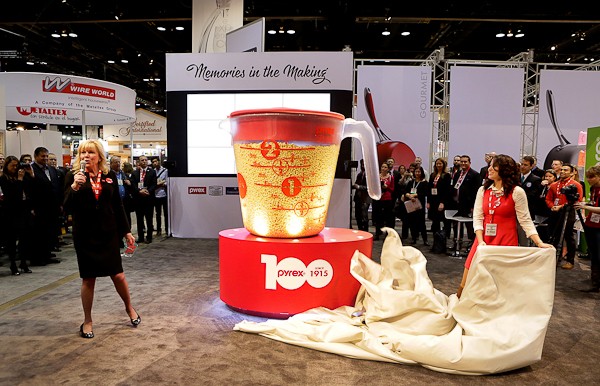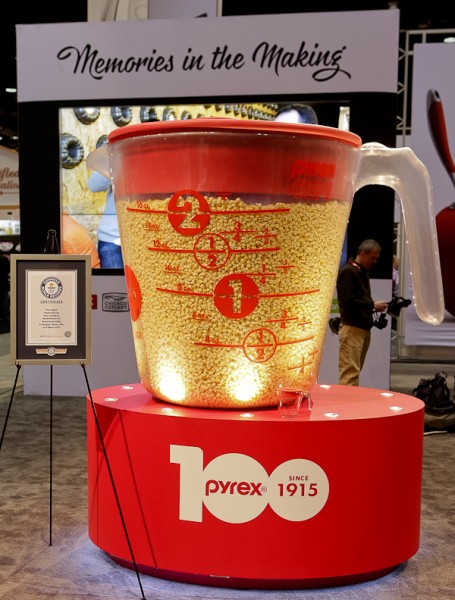 I haven't even mentioned all the celebrity chefs yet!  There is always a long list of chefs giving demos at the Cooking Theater every day.  If the chef has a cookbook at the moment, then book signings are available after the demo.  The set-up is a huge beautiful kitchen sponsored by Kitchen Aid.  Here are others besides those on the cover:  Rick Bayless; Buddy Valastro, the Cake Boss; Chris Cosentino, Duff Goldman, Paula Deen, Aaron Sanchez, and many more.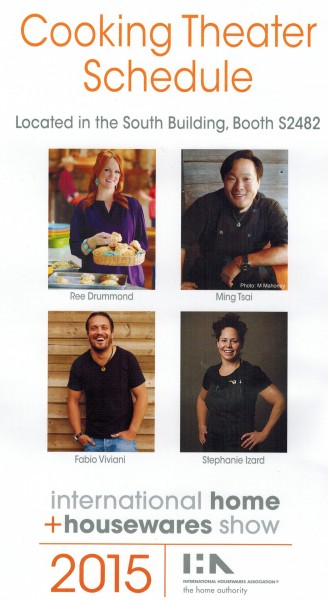 So as you can see, the International Home and Housewares Show is nothing but a weekend of fun, and I'm not even done yet.  Wait until I tell you about the Four Seasons experience, and our private events with Cuisinart and Joseph Joseph.  Tune in this week.  And think about attending the show next year.  Chicago will welcome you with open arms and I guarantee you will be well fed.  What I can't guarantee is the weather.