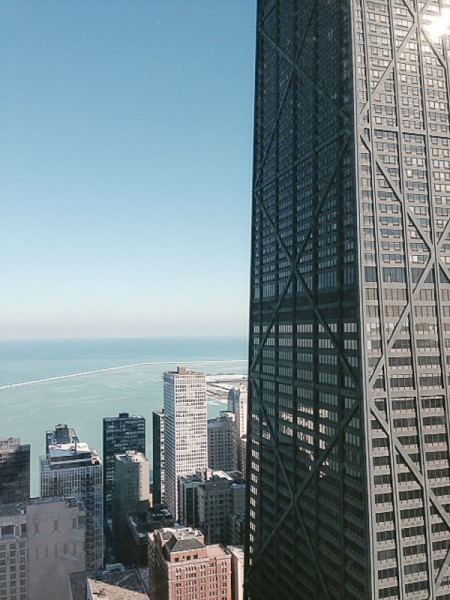 From the moment my daughter Kristina and I stepped into our room at the Four Seasons Hotel Chicago and admired the magnificent view of Lake Michigan and Hancock building, we knew it was only the beginning of a marvelous weekend.  It didn't take long for the fun to begin.  As mentioned in my earlier blogs, Kristina was in town for the Home and Housewares Show after being delayed for a couple days due to weather in New York City.  The delays made us a day late for the hotel and the show, but believe me, we were not unhappy in the least.  How can one be unhappy when "The Martini Man" shows up at the door, and then a short time later, "The Ice Cream Man" follows?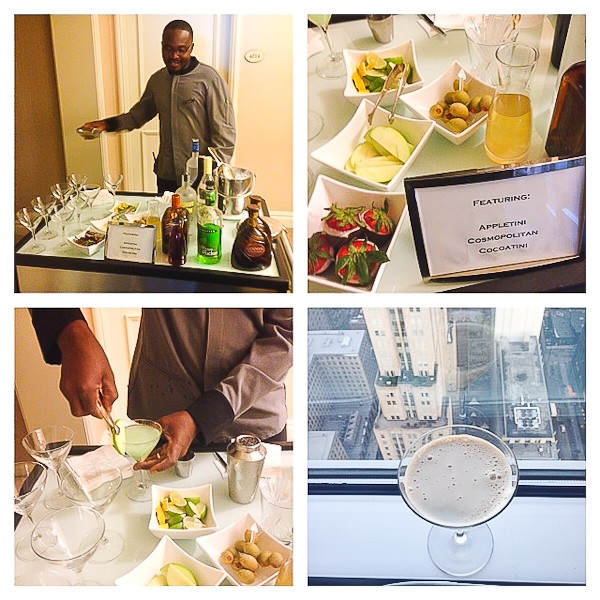 Oh, yes.  Martini Man was delightful.  Kristina was ready to relax after her travels, so Martini Man spoiled us.  We sat on the window seat, wrapped up in the hotel fluffy robes, and enjoyed the view with martini's in hand.  What do you think of my Cocoatini?
A short time later, another knock at the door.  We rushed to the door giggling like little girls wanting their ice cream.  (Cocoatini's and Appletini's are known to induce giggles).  We opened the door to find Ice Cream Man, except it was a woman.  "Where are the kids?" she asked.  More giggles.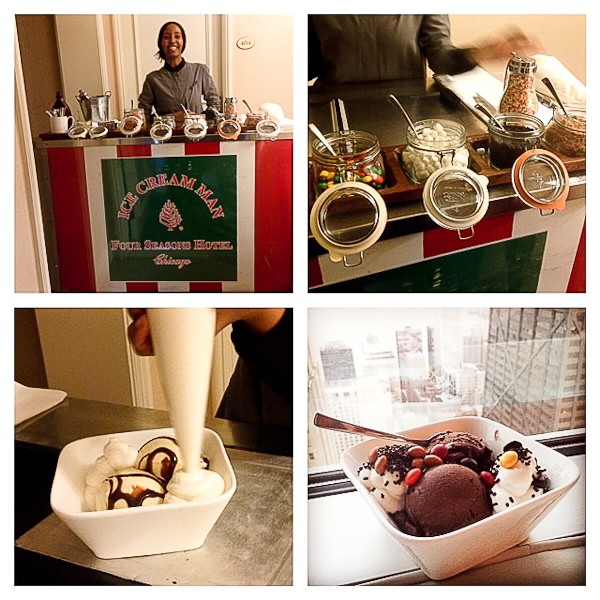 We woke up the next morning completely refreshed because the Four Seasons has the world's most comfortable beds.  The Home and Housewares Show was opening the doors soon and we were a little behind, mostly because we didn't want to get out of the beds.  We decided to order room service breakfast and were delighted to find that the hotel offered a special breakfast menu that would be delivered in 15 minutes!
It was delicious!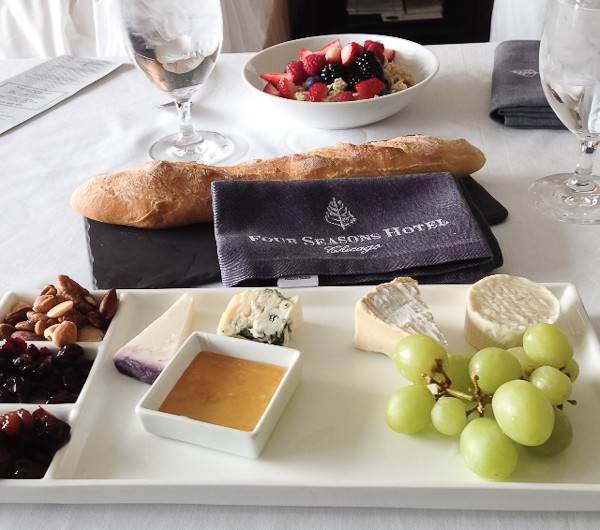 After a full day at the show we came back to the room looking forward to wrapping up in the robes and relaxing. First, Kristina decided she wanted to find the spa and see if there was a sauna.  She returned to the room later and said she shared the elevator with Ming Tsai who was one of the celebrity chefs appearing in the Cooking Theater at the show along with other chefs.  They chatted in the elevator but not about food; instead they talked about the spa where he preferred the steam room!
We woke up the next morning with a little more time before leaving again for the show and ordered a beautiful breakfast to carry us through the day until dinner that evening, which was our highly anticipated dinner at Allium, the restaurant in the hotel.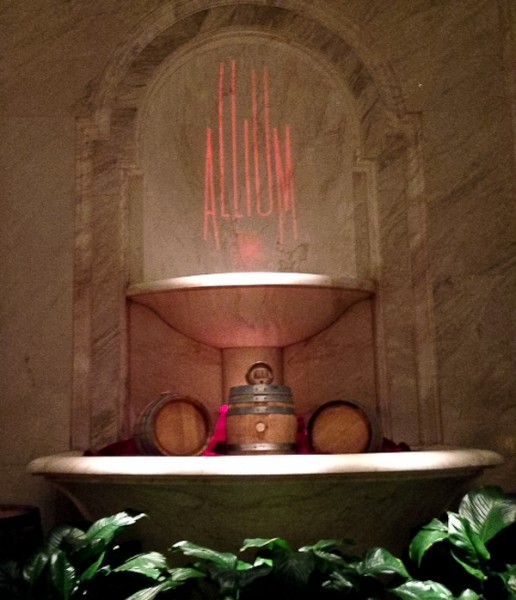 We had arranged to meet with Charlotte Berlin, the Director of Public Relations for the Four Seasons Hotel Chicago along with Executive Chef Stephen Wambach before dinner.  Kristina and I found them both delightful.  Since cookbooks are my passion, I asked the chef if he had a collection.  He replied that he had about 150 cookbooks worth about $20,000!  That was enough to perk up my ears and ask him if I could get a photo of him with his books.  Not only that, I will have an entire blog about this wonderful chef sometime soon.  Chef Wambach has cooked all over the world and I know my readers will enjoy reading about him.  We left to enjoy our dinner and the chef said he would personally bring all the dishes to our table and tell us about each one.
We were seated in a gorgeous room with a lovely view and a server just as lovely, Catherine.  She first brought us a beautiful Rose Champagne.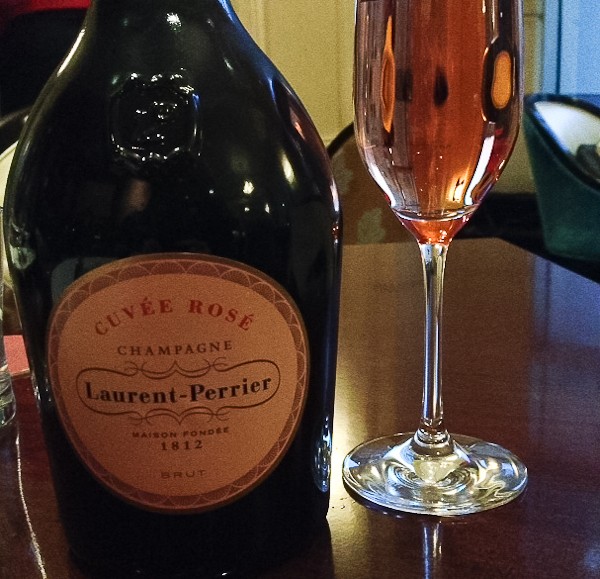 A few minutes later, Chef Wambach appeared with our first course, a stunning Kumquat and Beet Cured Salmon with Citrus Nage, Red Endive, and Finger Lime.  It was heavenly.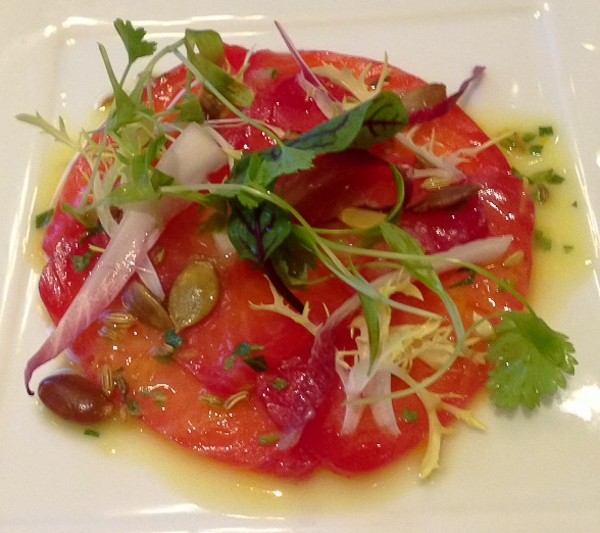 Before the next course, our gracious Sommelier, Griffin, arrived at the table.  He had a smile that lit up his face and we commented after he left that we could tell he was someone who loved his job.  Actually, that's something we found about the employees at the Four Seasons; they all seemed so happy!  I was very grateful for Griffin's explanations about the wines of the evening as I don't know enough about them and I appreciated his knowledge.  He presented us with a Pinot Noir for the next course.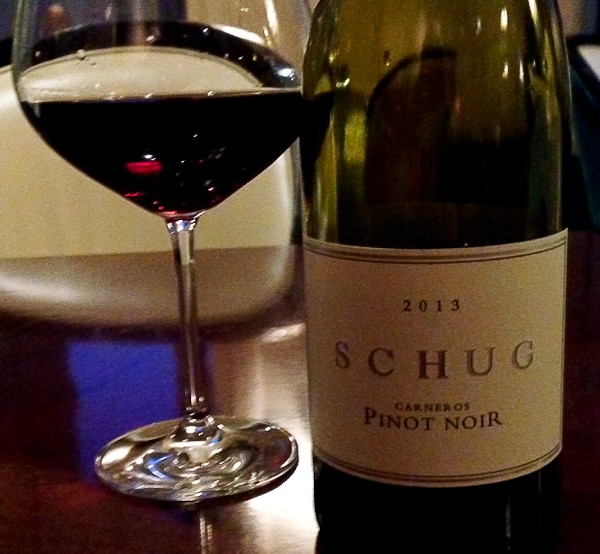 The wine was to be paired with the House Cavatelli which included Smoked Lamb Breast, Matsutake, Crispy Chestnut, all in an Apple Brown Butter.  The pasta was freshly made and every bite made you want the next bite even more.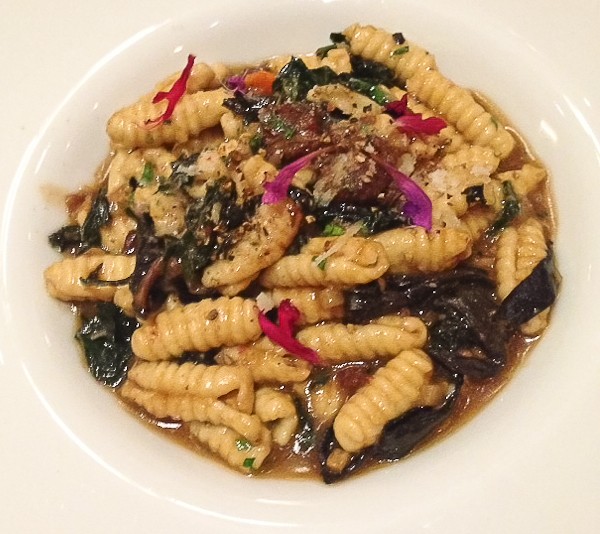 Next Griffin brought us a Bordeaux to pair with the main course.  He said it was his favorite.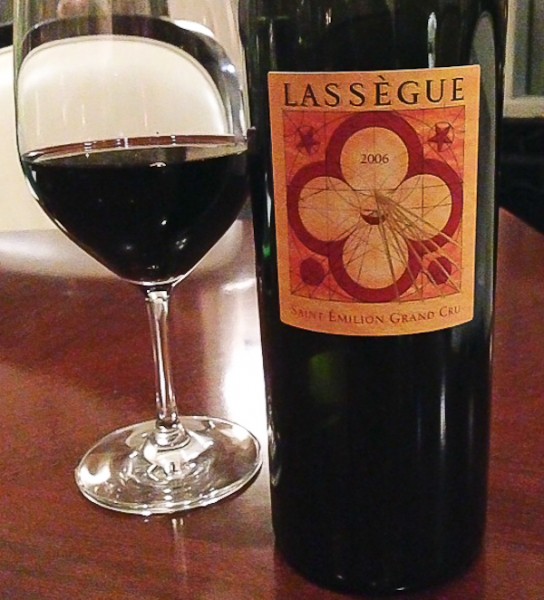 It was perfect with the Coffee Cured Venison served with Spiced Squash, House Sausage, Citrus Red Cabbage, and Wild Juniper, presented beautifully on a lovely round plate of wood.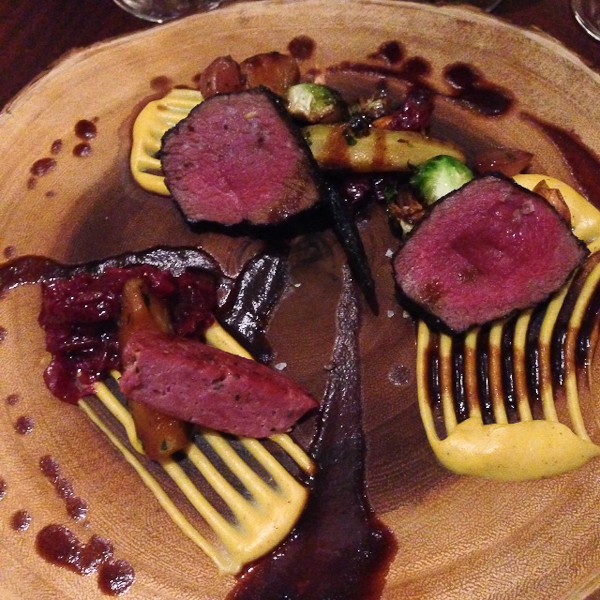 During the courses, we enjoyed chatting with Griffin.  Kristina mentioned to him that she would be going to a wine region in the South of France this summer and he inquired as to which one that would be.  He left and came back to the table and handed Kristina several sheets of paper stapled together with information about that area of France, the winery she would visit, and other information.  How sweet was that?
Okay, now I have to take a deep breath when I tell you about the dessert because I must convince you to come to Allium to taste Chef Wambach's "Crepe Souffle "C.T." with Passion Fruit Caramel."  In all honesty, it was one of the best desserts I have ever experienced in my entire life.  When the chef brought it to the table, he was smiling ear-to-ear because I believe he knew we would love it and he was obviously very proud of it.  He said we would never find it in any cookbook, as it was developed from a 1920's recipe and that he has been making it for eighteen years.  Sigh… what I wouldn't give to have that recipe…
It was simply perfection.  The outside was ever so slightly crispy and soft as a pillow on the inside, almost like a sponge cake, with a cream filling.  The sauce of passion fruit and butter to make a caramel was beyond anything.  We were almost afraid to touch it, but once we cut into it and took the first bite, nothing could have stopped us from devouring it and savoring every single delectable bite.  The chef told us not to fight over the filling.  Yes, we understood.
Don't think for a second we didn't take that last bite…
I got so wrapped up in the souffle, I forgot to tell you about the other dessert!  Also wonderful was the Citrus Olive Oil Cake with White Chocolate, Yogurt Cream, and a Mandarin Souffle.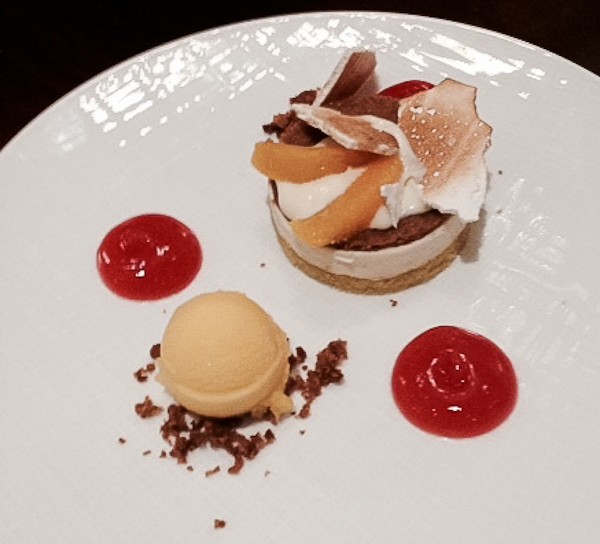 Just order both and you will thank me.  Forever.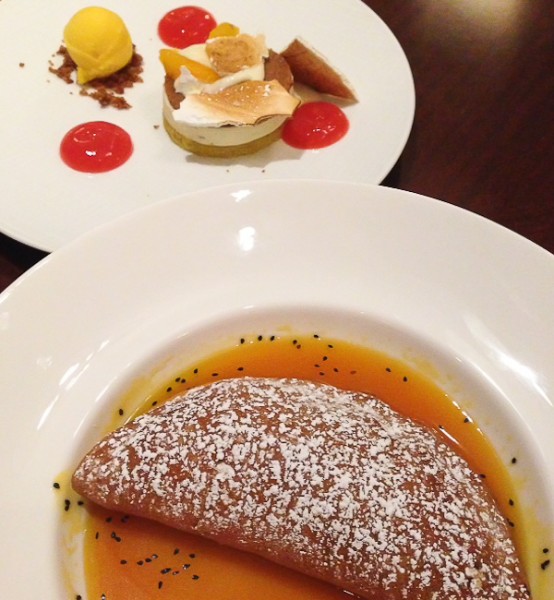 One last thing.  In our conversations with Griffin, Kristina also mentioned one of her favorite drinks she loves in New York City from Spice Market, is a Whiskey Passion Fizz.  Can you tell Kristina loves passion fruit?  Griffin was very intrigued with the sound of this drink, and he returned after dessert and presented us with his idea of what it would taste like just from how Kristina described it.  She said it was terrific.  Griffin liked it too and said if it goes on the menu, he is going to name it "The Kristina."
I hope I have convinced you to someday find your way to the Four Seasons Hotel Chicago.  It is one incredible place with smiling faces, comfortable beds, food of your dreams, and a dessert that will make you rethink what dessert should be.  Thank you everyone at Four Seasons Hotel Chicago for a memorable weekend.  We'll be back.
And Chef… can I beg for the Crepe Souffle recipe?
Please…