It's time for the Oscars!  If you love watching the Academy Awards, here is a recipe for Katharine Hepburn's famous brownies to enjoy at home or take to an Oscar party.  The recipe has been around for a long time and once you taste them, you'll know why.  They are fabulous and worthy of a special Oscar.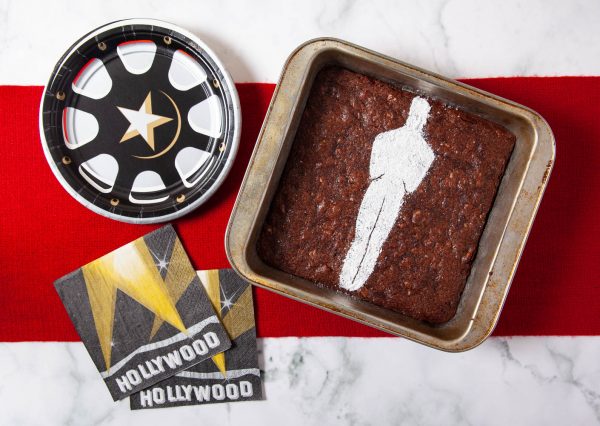 These dense and fudgy brownies are so easy to make and uses ingredients you probably have on hand.  There is very little flour in the recipe which gives them the fudge-like texture.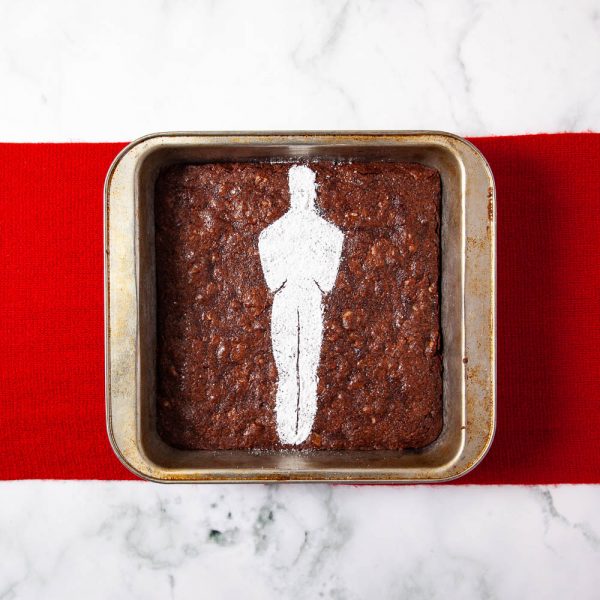 I traced a photo of an Oscar statuette from a newspaper onto a piece of parchment the size of the pan, placed it on top, then sprinkled on powdered sugar and lifted off the paper.  The lines are from dragging a knife gently to look like the legs and arms.
My daughter Kristina is here visiting and we are excited about watching the Awards together as we used to  since Kristina was young.  Not just the Awards but the clothes and jewelry everyone is wearing too.  I am not sure these brownies will last until the Red Carpet.  They are really that good.

Kathsrine Hepburn Brownies
Ingredients
½ cup unsweetened cocoa powder
½ cup unsalted butter
2 large eggs
1 teaspoon vanilla
1 cup sugar
¼ cup all-purpose flour
1 cup coarsely chopped walnuts or pecans
Pinch of salt
Instructions
Heat oven to 325 degrees F. Grease an 8-by-8-inch square pan; set aside,
Place cocoa powder and butter in a small saucepan over low heat and stir until smooth. Remove from heat and set aside for a few minutes to cool, then transfer to a mixing bowl.
Whisk in the eggs one at a time, then stir in the vanilla.
In another bowl combine the sugar, flour, nuts, and salt,. Add to the chocolate mixture and stir until just combined.
Spoon batter into prepared pan and smooth out evenly. Bake for 28-30 minutes. Do not overbake. Brownies should be slightly gooey and fudgy. Let cool and cut into bars.