I know it sounds like ancient times, but I remember Halloween Trick-or-Treating when people handed out apples, sometimes getting enough to make a pie.  And I have actual proof of this…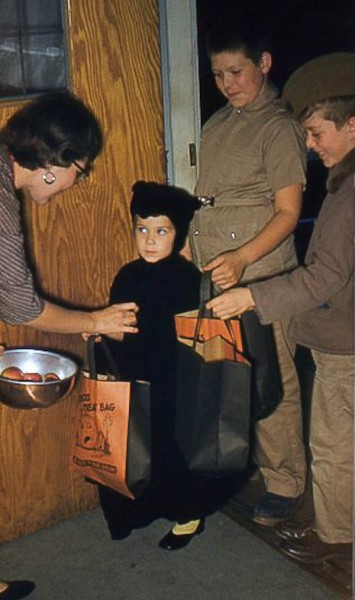 That's me with my Boy Scout brothers and my own mom handing out apples.  I am not quite sure if my dubious look is saying, "Hey, mom, where's the Hershey Bars instead?" or I am wondering if my own mother doesn't recognize me.  Either way, I know for sure I was given enough apples to make this delicious coffee cake.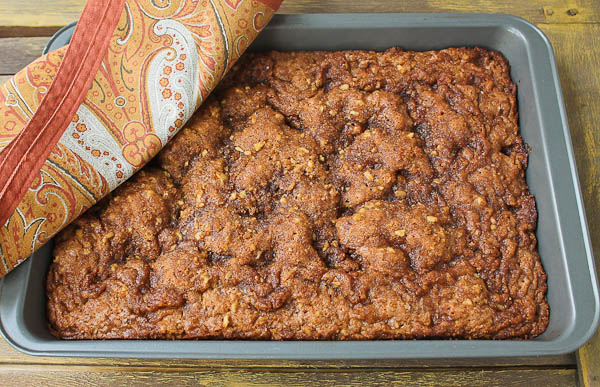 The coffee cake has apples and a pear coupled with sour cream that makes an incredibly moist texture.  Add a buttery brown sugar-nut topping with cinnamon and the aroma alone will wake up the household for a lazy weekend breakfast or brunch.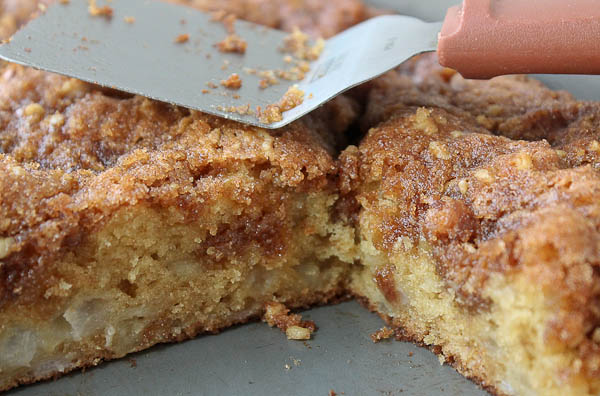 The coffee cake is so easy to make and I guarantee it will become a favorite.  It's one of those recipes that you will crave when a chill is in the air and all you want is something sweet, buttery, and spicy, especially cinnamon, and of course the best of fall apples and pears.  Make it this weekend, kick your feet up with a hot cup of coffee, and relax.  Trick-or-Treat is over.  Now it's time for YOUR treat!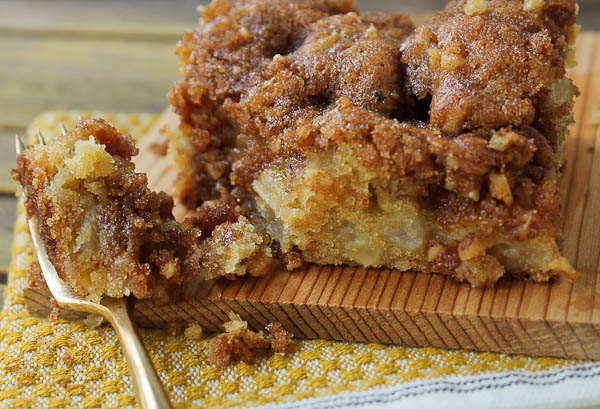 Apple-Pear Sour Cream Coffee Cake
Ingredients
½ cup unsalted butter, room temperature
1 cup granulated sugar
2 eggs
1 teaspoon vanilla
2 cups all-purpose flour
1 teaspoon baking soda
1 teaspoon baking powder
½ teaspoon salt
1 cup sour cream
2 cups finely chopped peeled apples and pears (about 2 apples and 1 pear)
1 cup packed brown sugar
½ cup chopped walnuts
2 Tablespoons unsalted butter, room temperature
1 teaspoon cinnamon
Instructions
Heat oven to 350 degrees. Grease a 9-by-13-by-2-inch baking pan; set aside.
In bowl of electric mixer, beat together ½ cup softened butter and granulated sugar until lightly and creamy. Mix in eggs and vanilla; beat well. Stir in flour, baking soda, baking powder, and salt alternately with the sour cream. Fold in chopped apples and pear. Spread batter evenly into prepared baking pan.
In a small mixing bowl, combine the brown sugar, walnuts, 2 Tablespoons butter, and cinnamon until crumbly and well mixed. Sprinkle evenly over batter. Bake until a wooden pick inserted in the center comes out clean, about 38-40 minutes. Serve warm or at room temperature. Makes 12-15 servings.