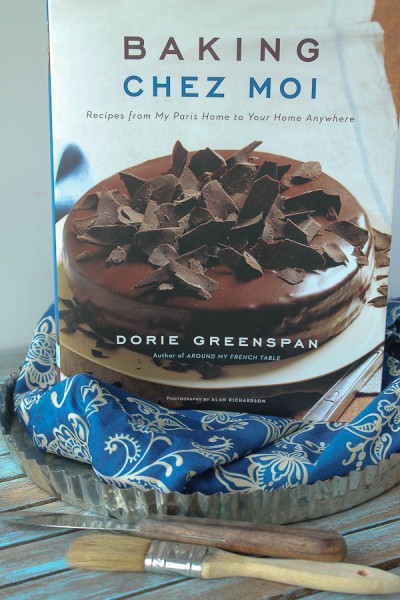 You will change your mind about French baking after reading this cookbook.  When French baking comes to mind, many of us think of the French patisserie with the stunning yet complex, fussy, time-consuming, and detailed works of edible art that we could never make at home.  Here is what I learned from Dorie Greenspan's new book, Baking Chez Moi –  real French people don't bake this way!  The complex pastries are wonderful, but left to the professional patissiers.  The French who bake at home, bake for their families and their closest friends.  The recipes are deeply personal, simple, and also perfect.  The recipes have nothing to do with fancy French techniques or spun sugar.  Instead they are homey and comforting, fun and generous, and tied to family and traditions.  My kind of book.
Dorie Greenspan lived in France for almost two decades and gathered recipes from all over the country.  There are two recipes in the book that you will love for the holidays: a "Cranberry Crackle Tart" for Thanksgiving, and a "Gingerbread Buche de Noel" for Christmas, both definitely on my list, and also the soft-salted butter caramels to give away for gifts. But the first recipe I tried from the book was the "Classic Fruit Tart."  Greenspan writes that the pastry that changed her life and made her long to live in Paris was a simple, tiny fruit tartlet filled with pastry cream topped with wild strawberries glazed with jam.  This is just a larger version using raspberries.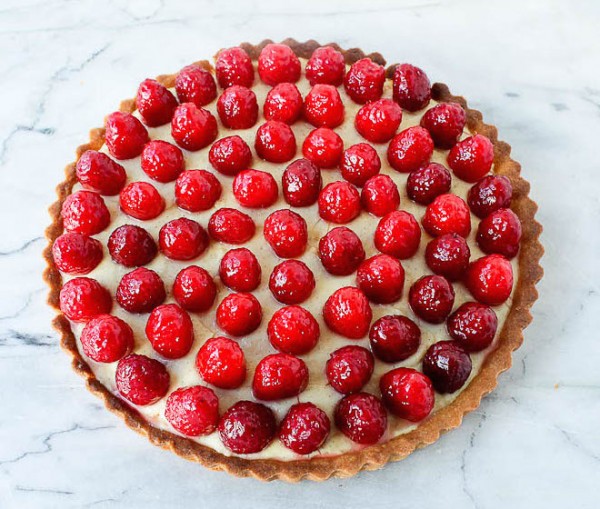 There are only  three elements here according to Greenspan:  the crust must be beautifully browned, because if it is pale, you will be cheating yourself of the full flavors of the ingredients.  When you're baking, color equals flavor.  Greenspan says she is known as "Miss One-More-Minute" as she is always putting things back in the oven for a tiny bit more time and a little bit more color.  I remembered this as I baked the tart crust and left it in another minute.  She was right.  Of course she was right.  The crust is flawless.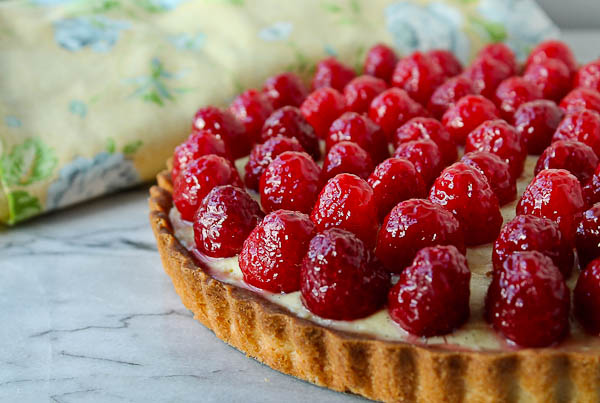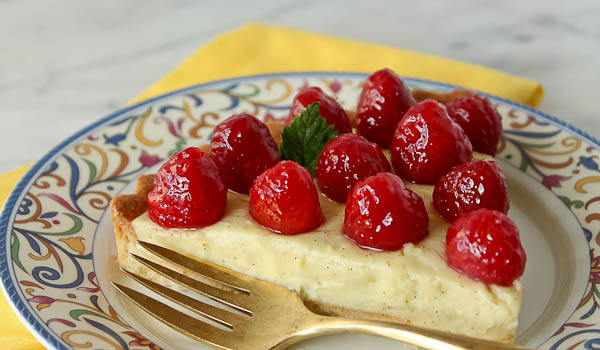 Next, the pastry cream should be silky, cold, and well-flavored.  The little black specks in the filling are from the vanilla bean.  You can use vanilla extract, but using the bean makes it even more flavorful.  The filling can be made a few days ahead and even gets better as it chills.  And last, the fruit should be ripe and luscious.  The completed tart should be served as soon as possible after it is assembled, but can be kept in the refrigerator, away from foods with strong odors, for up to four hours.
Owning this book is like having Greenspan with you in the kitchen.  Everything is explained in easy terms as she guides you through each step, ensuring you that your dessert is going to be spectacular.  The most difficult decision is where to begin.  Simple cakes, fancy cakes, tarts and galettes, baby cakes and petite pastries, cookies and bars, or fruit, creams, frozen desserts, or candies.  For me, I know exactly what is next; the lemon madeleines.  I learned some secrets about baking madeleines that I didn't know, and Greenspan didn't know until she learned from two of Paris's finest pastry chefs.  First is to bake the chilled batter in a cold pan on a very hot baking sheet.  The second tip was in glazing the madeleines after they are baked by gently dipping them into a glaze, placing in a 500 degree oven on a parchment-lined sheet for 1 to 3 minutes, pulling them out at the first sign of a bubble in the glaze.  I can't wait to try these.
Now you must be anxious to own this book, right?  You should be, because it is truly marvelous.  Every cook should own this book.  Not only that, I will throw in $15 worth of coupons to buy some beautiful fruit from Driscoll's.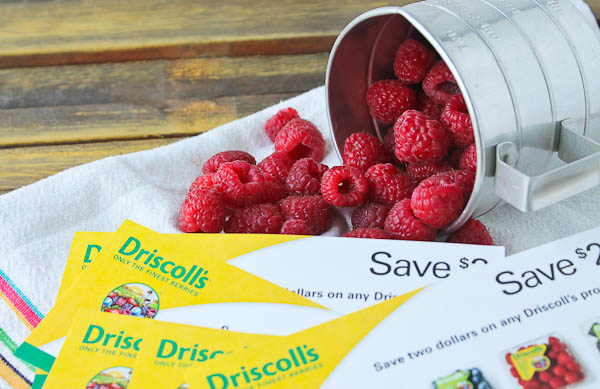 Included in the Giveaway:
-Dorie Greenspan's "Baking Chez Moi"
-$15 in Driscoll coupons
How to Enter:
1)  Leave a comment here on the blog about your favorite dessert.  Is it a chocolate cake from a secret family recipe or a fancy dessert you tasted in a restaurant?  I'd love to hear all about it, whatever it is!
 Bonus Entries:  (optional)
2)  Leave an extra comment(s) if you have also posted about this giveaway with the link to this blog on your own Facebook page, your own Twitter account, or pinned this giveaway to one of your own Pinterest boards.  You will get one extra entry with each!
3)  Only comments left on this page will be valid. Each entry must be a separate comment and not a reply to a comment and not multiple entries within one comment.
4)  The random drawing (for Continental USA only)  will run from today, November 3, 2014 to Saturday, November 15, 2014, when entries will close at 11:59 pm CST.  I am running this one an extra week longer than my usual giveaway because it's such a fabulous book!  The winner will be notified by Monday, November 17, 2014.  If the winner has not responded in three days, a new winner's name will be drawn.
Good luck everyone!  I am already happy for the future winner!  Congratulations to last week's winner of the "Recipes from Country Inns," Michele Hemming!