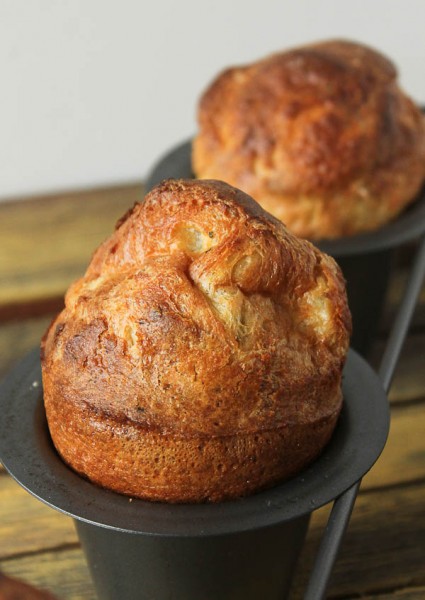 Don't you love the science of cooking, how you can take simple ingredients like eggs, milk, flour, and salt and transform them into these airy, puffy, crispy, weirdly tall popovers?  For a long time, I made them in muffin tins because I didn't have the specialty popover pans.  They tasted good, but never seemed like a real popover.  About ten or so years ago a store opened nearby having a Grand Opening sale.  Inside, I headed to the area with all kinds of kitchen gadgets and pans on a huge table.  I saw the popover pans and knew it was finally time to buy one.  I looked at the price and it was $1.50!  Wow!  What a grand opening sale, I thought.  Why not buy two?  So I did.  I didn't find anything else I needed and went to the checkout.  I pulled out a few singles thinking what a deal I had found. That will be $31.80, said the cashier.  What??  I showed him the price tags and he said, Whoops – someone made a mistake.  Sorry.  It's still $31.80; they are $15 each, not $1.50.  Just as he was saying this, the manager walked by and overheard what he was telling me.  He said that since $1.50 was the price tag on the pans, that's what he would charge me. Score! I think he just wanted to be nice to his new customers, so I said okay and went home happy.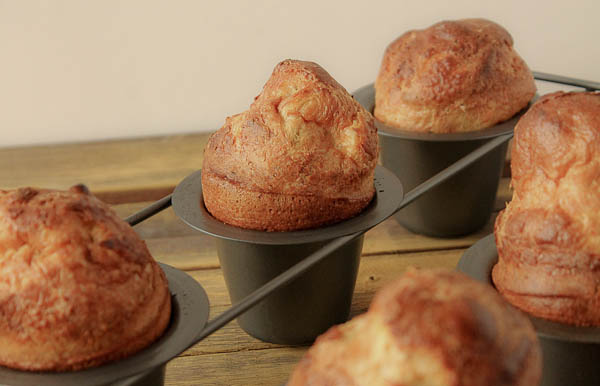 I've had a lot of fun with these pans.  One year I made individual panettones (an Italian sweet bread) for Christmas gifts, but it's usually been just for popovers.  I first learned to love popovers at the Zodiac Room in Neiman-Marcus stores where one popover is brought to your table along with a strawberry butter before you even have time to order.  My girls and I always made it a tradition while Christmas shopping to go have lunch at the Zodiac, but what we really wanted was the popovers.
These popovers have the addition of a little poultry seasoning for the holidays and are great with a Thanksgiving or Christmas turkey and all the trimmings.  They are best served piping hot with butter, honey, jam, or whatever you like. For a strawberry butter like the Zodiac Room, just stir some strawberry preserves into some softened butter until blended.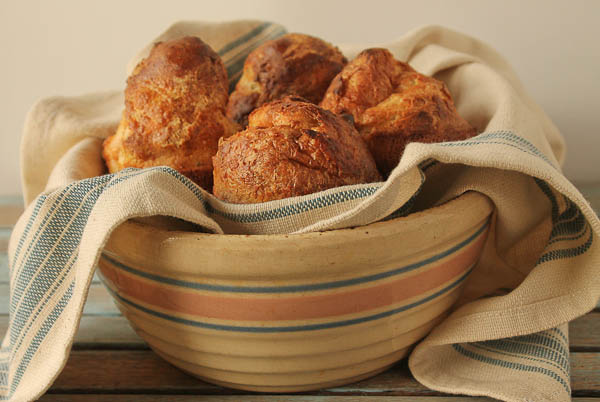 Just remember the wise words of Dr. Seuss on the subject of popovers:
To eat these things, you must exercise great care;
You may swallow down what's solid,
BUT
you must spit out the air!
Holiday Popovers
Ingredients
2 eggs
1 cup milk
1 cup all-purpose flour
½ teaspoon salt
1 teaspoon poultry seasoning
Instructions
Heat oven to 450 degrees. Grease 6 popover pan cups (or 8 medium muffin cups).
Break eggs into a mixing bowl and whisk slightly. Add remaining ingredients and beat just until smooth. Divide mixture evenly between prepared pan cups.
Bake for 25 minutes, then reduce heat to 350 degrees. Bake until popovers are a deep golden brown, about another 15-18 minutes longer. Remove from pan and serve immediately. Always serve popovers hot.