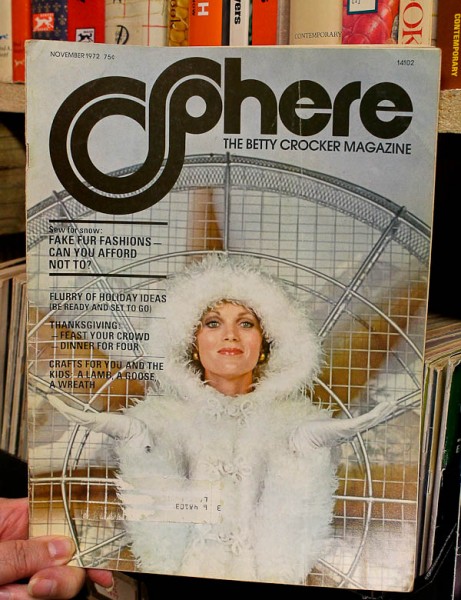 It really feels like November here today; cold, windy, and a grayish sky.  To some, that means dreading the winter to come.  To me, it means sitting by a crackling fire wrapped up in a blanket, baking bread, making soup, or starting menus for Thanksgiving.  I am definitely a fall/winter person, not a sit-on-the-beach-in-a-tropical-paradise-person getting sun-burned.  And that suits me fine.  What better way to start than with an old November Sphere, my favorite vintage magazine.
The first section is a Thanksgiving dinner menu for only 3 or 4 people.  It consists of a capon cooked in a clay pot with leeks and fresh herbs; a pilaf served with Brussels sprouts; cranberry relish salad, popovers, and a beautiful pumpkin-spiced Baked Alaska.  The second section is a feast for a crowd with roast turkey and a fruit stuffing; a cornbread-stuffed ham; nutty green beans; mashed potatoes with turnips; and for dessert a lemon chess pie and some date squares, which has a shortbread-type crust and a date-nut topping.
The recipe that caught my eye in these two articles was the fruit stuffing.  It sounded so simple and different that I had to try it.  It's only five ingredients, including mandarin oranges, golden raisins, apple, herb stuffing cubes, and apple jelly.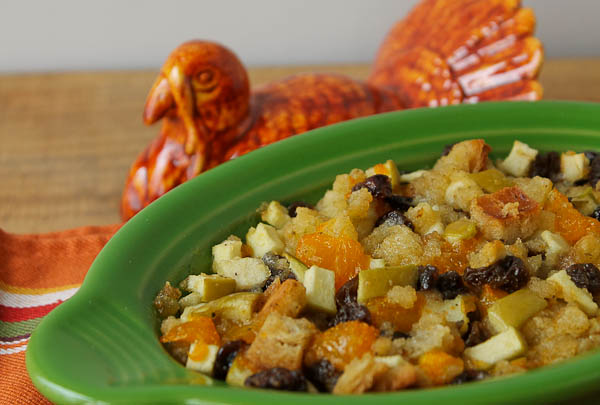 I put the stuffing together in the time it took to chop a couple apples.  I didn't have a turkey to stuff yet, so instead I baked it in a casserole dish.  It couldn't have been easier.  My husband's nose followed him downstairs to see what I was making.  I told him it was stuffing and he didn't seem interested because he doesn't like stuffing (can you imagine?) but when I told him it was mostly fruit he said he would give it a try.  Let's just say he liked it so much we had it for two days.  I served it with chicken the first night and with a pork roast the second night.  I have to say the stuffing was better with pork, and I think would be even better stuffed in a duck or goose than a turkey.  The stuffing is very sweet with all the fruit, and the strong flavors of duck or goose would be a great balance with it.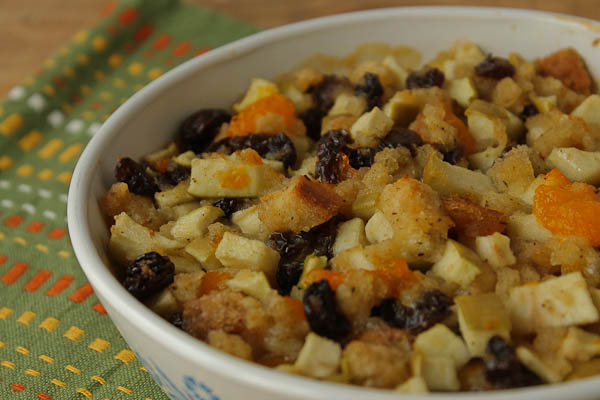 Fruit Stuffing
Author:
Sphere Magazine, November 1972
Ingredients
11 ounce can mandarin orange segments
1 cup golden raisins
2 cups chopped unpeeled apples
2 cups herb-seasoned stuffing mix (I used the Pepperidge Farm cubed)
½ cup apple jelly
Butter, for greasing pan and dotting on top
Instructions
Heat oven to 350 degrees. Butter a casserole dish and set aside. (Or use to stuff into a turkey, duck, goose, or chicken). Drain the oranges, but reserve the syrup. Place syrup in a glass measuring cup; set aside. In a large mixing bowl, toss the mandarin orange segments, raisins, and chopped apple with the stuffing mix. Spoon the apple jelly into the cup with the reserved mandarin orange syrup; whisk until blended, but don't worry if it's a little lumpy. If the mixture does not measure 1 cup, then add water or stock to make 1 cup. Pour syrup over the mixture in bowl and toss gently to combine. Spoon mixture into prepared casserole dish and dot top lightly with bits of butter. Bake at 350 about 25 minutes or until hot and golden. (or stuff into bird before roasting and roast as usual)
Note: Taste for salt and pepper and add herbs if desired, like sage or thyme, or your favorite.
The next section of the magazine is what to do with all the leftovers such as making a ham loaf, ham casserole, turkey casserole, turkey pasties, and turkey salad, all sounding very '70's style.  Next comes ideas for gourmet treats to make, either as hostess gifts for Thanksgiving if you are dining at someone else's home, or to remember for Christmas gifts next month.  They include chocolate caramels, spiced nuts, a homemade coffee liqueur, and homemade marzipan.
The end of the  magazine talks about those days between Thanksgiving and Christmas and offers suggestions for a buffet party or a Danish Smorrebrod, those wonderful open-faced sandwiches that are more like works of art than sandwiches.  The buffet idea consists of the ever popular cheese ball made with cream cheese, blue cheese, and cheddar cheese, moistened with dry sherry and Worcestershire sauce and rolled in pomegranate seeds, followed by two entrees, sole au gratin with a shrimp sauce, and a green pepper steak;  spinach rice, baked zucchini, salad, and an almond-crusted chocolate torte for dessert.  Personally, I would take the fancy sandwiches that are decorated beautifully in the magazine with various types and sizes of bread and toppings including shrimp and avocado on rye;  beef and cucumber on French bread;  chicken, blue cheese, and bacon on pumpernickel; and salmon, dill, and mushroom on rye.
I have a feeling that since I mentioned a Pumpkin-Spiced Baked Alaska above, someone is going to write and ask me why I didn't print the recipe.   So here is it, too.  I haven't made it yet, but I trust Sphere recipes and know it will be spectacular.  Let me know if you make it!