Thank you to everyone who has emailed, called, or messaged me to ask where I have been the last couple weeks.  No, I was not on an exotic vacation to get away from the never-ending Chicago winter (I actually like winter), and I wasn't sick.  I was doing something very boring but now am glad I did: cleaning out every corner of my kitchen!  It's been way too long since I have taken on this tedious task, and why not do it now when it's still snowing well into April.  I found some treasures I had forgotten about tucked away in high cabinet corners, and also threw away things I didn't need anymore.  I rearranged almost everything and will have to get accustomed to items in different places than I am used to, but now I won't have to stand on a chair to reach most things.
In my pantry, I came across a small amount of organic wheat bran, a small baggie with some raisins, and an almost empty bottle of molasses.  In the refrigerator was an almost empty jar of unsweetened applesauce.  Does that sound like muffins or what?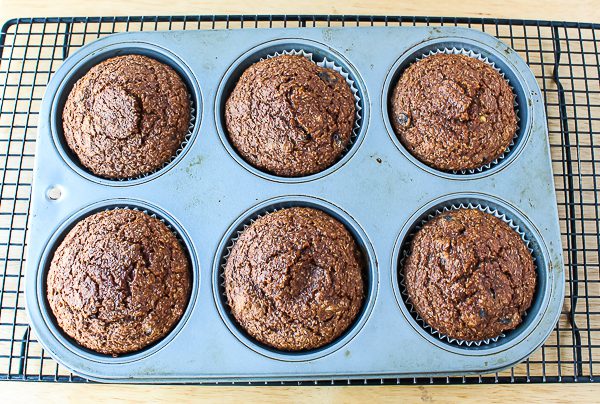 Oh my, these were good, so tender and full of flavor.  I was going to make twelve, but decided to make six giant-sized instead.  When I found this pan stuck under something else, it was time to use it again.  Plus my Bill loves over-sized muffins just as he loves over-sized cookies.  I couldn't find my cake tester (see, I knew that would happen when I moved things) so I pressed my finger into the middle center muffin and made that hole.  Gives it character, right?  Still tasted great.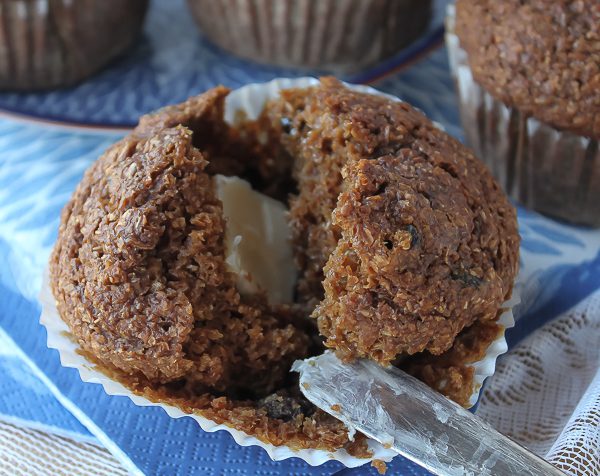 If you don't have giant-sized tins, just make twelve regular-sized.  You can also grease or spray the tins but I also found about three boxes of giant paper muffin cups and decided to use those.
The muffins are great on their own or you can spread on a little butter.  They are delicious and filling, and make an entire breakfast with nothing but a cup of coffee or glass of milk to enjoy with them.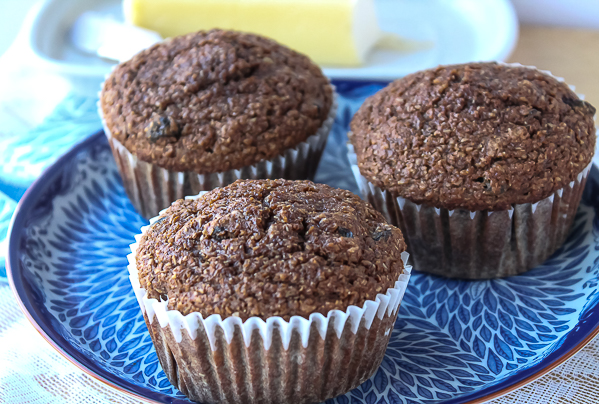 Now I am going to have some fun in the kitchen with some old favorite pans, utensils, and other items.  Wait until you see what I am going to use for my birthday treat on Saturday.  It is something I had forgotten about along with a recipe I have never tried before.  I think this organized new-old kitchen is going to be an adventure with lots of new recipes to try.  That is, if I can find things again.

Applesauce-Molasses Bran Muffins
Ingredients
1-1/4 cups unprocessed wheat bran
1 cup all-purpose flour
2 teaspoons baking powder
¾ teaspoon ground cinnamon
¼ teaspoon baking soda
¼ teaspoon salt
¾ cup unsweetened applesauce
½ cup milk (I used skim)
⅓ cup dark molasses
1 egg
1 Tablespoon canola oil
½ cup dark raisins
Instructions
Heat oven to 400 degrees F. Line 6 giant muffin tins with giant paper muffin cups, or a 12 muffin tin with regular-sized paper muffin cups. You can also grease the cups or use cooking spray, if desired. Set aside.
In a large mixing bowl, stir together the bran, flour, baking powder, cinnamon, soda, and salt. Make a well in the center.
In a medium mixing bowl, whisk together the applesauce, milk, molasses, egg, and oil until well-blended. Pour into the well of the dry ingredients and stir just until blended. Stir in raisins.
Fill muffin cups evenly with batter. Bake for 20 minutes if using the giant tins, or about 15 minutes for smaller tins, or until a tester inserted in the center of one of the muffins comes out clean. Remove from oven and let sit a minute, then turn out on wire rack. Serve warm. Makes 6 giant muffins or 12 standard size.