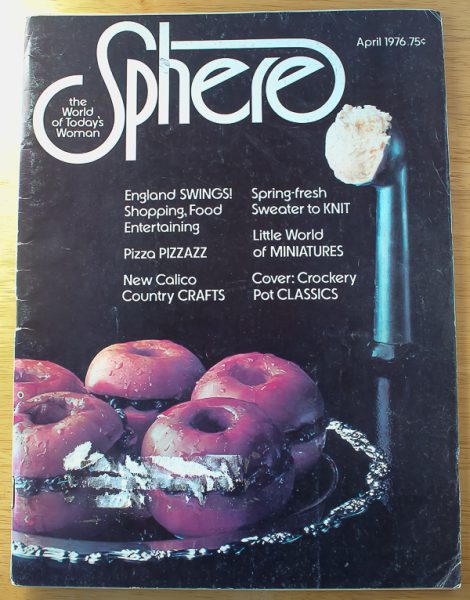 I love this issue for many reasons.  First of all, I love any issue of vintage Sphere, as you know if you are a regular reader of my blog.  But this one has a huge part of it dedicated to British food, and since Ancestry.com says I am close to being 100% from Great Britain, I should make my ancestral recipes, don't you think?
First, there are pages and pages dedicated to "Where Royalty Stops to Shop," meaning none other than Harrod's Food Hall.  It is a culinary dream come true.  I have only been there once, but ache to go back someday.  I was in awe every second I was there.  It will take your breath away.
Next is an article was about "A Jolly English Pub Party," with recipes for Cornish pasties, Shepherd's Pie, chutneys, numerous pickled items, Old English herb cheese, and breads.  Pubs in England are for socializing, to meet up with other regulars and for welcoming the passing stranger.  The pubs will "warm the cockles of your heart!" Fun places, indeed.
The final article is all about British sweets.  If you visit just about any restaurant, the server will roll out a "sweet trolley," filled with items such as strawberries with Devonshire Cream, Brandy Snaps, English Jam Tarts, Syllabub, and my new favorite – Steamed Puddings!  As I was looking for something in my boxes of molds and unusual pans, I found something I had forgotten about- my old steamed pudding mold.  I brought it into the kitchen thinking I would find a recipe to use it.  Days later, when I knew it was time to write my monthly Sphere blog, I found a recipe for steamed Marmalade Pudding and my mold was the exact size needed.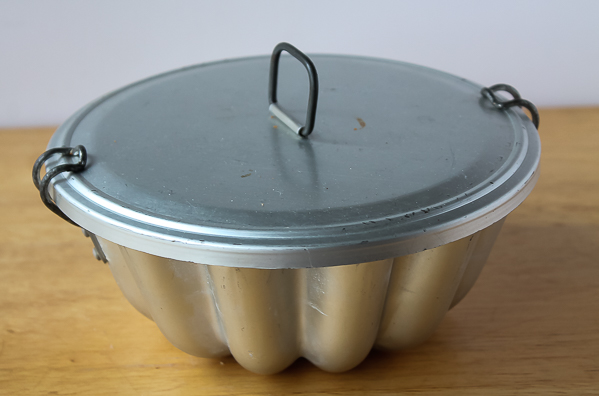 Steamed pudding molds have tops that clamp firmly on the sides and a handle on top for easy lifting from the boiling water bath.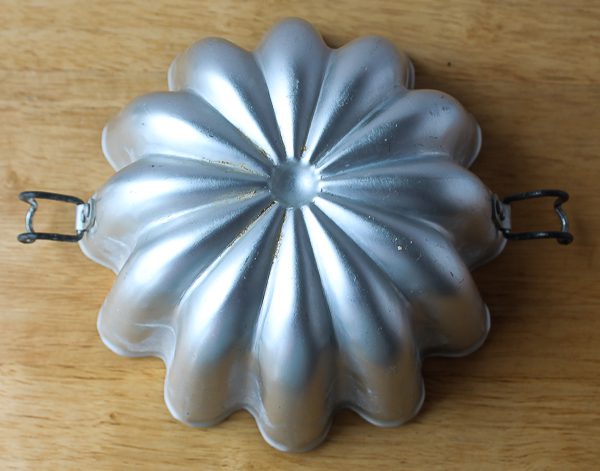 When the pudding is done, it looks like this: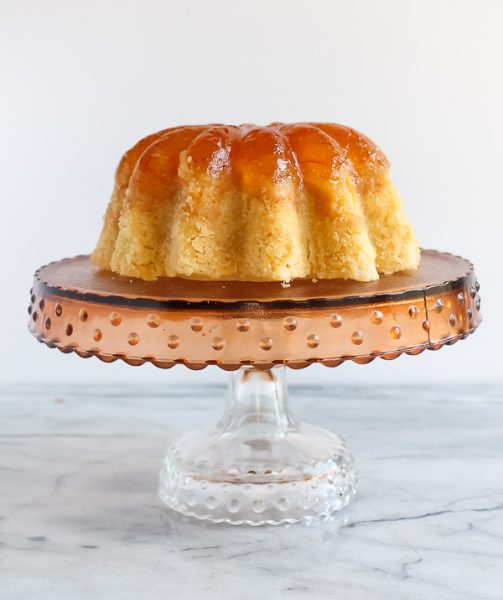 The cake-like base is firm like a pound cake and the beautiful orange marmalade layer literally glistens!  Wish you could see it!  It's stunning – and tastes as good as it looks.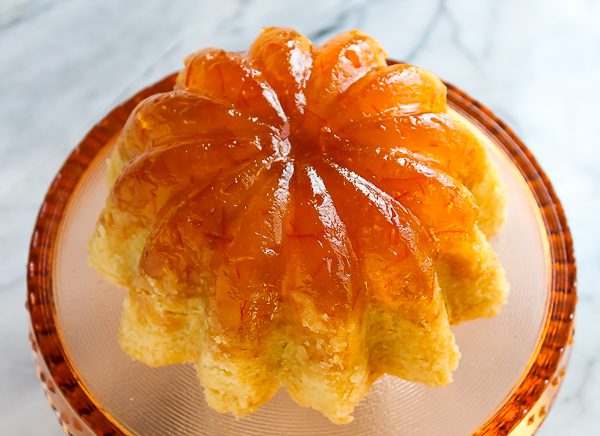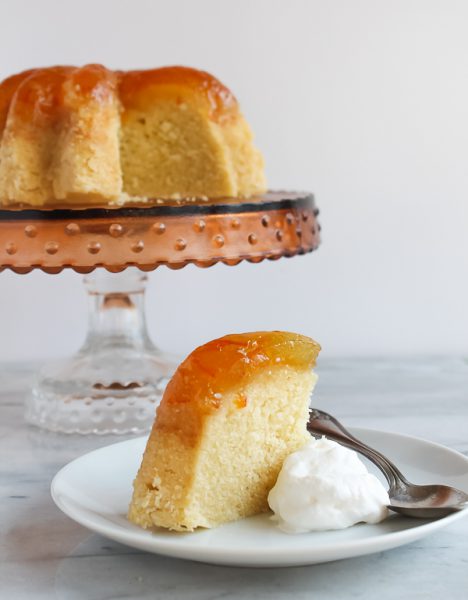 I just noticed something that I didn't when the photo was taken.  When sliced, what does it resemble?  Are you seeing a Donald Trump-ish hairline??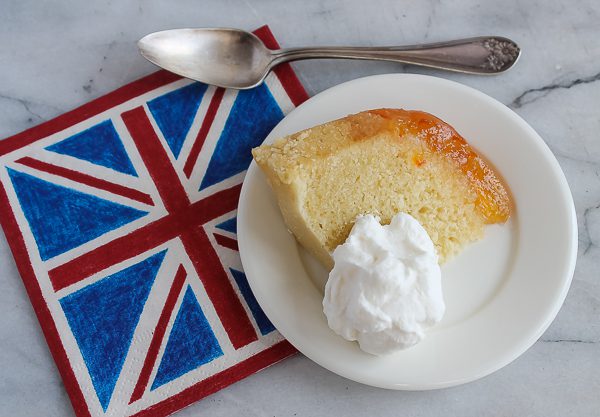 This steamed pudding was so fun to make, I decided to search the internet to see what other antique pudding molds I could find.  I found two and they arrived just last week!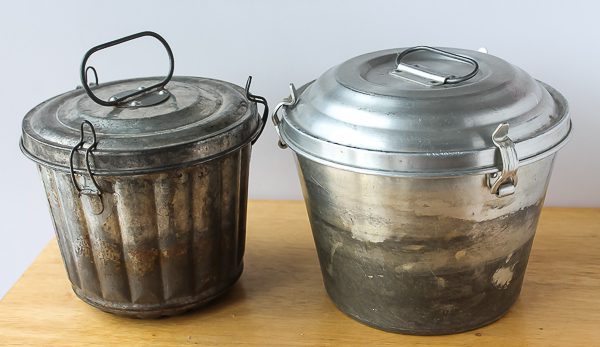 I'm sure they can be polished up, but I sort of love that vintage, much-used and loved look.  You can even see the water marks on the side.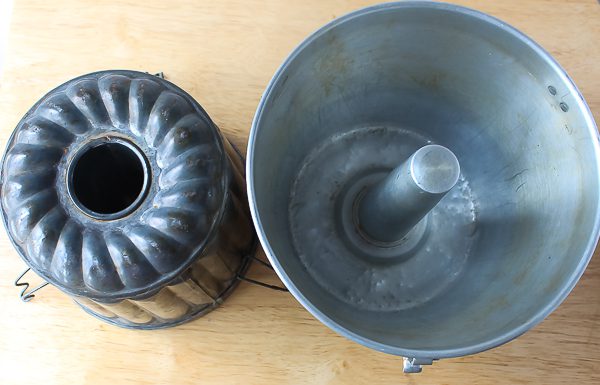 I love that they are of different patterns than my first one plus hold different amounts of filling.  Now my goal is to find recipes that fit these sizes.  If anyone has a tried and true steamed pudding recipe, please send it to me!
In all the British cooking excitement, I forgot to mention what else is in this issue.  There is a great article on a perfect deep-dish pizza crust and six pizza ideas:  Sweet Pepper and Bacon, Red Onion, "Pasquale's Favorite Pizza" which has Italian sausage and fennel seed; Ham and Mushroom, and Neapolitan with olives and anchovies, and a plain tomato cheese.  Another article is all about slow cooker recipes such as bourbon baked beans, a beef goulash, stuffed bell peppers, chicken cacciatora, minestrone soup, and stuffed apples (cover photo of magazine).
Here is the Marmalade Pudding recipe which I hope you will try if you have the molds.  It will dazzle your family and party guests!  I did find one recipe for a chocolate steamed pudding served with a rum custard sauce that I can't wait to try.  I'll be sure and post it later.

Marmalade Pudding
Author:
Sphere Magazine, April 1976
Ingredients
½ cup sugar
½ cup (I stick) butter, softened (plus extra for buttering mold)
2 eggs, slightly beaten
1-1/3 cups all-purpose flour
1-1/2 teaspoons baking powder
2 Tablespoons milk
¾ cup good quality orange marmalade
Sweetened whipped cream, for serving
Instructions
Cream sugar and butter in mixer bowl until light and fluffy. Beat in eggs gradually. Mix flour and baking powder, stir into butter mixture. Stir in milk.
Spread marmalade in bottom of a buttered 1-quart steamed pudding mold that has a lid. Spread the batter over the marmalade and up the sides of mold. Clamp on the lid.
Place mold on a rack that fits into a Dutch oven or other large pot. Pour in boiling water to come about ⅔ up the mold. Heat the water to boil again, then reduce heat to low. Cover the pot and simmer pudding gently for 1-1/2 hours, or until a wooden pick inserted in the center comes out clean. (when I made it, the 1-1/2 hours was exactly the right time). Check water now and then to make sure it has not boiled away and keep the same level, always adding boiling water.
Remove mold from the water and carefully remove lid. Cool in the mold on a wire rack for 30 minutes. Run a knife carefully around the edges, then invert mold onto a serving platter. Cut intp slices and serve immediately with some sweetened whipped cream. Serves 8 to 10.