It doesn't matter if it's basketball, football, hockey, the Olympics or any sport, my husband Bill always wants something to munch on while watching a game.  It can be nuts, chips, ice cream, or cookies (his favorite by far!) as long as it is just for the game.  It's become a tradition around here for me to ask him what he wants for his Game Day treat.
For the Loyola Final Four game last week, he decided a cookie with something chocolate were in his taste buds.  Loyola sadly did not make it to the end, but the bar cookies were a winner!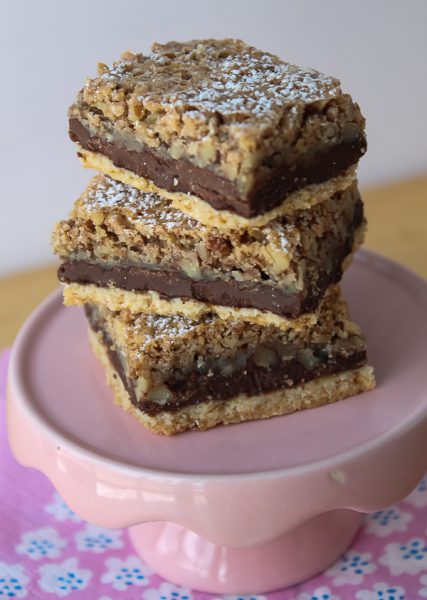 A crispy buttery crust is first patted into a 9-by-13-inch pan and baked for 10 minutes.  It is taken out of the oven and the crust is sprinkled with a bag of chocolate chips, put back into the oven for 2 minutes to melt the chips, then spread evenly around the top.  Next a pecan layer is spread on top and baked again.  When done, the bars are sprinkled with confectioner's sugar.
P.S. Next year, Loyola!!

Chocolate Pecan Bars
Ingredients
½ cup unsalted butter, at room temperature
1 egg yolk
2 Tablespoons water
1-1/4 cups all-purpose flour
1 teaspoon sugar
1 teaspoon baking powder
⅛ teaspoon salt
1 package (12 ounces) semi-sweet chocolate chips
2 eggs
¾ cup granulated sugar
6 Tablespoons melted butter
2 cups finely chopped pecans (or walnuts)
1-1/4 teaspoons vanilla extract
Confectioner's sugar for dusting
Instructions
Heat oven to 350 degrees. Grease a 9-by-13-inch baking pan.
In bowl of electric mixer, cream the ½ cup butter. Beat in the egg yolk and water and mix well. In a separate bowl sift together the flour, 1 teaspoon sugar, baking powder, and salt. Add to the butter mixture and mix well until it forms a stiff dough. Pat the mixture evenly onto the bottom of prepared baking pan. Bake for 10 minutes.
Remove the pan from the oven and sprinkle the bag of chocolate chips evenly over the crust. Return the pan to the oven for 2 minutes. Remove the pan again and carefully spread the melted chips evenly on top.
In the same mixer bowl, beat the 2 eggs until thickened. Beat in ¾ cup of sugar and blend well. Stir in the 6 Tablespoons melted butter, nuts, and vanilla. Mix well, then pour evenly over the chocolate layer.
Return pan to oven and bake for about 30 to 35 minutes or until a light golden brown and the dough springs back when gently touched in the center with your fingers. Cool pan on wire rack, sprinkle the top lightly with confectioner's sugar and cut into bars. Makes about 4 dozen bars.