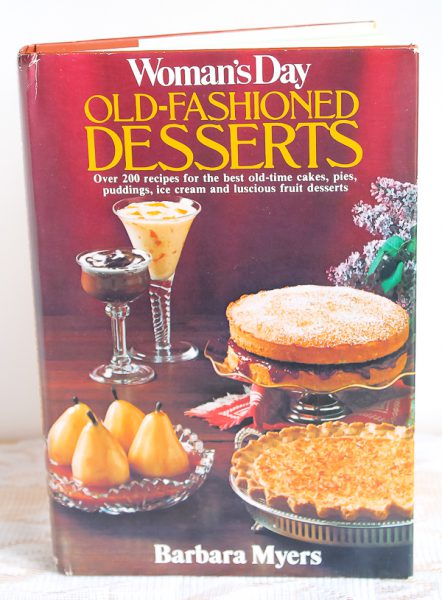 I love Barbara Myers' cookbooks.  This one from 1978 describes the recipes as "Time-honored American desserts all made from scratch just the way your grandmother and her grandmother used to make them."  Recipes such as chiffon cakes, homemade ice cream, apple pie, strawberry-rhubarb pie, steamed puddings, and more.  As I was looking through it early last week for an Easter dessert idea, my husband Bill saw the title, Old-Fashioned Desserts, and he made a request.  I was planning on a beautiful Lime Chiffon Cake, but he had other ideas.  He asked, "What's that fluffy dessert with all the fruits and marshmallows served in a big glass bowl?"
I knew exactly what he was talking about.  You know too..
Heavenly Hash.
I'm not sure I have ever made it.  If I did it was a long time ago.  My memory of it is fruit with a whole lot of frozen whipped topping.  Not exactly what I wanted to make.  But since Bill made the request, I looked it up.  Sure enough, there was a Heavenly Hash recipe in the refrigerated dessert chapter.  Except, there was no whipped topping.  Instead it had a homemade sour cream sauce that was cooked!  Okay, Bill.  You win.  I'll make it just for you.  Besides, isn't something called Heavenly Hash appropriate for Easter?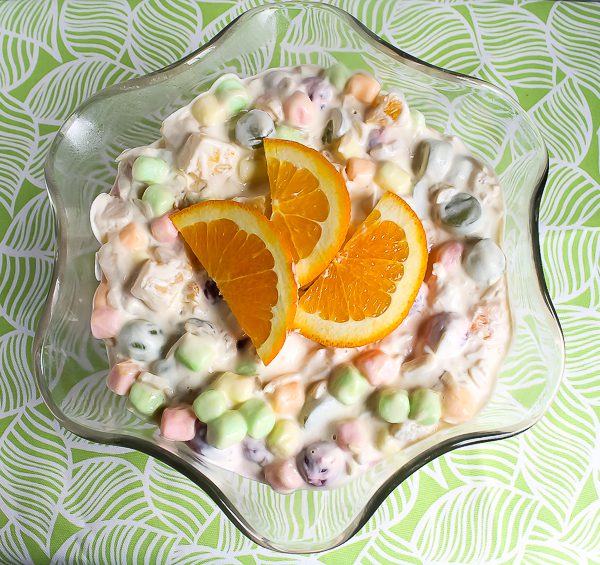 It had all the expected fruit:  cherries, grapes, pineapple, and oranges, along with the marshmallows and slivered almonds.  Since it was going to be Easter, I used the pastel-colored marshmallows instead of plain white for a colorful Spring look.
It has to be made 24 hours in advance, so I made it Saturday night after watching a Hallmark movie.  (Do we see a theme here?) Yes, this was a recipe that a grandma on a Hallmark movie would make.  That's okay- it was fun to make actually and looked colorful like Easter eggs, and yes, very old-fashioned.  I think the lovely Lime Chiffon Cake will make an appearance another Spring day soon.  Watch for it.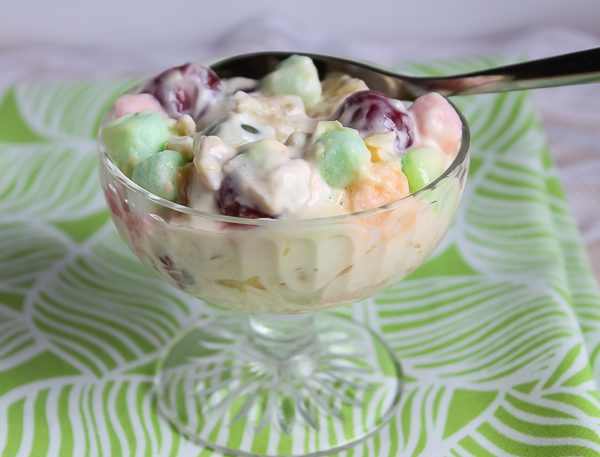 Heavenly Hash
Author:
Woman's Dat Old-Fashioned Desserts by Barbara Myers
Ingredients
2 cups fresh dark sweet cherries, halved and pitted
2 cups diced fresh pineapple
1 cup orange sections
1 cup seedless green grapes
1 cup slivered blanched almonds
2 cups mini-marshmallows, white or colors
Sour Cream Sauce:
2 eggs
2 Tablespoons granulated sugar
¼ cup orange juice
2 Tablespoons white vinegar
1 Tablespoon butter
2 cups sour cream (not reduced-fat or fat-free)
Fruit and/or mint sprigs for garnish (optional)
Instructions
In a large glass bowl, combine the cherries, pineapple, and oranges with the grapes and almonds. Add the marshmallows.
To make the sauce, beat the eggs slightly in a saucepan and gradually beat in the sugar with a whisk until light. Stir in the orange juice and vinegar. Place pan over low heat and cook, stirring, until mixture thickens and coats a spoon. Remove from heat and blend in the butter. Set aside to cool.
When cool, gently fold in the sour cream to blend. Fold the sauce into the fruit mixture until mixed, but do not beat or it will become watery. Fold in just until everything is coated.
Cover serving bowl with plastic wrap and refrigerate 24 hours. Garnish if desired and serve cold. Serves 10-12.
TIP: As I was cutting up the fruit, I placed them all in a colander to drain before adding the almonds and marshmallows.