I only have vague memories of Aunt Lovie.  She was actually my grandmother's cousin, but for some reason was always known as Aunt Lovie.  Aunt Lovie was a school teacher in Chicago and in her retirement years she became reclusive, had no telephone, and was almost completely deaf.  She lived alone in the big city and we lived in the suburbs.  When my mom and grandma wanted to pay her a visit, they had to write her a letter saying what day and time they would arrive, and upon arrival would slip a white sheet of paper under the door for Aunt Lovie to see so she would know they were outside the door.  One time when I was in about 2nd or 3rd grade, I tagged along on one of the visits and was very curious to meet the mysterious Aunt Lovie.  We took the train into Chicago, walked up the dingy stairway to Aunt Lovie's apartment, and slipped the white paper under the door.  Nothing.  No Aunt Lovie.  We obviously couldn't knock because she wouldn't hear it, or call because she had no phone.  My mom and grandma had a key for emergencies, but it was never used because Aunt Lovie was very jumpy and didn't like being surprised.  However, mom and grandma were worried she could have fallen or heaven forbid, died in her sleep, so it was decided to use the key.  We walked in to the darkish and musty-smelling apartment and found Aunt Lovie with her back to us sitting in a chair.  My grandma walked around to greet her, and old Aunt Lovie lived true to her reputation of being jumpy.  She flew up out her chair, screamed, and almost knocked us over.  That was my first impression of Aunt Lovie, who to me looked like she was a million years old and quite scary looking.  I had never seen anyone so old.  Well, looks are deceiving of course, and we ended up having a nice (loud) conversation, but it was the only and last time I saw her.  She died not too long afterward, if I remember correctly.
Aunt Lovie became the topic of conversation over this past weekend when I found the old family quilt in a closet that I was cleaning out because we are redecorating part of our upstairs.  It's a beautiful old quilt dating back to the 1800's.  This is a close-up of the pattern.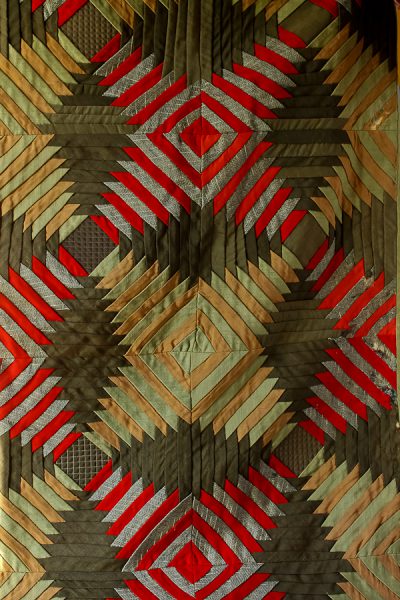 Aunt Lovie had been the heir to the quilt for many years, then it went to my grandmother, mother, and now me.  Considering how old it is, it's in good shape.  My mom says she remembers as a child  that it was only brought out to display on special family occasions.  At one point, my mom hung it up on a wall when we lived in California.  And now that I have come across it once again, I want to think of somewhere for it to go.  This note is attached to the quilt, typewritten by Aunt Lovie.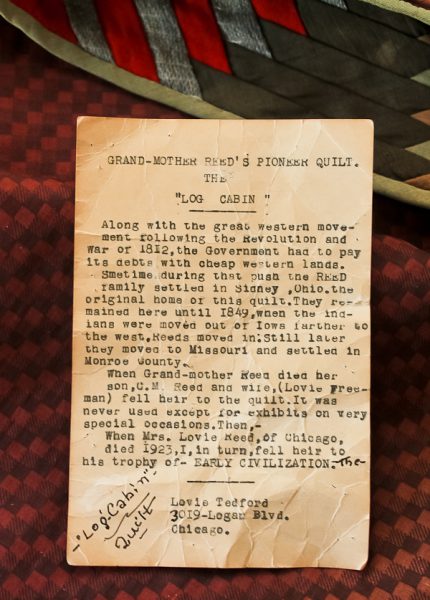 When I called my mom and told her I came across the quilt, we started talking about Aunt Lovie.  I asked my mom about her memories of her, and we talked about that experience I mentioned above which she remembered too.  Of course I always love knowing which of our ancestors and older relatives loved cooking, or had a special recipe, and my mom knew immediately about Aunt Lovie.  Apparently she made the best twice-baked potatoes, so good that my mom remembers them from many decades ago.  I wish I knew how she prepared them, but since I don't, I had to make up my own version.  There are a million ways to make twice-baked potatoes.  I decided to give each one its own topping for fun: cooked bacon, shredded cheese, crispy onions, smoked paprika, green onion, an extra pat of butter , toasted sesame seeds, or chopped parsley.  Just about anything you enjoy can top a potato. Use your imagination!  Here is how I made them, but you can make your favorite mashed potatoes, add any kind of topping desired, and I'm sure they will be a big hit.  Aunt Lovie would approve, I'm sure.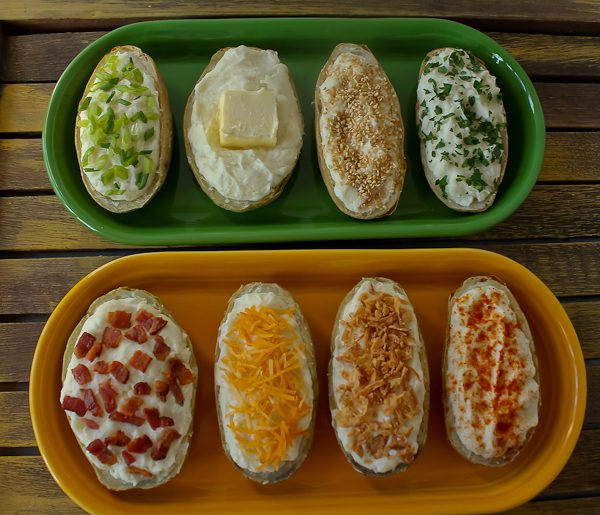 Twice-Baked Potatoes in Honor of Aunt Lovie
Ingredients
4 medium russet potatoes (about 1-1/2 lbs.), scrubbed
½ cup whipping cream
¼ cup milk
3 Tablespoons butter, softened
2 Tablespoons whipped cream cheese, plain or with chives
¾ teaspoon salt, or to taste
⅛ teaspoon white pepper, or to taste
Topping suggestions:
Cooked crumbled bacon, finely shredded cheddar cheese, snipped chives, sliced green onion, chopped parsley, paprika or smoked paprika
Instructions
Heat oven to 400 degrees. Pierce each scrubbed potato with the tip of a sharp knife. Place potatoes on a baking sheet and bake for 1 hour or until tender. Remove from oven and let rest for 5 minutes. Reduce oven temperature to 325 degrees.
While potatoes are resting, whip the cream in bowl of electric mixer until firm peaks form. Transfer whipped cream to a small bowl and refrigerate while preparing other ingredients.
Using a sharp knife, slice each potato lengthwise making 8 halves. Working with 1 half at a time, hold each in the palm of your hand with a paper towel. Scoop out the pulp leaving a ¼" edge and bottom.
(I found that a serrated grapefruit spoon works best). Place pulp in the mixer bowl where you whipped the cream (no need to wash it). Scoop out remaining potato halves. There should be about 2 heaping cups of pulp. Add the milk, butter, cream cheese, salt, and pepper. Mix until smooth.
Remove whipped cream from refrigerator and fold into potato mixture a little at a time until well blended. Place potato halves back onto baking sheet. Spoon potato mixture evenly into each potato shell. Top with suggested toppings or your favorites. Bake at 325 degrees until warmed through, about 10-12 minutes.
Note: Shells can be made and filled in advance, covered with plastic wrap and refrigerated until ready to sprinkle with desired toppings and reheated at 325 degrees until hot. It's better to let the filled potatoes come to room temperature first, but if reheated cold, it will take longer.