One of my favorite publications has always been Sunset magazine.  I became hooked on it the '70's and have many of their recipes in my card catalog and filing cabinet, in addition to Sunset cookbooks, of course.  I have become a little behind in my magazines lately and was just reading the September issue.  My husband Bill has been bugging me to make something with apples, and right in front of me was a gorgeous photo of an "Apple Cream Torte."  Done.  It's made in a springform pan which I love using for baked items.  What also intrigued me was that the apples are cut into rings, not sliced or chopped.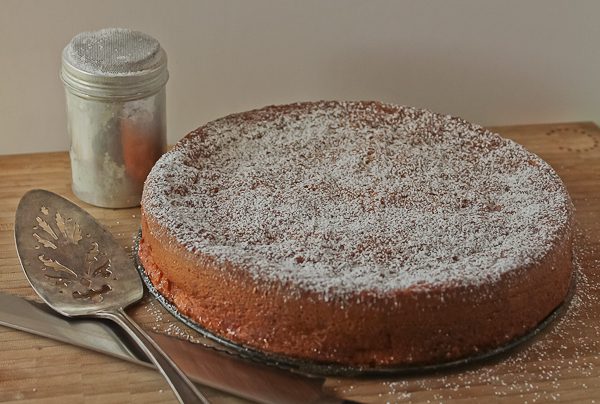 The filling is simple, just eggs, sugar, cream, vanilla, flour, baking powder, and salt, then powdered sugar is dusted on after baking.  Can't get any easier than that!  The filling is like a custard cake meets a Dutch baby.  It's beautiful, delicate, and cuts like a dream.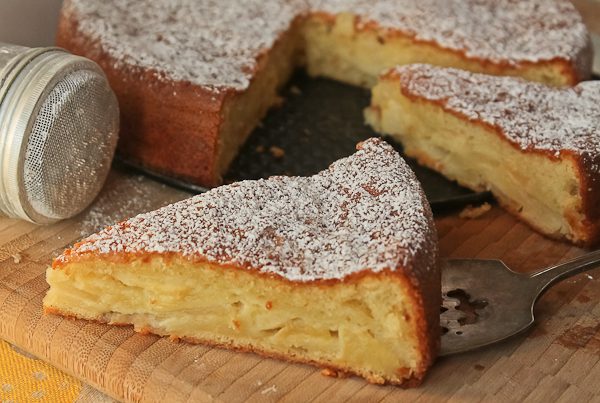 The apple rings look a little like potatoes.  Oh my, this is good.  It can be topped with creme fraiche or a dollop of whipped cream.  It's the perfect fall or Thanksgiving dessert and not overly sweet.  We loved it warm.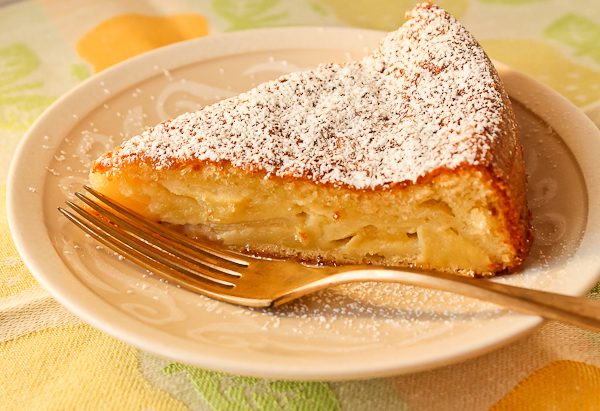 Apple Cream Torte
Author:
Sunset magazine, September 2016 issue
Ingredients
1-1/2 pounds (3 or 4) tender-sweet apples, such as Fuji, Cameo, or Gala
3 large eggs, at room temperature
1 cup granulated sugar
¾ cup heavy cream
1 teaspoon vanilla extract
1 cup all-purpose flour
1-1/2 teaspoons baking powder
½ teaspoon table salt
Powdered sugar, for dusting
Creme fraiche, or whipped cream (optional)
Instructions
Preheat oven to 325 degrees. Generously butter and flour a 9-inch springform pan. Shake out excess flour and set aside.
Using a paring knife or apple corer, core apples from stem down through seeds and base to remove in one cylinder. Peel apples and slice crosswise into ¼-inch rings. Set apples aside.
In a large bowl, using a mixer with a whisk attachment, beat eggs and granulated sugar on high speed until pale and slightly thickened, about 1-1/2 to 2 minutes. Reduce speed to medium and add cream and vanilla. Beat about 30 seconds more to blend. Add flour, baking powder, and salt, and blend on low speed until evenly combined.
Add apples (including any uneven end pieces) to batter and stir gently with a spatula to coat, separating slices. Pour mixture into prepared pan and arrange apples flat.
Bake cake until golden brown on top and a toothpick inserted into center of cake (rather than an apple piece) comes out clean, 1 to 1-1/4 hours. (mine took 1 hour). Let cake cool on a rack for 20 minutes, then run a slender knife between edge of cake and pan. Remove pan rim and cool cake at least 10 minutes before cutting.
Serve warm or at room temperature, dusted with powdered sugar before serving. Serve with creme fraiche or whipped cream, if desired.