Not only do I love vegetable soup but the more variety of ingredients the better.  This soup certainly fits the bill. It's colorful, delicious, and comforting.  It has a long list of items, but it will go together quickly and guaranteed to warm you up on a chilly day.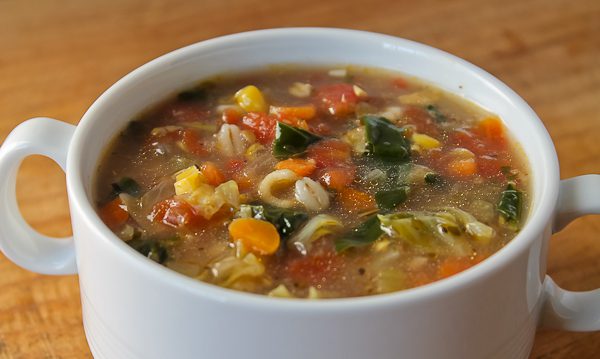 Look at all those beautiful ingredients including carrots, celery, tomatoes, potatoes, turnip, kidney beans, lima beans, elbow macaroni, split peas, lentils, spinach, cabbage, all kinds of herbs and more.   Serve with some homemade bread (see recipe coming up on Wednesday!) and you have a meal to keep you warm and satisfied all day.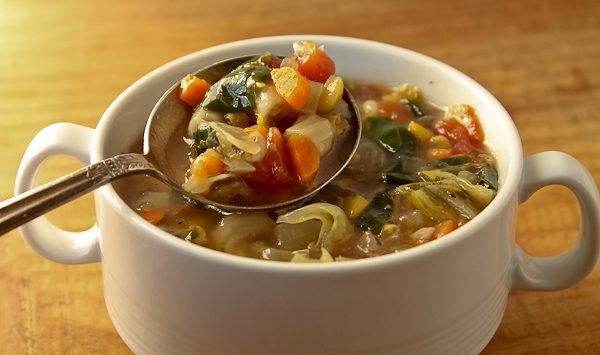 Wouldn't you love a bite?
A-Little-Bit-Of-Everything Vegetable Soup
Ingredients
4 Tablespoons butter or bacon drippings
½ cup peeled and diced carrot
½ cup diced onion
½ cup diced celery
¼ teaspoon dried oregano
¼ teaspoon dried Italian seasoning
⅛ teaspoon dried basil
⅛ teaspoon dried thyme
⅛ teaspoon dried rosemary
1 garlic clove, minced
1 bay leaf
7 cups beef stock (preferably homemade)
1 cup canned petite diced tomatoes, drained
⅔ cup peeled and diced potato
⅓ cup peeled and diced turnip
¼ cup cooked red kidney beans
¼ cup cooked lima or navy beans
2 Tablespoons elbow macaroni
1 Tablespoons chopped fresh flat leaf parsley
1 Tablespoon pearl barley
1 Tablespoon dried split peas
1 Tablespoon lentils
1 can (14 or 15 ounces) cream-style corn
1 cup chopped spinach
½ cup chopped cabbage
Instructions
Heat butter or bacon drippings in Dutch oven over medium heat. Add next 10 ingredients (carrot through bay leaf). Cook until vegetables soften, stirring frequently, about 8 minutes.
Add next 11 ingredients (beef stock through corn). Cover and simmer over low heat for 40 minutes.
Add spinach and cabbage; cook 10 minutes. Taste to see if it needs salt or pepper, which will probably depend on how salty the beef stock used. Serve immediately.