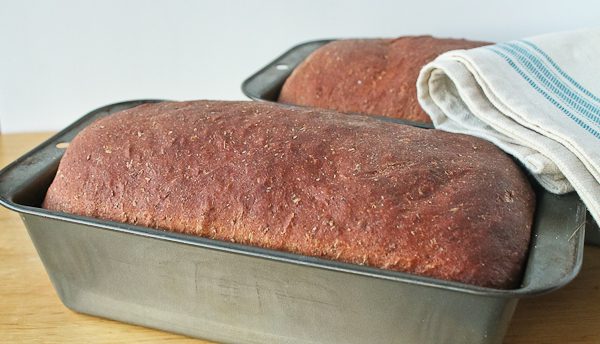 Is there really anything that fills the house with an intoxicating aroma better than bread baking on a chilly November day?  I think not!  As workers were upstairs in my house installing new carpet recently, I was stuck downstairs.  What else to do but bake and cook, right?  I went to my recipe box and found the yellowed old card from many years ago when my girls were young and I used to enter food items at our county fair.  This whole wheat bread won the blue ribbon for many years in a row.  It's always been my favorite since I found it in one of those wonderful old Farm Journal cookbooks.  It was also the perfect excuse to use more of my Graue Mill Stone Ground Whole Wheat Flour.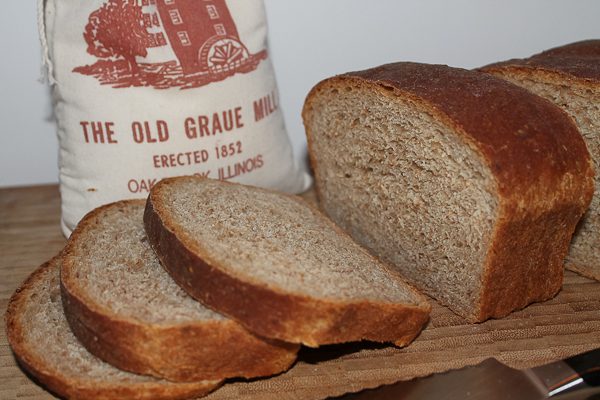 The crust and texture of this bread is incredible.  The outside is a gorgeous rich color with a little bit of crispness, while the inside is soft yet slices beautifully.  And it makes the best toast ever.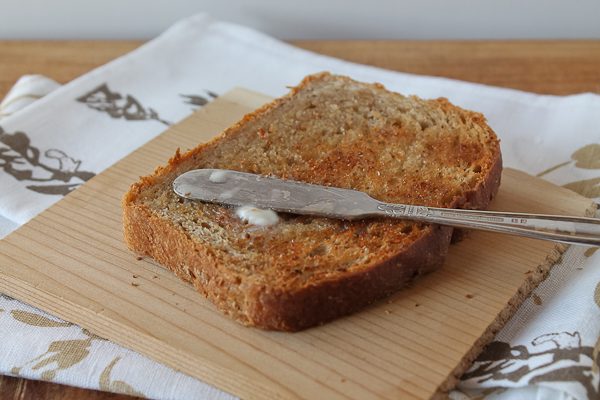 Whole Wheat Bread
Ingredients
1 package active dry yeast
¼ cup lukewarm water (110 to 115 degrees)
½ cup firmly packed brown sugar
1 Tablespoons table salt
2-1/2 cups lukewarm water
¼ cup solid vegetable shortening
3-1/2 cups whole wheat flour
3-1/2 to 4 cups all-purpose flour
Instructions
Sprinkle yeast on ¼ cup lukewarm water; stir to dissolve. Dissolve brown sugar and salt in the 2-1/2 cups lukewarm water in large bowl. Add shortening, whole wheat flour, 1 cup of the all-purpose flour, and yeast. Beat thoroughly to mix well.
Stir in about 3 cups more flour or enough to make a soft dough. Turn out onto floured surface. Cover and let rest for 10 minutes.
Knead dough until smooth and elastic, about 10 minutes, adding more flour as needed, but keep the dough on the soft side.
Place dough in a greased bowl; turn dough over to grease top. Cover and let rise in a warm place until doubled, about 1-1/2 hours.
Punch dough down. Turn out onto floured surface and divide in half. Round up each half to make a ball. Cover and let rest for 10 minutes.
Shape each ball into a loaf and place in 2 greased 9-by-5-inch loaf pans. Cover and let rise in a warm place until dough reaches top of pan on sides and is well-rounded above pan, about 1-1/4 hours.
Heat oven to 375 degrees F. Bake loaves for 40-45 minutes or until bread is a deep golden color and sounds hollow when tapped. (Bread can be covered loosely with aluminum foil the last 15 minutes if you think it is getting too dark)
Remove bread from pans and let cool on wire racks. I brush the top of loaves lightly with melted butter, but this is optional.