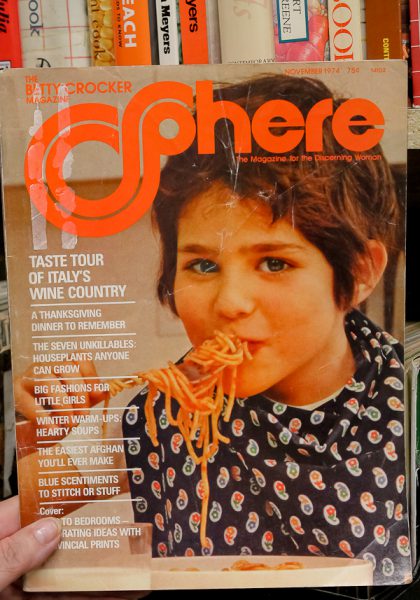 This issue of vintage Sphere is filled with great recipes, and not just for Thanksgiving.  It opens with a huge spread of "Italy: A Vintage Journey," where Sphere writers made a seven-day trip through some of the best-known wine-producing regions and brought back great recipe and entertaining ideas.  There is even a step-by-step lesson on how to make fresh fettuccine, which is then tossed with a cream and tomato sauce that also includes prosciutto, peas, sweet peppers, and Parmesan.
A soup article offers a variety to warm your toes on chilly November days such as Pumpkin, Polish-Mushroom, Cream of Onion, Spanish-Potato, and Russian Cabbage.  A skillet pork chop dinner with potatoes, sauerkraut, apples, brown sugar, and caraway sounds fabulous.  There is a two-page spread on some darling fall clothes for little girls featuring a very young Brooke Shields, who appears to be around 9 or 10 years old.  She looks exactly the same!
The Thanksgiving article is has a full menu with a day-by-day schedule for preparation, starting three days ahead. I read somewhere that this is what cookbook author and Food Network star Ina Garten does – makes detailed lists and plans ahead.  I think that's the way to go.  It makes a large gathering so much easier.  The dinner includes a cauliflower soup, roast turkey with pecan stuffing, maple-glazed ham, baked yams, whipped potatoes, minted peas, tossed salad with artichoke hearts, bread and butter, radish slaw, carrot-raisin slaw, sugar cookies, and baked apples and cinnamon ice cream.
I decided to make the Pecan Stuffing because I always love trying new stuffing recipes.  I have never added pecans, mushrooms, or lemon peel to my traditional Midwest family recipe but it sounded interesting.  It was really good!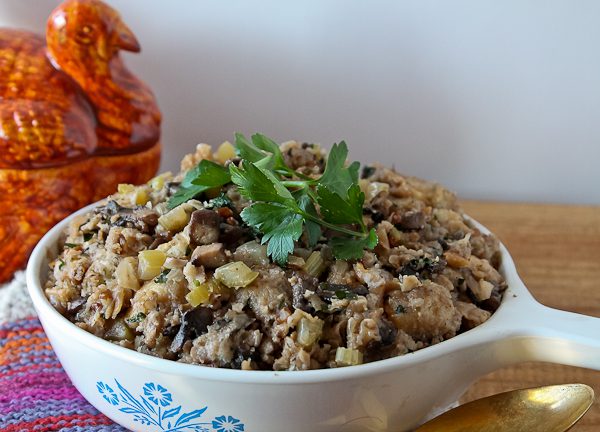 The only thing I would change is that I thought it needed more moisture so I added some chicken stock (or it can be turkey stock) until it was a consistency I preferred.  I also must confess that even though I really liked this recipe, my Midwest roots kicked in and I added some pork sausage and a little poultry seasoning after I took the photo.  It was great that way too.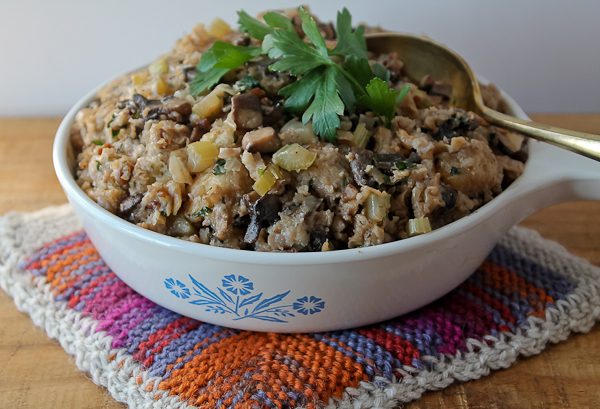 (By the way, the beautiful pot holder was handmade by our beloved cousin Leena in Finland)

Pecan Stuffing
Author:
Sphere Magazine, November 1974
Ingredients
½ cup butter
1-1/2 cups chopped onions
2-1/2 cups sliced mushrooms
1 cup sliced celery
1 loaf (1 pound) white bread, day old, trimmed and cubed
½ cup chopped flat leaf parsley
½ cup chopped pecans
1 Tablespoon grated lemon peel
1 teaspoon salt
1 teaspoon ground sage
½ teaspoon celery salt
¼ teaspoon pepper
Instructions
Heat butter in large skillet until hot. Cook and stir onions in butter for 5 minutes; mix in mushrooms and celery. Cook and stir 5 minutes. Mix in remaining ingredients. Note: I thought the stuffing needed more moisture so I added stock (chicken or turkey) until it was of a consistency I liked.