I love Thanksgiving.  We had so many happy Thanksgivings growing up and continue to do so, even if sometimes they change.  Some relatives have passed away, many have moved including grown children, and now that our first grandchild is on the way, I'm sure it will change once again.  But some things will never change and for that I am grateful.  We will always have the same traditional family recipes to hand down to each generation.  Not only that, and just as important to me, is also to hand down the utensils and other kitchen items that prepare and present the Thanksgiving meal.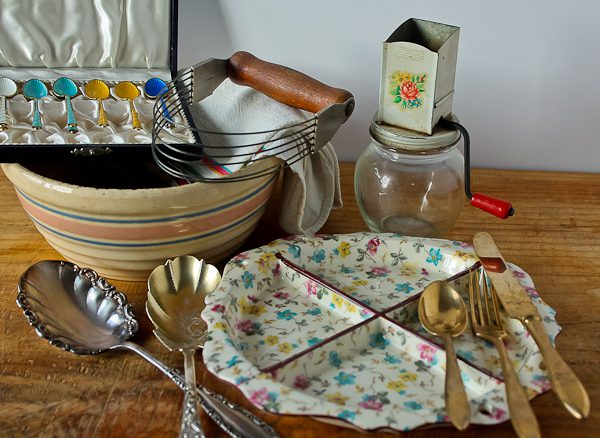 This is just a very small sample of a few favorite items.  While putting everything away I suddenly became overwhelmed with how much I loved all of our handed down family items.  My grandmother's serving spoons, my great-aunt Margery's ceramic mixing bowl, the demitasse spoons my mother bought in Copenhagen almost sixty years ago, my great-grandmother's pastry blender, my mom's nut grinder, great-aunt Lovie's gold flatware that I actually leave tarnished because I love the old look, and the beautiful flowered relish tray that my mom used for olives and condiments, which she received as a wedding gift.  Mom explained that during World War II when she and my dad married, there were so many rationed items such as metals, the wedding gifts given the most often were glass and ceramic dishes.
Another item I have of my mom's is one of her old Pyrex pie plates which I use every year for pumpkin pie.  Mom's recipe too, of course.  But I discovered something really funny.  I was looking through some old family photos of past Thanksgivings and found this one.  Lo and behold, there is mom's pumpkin pie on the table in that glass Pyrex dish, looking just like my pie and even with almost the same amount in the pan.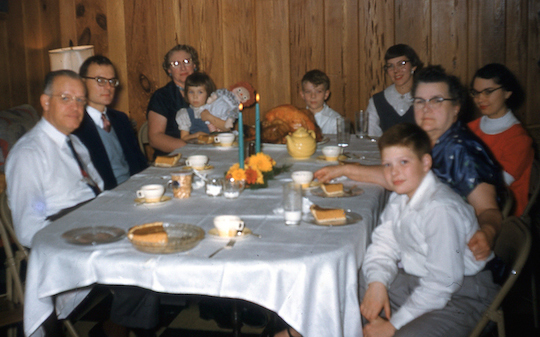 Look at mom's pie, then my pie!  I know pumpkin pies all look basically the same, but we both had about the same size piece left, in the same pan, and probably used that very same pastry blender that belonged to mom's grandmother.  This is what makes Thanksgiving so special year after year.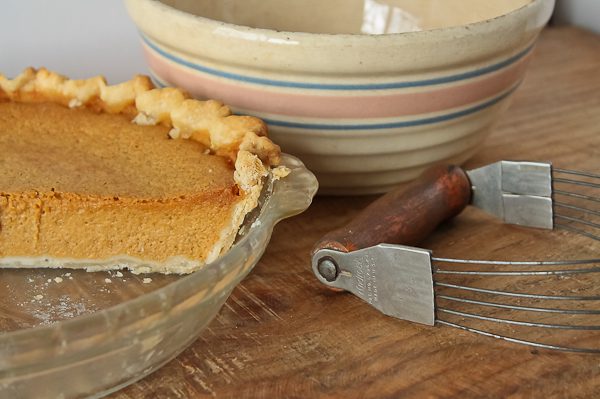 Tomorrow I am going to make some bread and let it rise in Aunt Margery's mixing bowl.  I only wish I had mom's big soup pot to make some turkey soup.  Someday my girls will have all these wonderful things and will tell their children the same stories I am telling you.  I hope it goes on forever.