Here we go again.  Just as it looked like the Chicago area was headed to Spring after some late April snowfalls, we are in the 40's and back to turning the heat back on.  So you know what that means.  Time to bake something and warm up the kitchen.
I knew exactly what to make as I glanced at the over-ripened bananas on my counter.  Instead of the usual banana bread, I thought a banana coffee cake would be in order.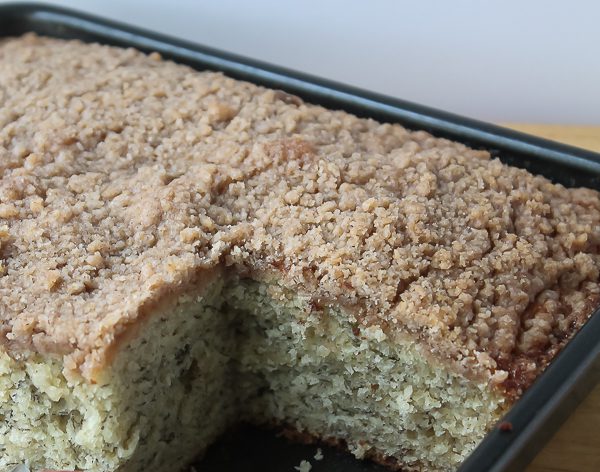 It's just a simple coffee cake with a crumb topping, and like banana bread, is better the next day as it sits and gets even more moist.  Serve with a scoop of ice cream, unless of course it's for breakfast, then maybe with a cup of hot coffee.  It's actually great any time of day.  Remember Spring will return one of these days!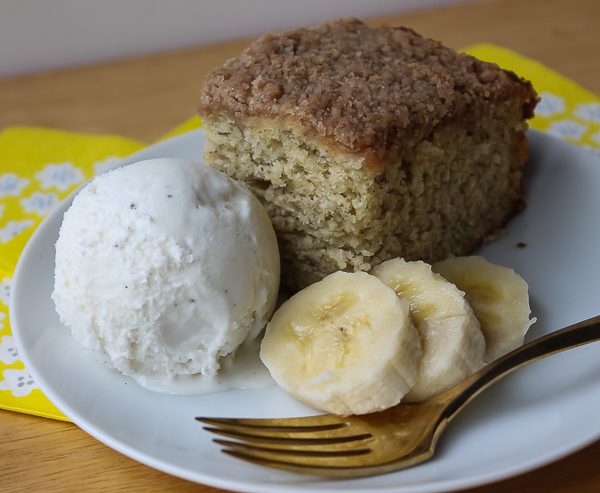 Banana Coffee Cake
Ingredients
Streusel Topping:
½ cup all-purpose flour
¼ cup firmly packed light brown sugar
½ teaspoon ground cinnamon
¼ cup (1/2 stick) cold unsalted butter
Banana Cake:
2 cups all-purpose flour
1-1/2 teaspoons baking powder
½ teaspoon baking soda
½ teaspoon salt
1 cup mashed over-ripe bananas (about 2-3 bananas, depending on size)
⅓ cup milk
2 teaspoons vanilla extract
½ cup (1 stick) unsalted butter, room temperature
1 cup granulated white sugar
2 large eggs
Instructions
Heat oven to 350 degrees. Butter a 9-inch square pan; set aside.
For streusel topping: In a medium mixing bowl, stir together the ½ cup flour, brown sugar, and cinnamon until blended. Slice the cold ½ stick butter into small pieces and add to bowl. Using a pastry blender or your fingers, crumble mixture until butter is about the size of small peas; set aside.
For banana cake: In a medium mixing bowl, stir together the flour, baking powder, baking soda, and salt; set aside. In another medium bowl, stir together the mashed bananas, milk, and vanilla extract; set aside. In bowl of electric mixer, beat softened butter and sugar together until well-blended. Add eggs, one at a time, beating well after each addition. Alternate adding the flour mixture and banana mixture, beginning and ending with the flour mixture, and beating slowly just until combined.
Scrape batter into prepared pan and smooth out evenly. Sprinkle the top evenly with the streusel mixture. Bake for 35-40 minutes or until a cake tester or toothpick inserted in the center comes out clean. Remove from oven and place on wire rack to cool completely. When cooled, cover tightly with plastic wrap and let sit overnight for best flavor and texture. Serve with a scoop of vanilla ice cream.