I feel like I have been gone from the blog forever!  Summers always get so busy and time gets away from me.  My last post was when I went to visit daughter Kristina in New York and a possibility that we might be going to France.  The story of that adventure will be coming up in the next day or two, but first I need to post this chocolate cake recipe because I have had so many requests in the last week.  My husband Bill's birthday was last week and he requested a three-layer chocolate cake.  I posted the photo of the cake on my Facebook page but no recipe.  Big mistake.  I got all kinds of emails asking where the recipe was.  I didn't expect that reaction, but here it is for all who asked.  It's a great cake, very dense and moist and even better the second day.  I've been making this one for years and it's one of Bill's favorites.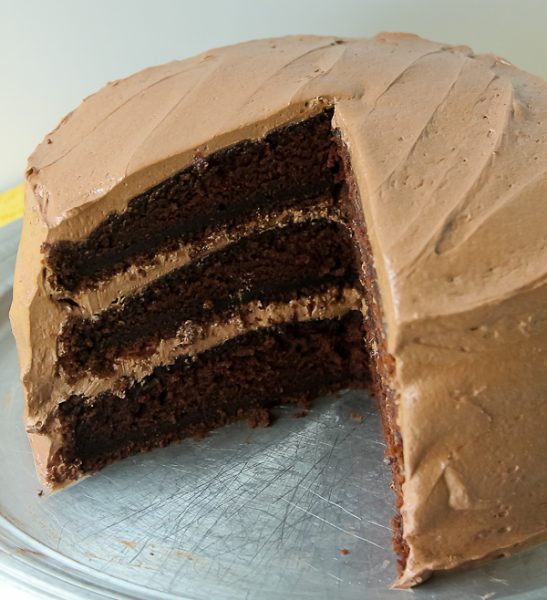 It's just a basic chocolate cake recipe with a creamy icing, both made with cocoa powder and not melted chocolate.  I love the contrast of the lighter frosting and the darker cake.  It almost looks like a caramel icing but it's all chocolate and butter.  Yes, this is very buttery cake and icing just to warn you!  It's one of those you'll only want to make on special occasions because it is so rich and wonderful.  And as I mentioned, make it the night before.  It really is better after it sits overnight, covered in a cake container.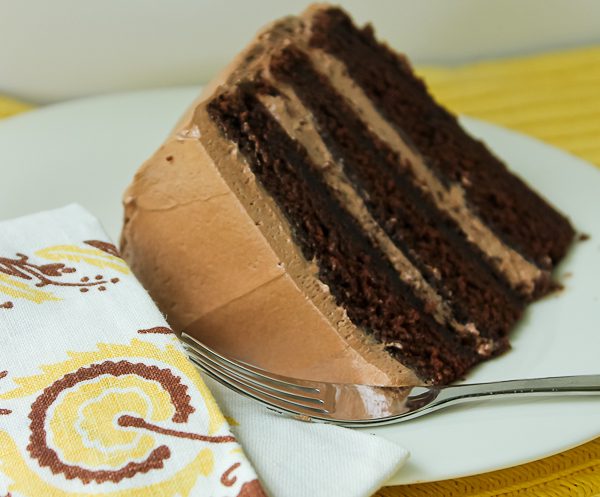 Bill's Three-Layer Chocolate Cake
Ingredients
Cake:
2 cups all-purpose flour
1 cup unsweetened cocoa powder
1 teaspoon baking soda
1 teaspoon baking powder
¼ teaspoon salt
¾ cup (1-1/2 sticks) unsalted butter, room temperature
1-1/2 cups granulated white sugar
3 large eggs
1 Tablespoon vanilla extract
1-3/4 cups water
Cocoa Butter Frosting:
1 cup (2 sticks) butter, room temperature
4 cups confectioner's sugar
½ cup unsweetened cocoa powder
2 teaspoons vanilla extract
4 Tablespoons water
Instructions
For Cake: Heat oven to 350 degrees F. Grease and flour three 8-inch round cake layer pans; set aside.
In a large bowl, sift together flour, cocoa powder, baking soda, baking powder, and salt; set aside.
In large bowl of electric mixer beat together butter, sugar, eggs, and vanilla at low speed until blended, then at high speed for 3 minutes until light and fluffy.
Reduce speed to low and add flour mixture and water, beating just until smooth. Divide batter evenly between prepared cake pans.
Bake for 28-30 minutes or until the center springs back when touched and a tester comes out clean. Place pans on wire racks to cool for 15 minutes, then remove from pans and cool completely before frosting.
For Cocoa Frosting: In large bowl of electric mixer beat butter until smooth. Sift together confectioner's sugar and cocoa powder and add to butter along with the vanilla and water. Beat until smooth and spreadable. Place one cake layer on serving plate and spread one some of the frosting. Top with another cake layer and spread with frosting. Add final layer and frost top and sides of cake. Cover cake and let stand until serving time, preferably overnight.