So here's a fun story-  I am visiting daughter Kristina in New York City coming up in the next week, which is of course a great time in itself.  There's only a million things to do there.  But… when the chance comes up to maybe slip in a few days to Paris that makes it even more exciting!
Kristina was chosen as one of twenty people to attend a special dinner with a guest (that would be lucky me!) sponsored by Air France.  One of these twenty people will be randomly selected for a trip to Paris for a few days along with their guest.  Everyone attending the dinner has to bring along a packed suitcase and passport in hand as they will be whisked off to the airport directly from the dinner to the business class (!) flight to Paris.  That wouldn't be too hard to take, would it now?
I have never been to Paris, which is a crime for a food person.  This would be a dream to spend time with Kristina there not just for the culinary experiences that I can't even imagine, but I have a lot of French ancestry so it would be going back to my heritage.
When all this came up, I remembered when I had taken photos of the great Clementine Paddleford's (America's first traveling food writer) collection of restaurant menus from around the world that are lovingly housed at Hale Library at Kansas State University where she left the collection of her culinary life.  She was a fascinating person and one worth researching.  I also wrote many blogs about my trip there.  See link at the bottom.  Anyway, I went back to some of the menu covers and found some from Air France and decided to share them with you since the flight for this contest is on Air France.  They are from the 1940's!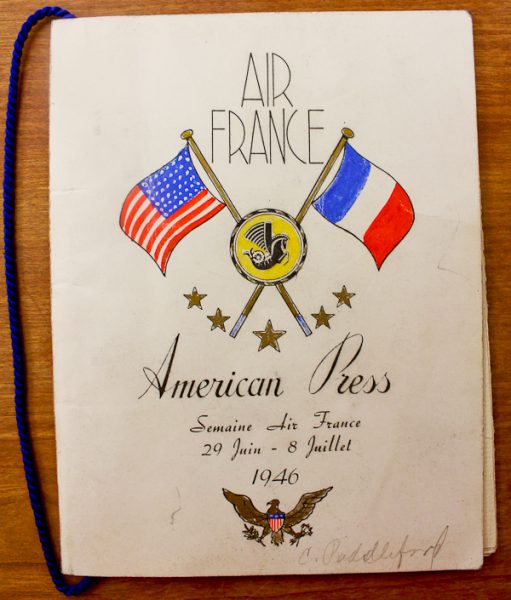 I wrote about this particular press trip Paddleford took to Paris via Air France in 1946.  Here is the link to the entire blog, but here is an excerpt from it:
After World War II, Clementine was invited by Air France to fly on their brand new DC-4 and stay in Paris for two weeks while she attended no less than twenty-eight receptions with people who included the President of France and the Duke and Duchess of Windsor, who at the time were living in exile.  Clementine was the only female reporter invited on this elite and glamorous tour.   While the men woke up late and were nursing their hang-overs from whatever gala was the night before, Clementine couldn't wait to explore the streets of Paris in search of fish markets, pastry shops, and cheese shops in order to report back to her readers.  She would write of soufflés and quenelles, and even of the Coq Au Vin served to her on the flight.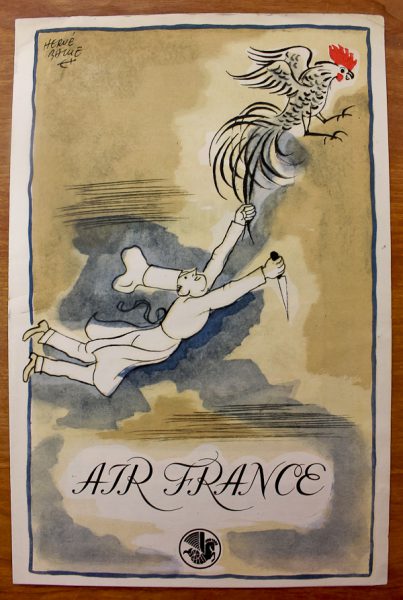 My favorite one above!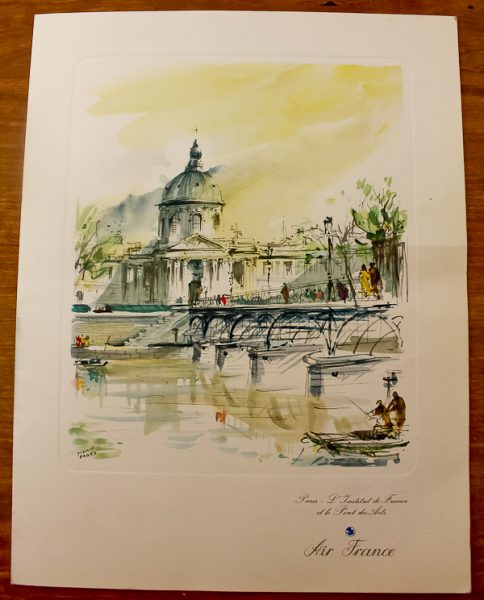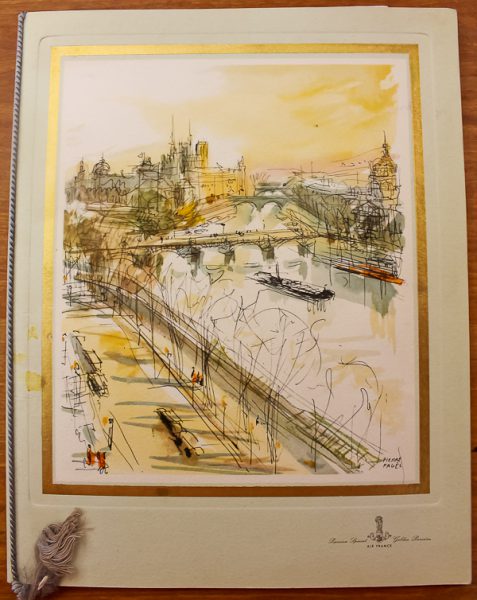 Can you imagine having menus such as these aboard a flight?  These are just stunning.  I wish I could frame the second one with the chef and rooster for my kitchen.
Even if Kristina's name is not pulled as the winner, we will still have the week in New York together where we always have fun visiting cookbook stores, shopping, seeing a play, going to fabulous restaurants, and whatever else comes up.  There's never a dull moment in The Big Apple.
Watch my Facebook, Twitter, and Instagram posts over the weekend and into early next week to see if we made it to Paris!
In the meantime if you would like to read them,  here is the first of many posts I wrote about the fascinating life Clementine Paddleford and her culinary adventures:
At the bottom of this first story, you will find the links for each story to follow after every blog.  There are about eight or so all together.  One of them has a story about her trip to Paris, and another has photos of more vintage menu covers.
Au Revoir! (maybe…)