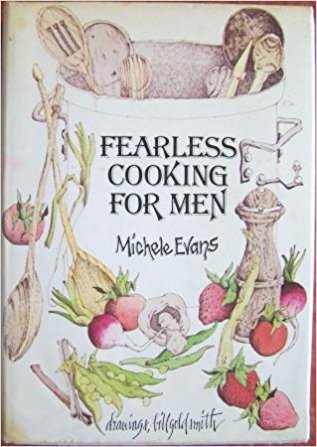 My husband Bill rarely will look over a cookbook, but when he spotted an easy marinade for his favorite pork chops he was sold.  Bill doesn't like those thin little chops with no bone.  He buys his pork chops from a butcher who cuts them huge and thick.  One chop will feed two people.  He calls them his "Mike Ditka" chops.
The marinade is simple and delicious with a mixture of oregano, thyme, bay leaf, salt, pepper, garlic, lemon juice, and oil.  That's it.  The chops are marinated overnight and grilled.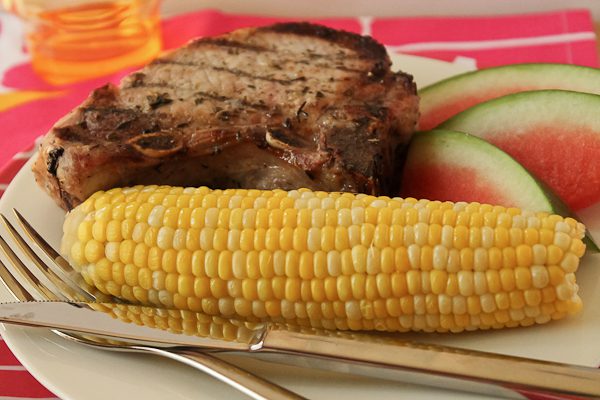 Bill's favorite accompaniments are corn-on-the-cob and watermelon slices.  How's that for a hearty Midwest summer meal?  I'm quite sure we will be having this meal on Father's Day and other days this summer.
There are other great meals in this cookbook by Michelle Evans.  I love her cookbooks and have several that I used often.  Fearless Cooking for Men has twelve chapters covering Hors d'oeuvre, soups, eggs dishes, sauces, vegetables, salads, main courses of every kind, pastas, breads, sandwiches, grilling, desserts, and a final chapter on parties, cocktails, bachelor meals, and more.  I have always found Michelle Evans' recipes to be deliciously consistent and easy to prepare.
And guess what?  You don't have to be a man to love this cookbook.  It's for everyone who loves to cook.

Marinated Grilled Pork Chops
Author:
Fearless Cooking for Men by Michelle Evans
Ingredients
8 pork chops, 1-inch thick *
½ teaspoon dried oregano
½ teaspoon dried thyme
1 bay leaf, crumbled
1 teaspoon salt
Freshly ground black pepper, to taste
1 clove garlic, crushed
2 Tablespoons lemon juice
4 Tablespoons vegetable or canola oil
Instructions
Place pork chops in a nonreactive pan to fit chops. Whisk together all remaining ingredients and pour over chops. Turn chops to completely cover both sides of all chops with marinade. Cover and refrigerate overnight or at least 6 hours, turning chops several times while marinating. Grill over hot coals until chops are browned on each side and a slight pink remains. Time depends on thickness of chops, but do not overcook.
* Note: Bone-in chops have the most flavor. I don't use 8 regular sized chops, instead we grill up to four large and thick bone-in chops.