When I lived in the San Francisco area back in the early '70's, Alice Waters was just opening her famous Chez Panisse restaurant in Berkeley across the bay from where I lived.  She took the culinary world by storm.  Waters went on to be recognized with such awards as the Best Chef in America by the James Beard Foundation in 1992; Chez Panisse was named the best restaurant in America by Gourmet magazine in 2001, and she is described as a visionary, pioneer, and one of the most influential figures in American cooking in the last 50 years.  I couldn't begin to list every remarkable culinary step along the way.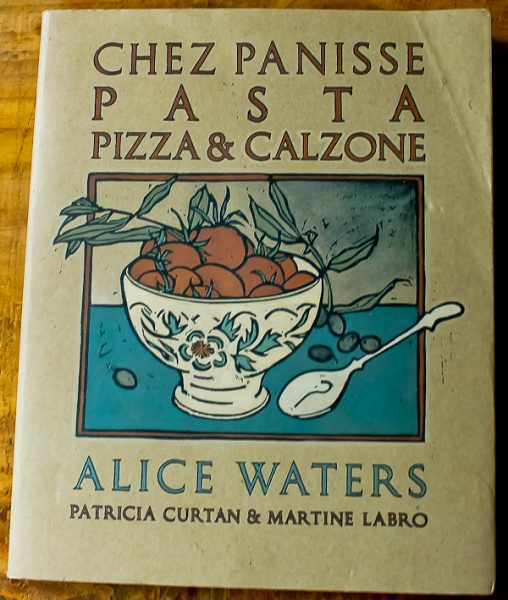 I have Waters' other cookbooks but when I found this at a book sale when I was in California last month I couldn't believe I didn't have it yet in my Culinary Cellar library.  Since her belief is using fresh local and seasonal ingredients, the book is divided into Spring Pasta, Summer Pasta, Fall Pasta, and Winter Pasta, in addition to tons of pizza recipes and the famous calzone.
The highlights of the Spring Pasta use ingredients such as asparagus, shallots, wild mushrooms, artichokes, crab, leeks, peas, and salmon.  Summer follows with olives, lemon, capers, pesto, eggplant, and peppers.  Fall is rich with spaghetti and meatballs, hot red sausages, gorgonzola, and hearty whole wheat pasta.  Cold weather winter pasta has braised duck, lobster and scallop ravioli, and pasta Alfredo.  As for the pizza, Waters is the brains behind the California-style "gourmet" pizzas like roasted new potatoes and pesto, fennel and mussels, tomatoes, herbs and quail eggs,  and caramelized onions with gorgonzola and rosemary.  As for the calzone, there is just one recipe, the one that is on the Cafe menu every day.  It's a combination of Sonoma goat cheese, French goat cheese, mozzarella, garlic, prosciutto, fresh herbs of parsley, chives, thyme, and marjoram, all encased within a pizza dough made into turnovers.  It's next on my list of recipes to try.  But what I decided to make for you today was a super simple pasta dish of fresh peas, pasta, crab, fresh basil, olive oil,  and green onions all tossed together in minutes.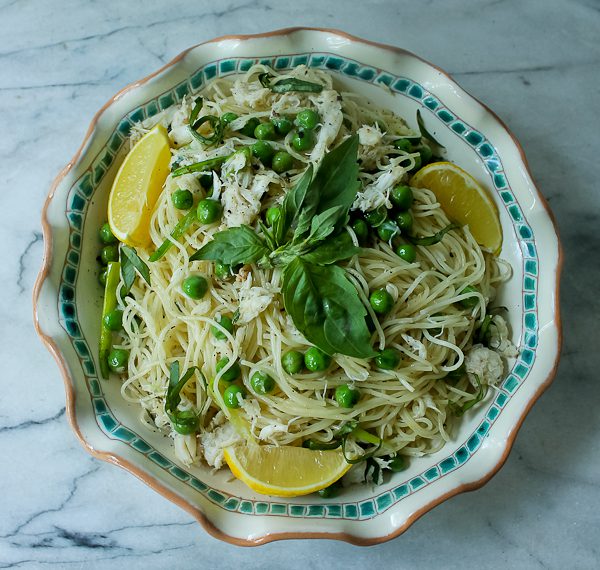 So simple and so good.  I hope Miss Alice doesn't mind but I happen to love lemon and I added a little extra grated lemon rind to the pasta.  The dish is beautiful, colorful, and fresh.  Serve with a crisp white wine and some crunchy French bread.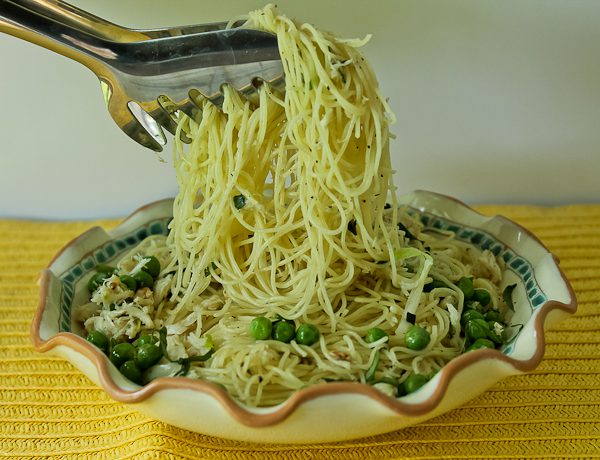 The recipe serves three, but at our house it was two.  My Bill loves crab and peas, and liked the extra lemon too, but he also sprinkled on some freshly grated Parmesan.  Again, hope Miss Alice doesn't mind.  It was lovely.

Crab, Peas, Olive Oil, and Spaghetti
Author:
Chez Panisse Pasta Pizza and Calzone by Alice Waters
Ingredients
Salt and pepper
A few parsley stems
A few lemon slices
1 bay leaf
One 2-1/2 to 3 pound Dungeness crab, preferably live
A handful of fresh basil leaves
3 green onions
1-1/2 cups shelled peas
5 to 6 Tablespoons virgin olive oil
Spaghetti for 3
Instructions
Heat a large pot of water to boiling. Season it with salt, parsley stems, lemon, and bay leaf. Slip the live crab into the water and boil for 6-7 minutes. Remove from the water and let cool.
Cut the basil leaves into narrow ribbons. Cut the green onions into a julienne. Clean the crab, crack the shells, and remove the meat.
Gently cook the peas in the olive oil for 2-3 minutes. Season with salt and pepper; add the crab meat and basil. Cook the spaghetti and add to the pan, along with the green onions. Toss all together, taste for seasoning, and serve. Serves 3.