Isn't it great when dinner time rolls around and most of it is already done and waiting for you?  This is one of those meals.  The hoisin chicken marinates overnight, the salad can be made completely, and the rice for the fried rice can be prepared and chilled.  There is not much left to do except bake the chicken and stir together the fried rice.
Start with the hoisin chicken.  Make an easy marinade of hoisin sauce, sake, soy sauce, ketchup, brown sugar, and garlic.  Save some of it separately to baste the chicken, and pour the rest over chicken legs and thighs.  Marinate at least 8 hours or overnight, then it's ready to bake.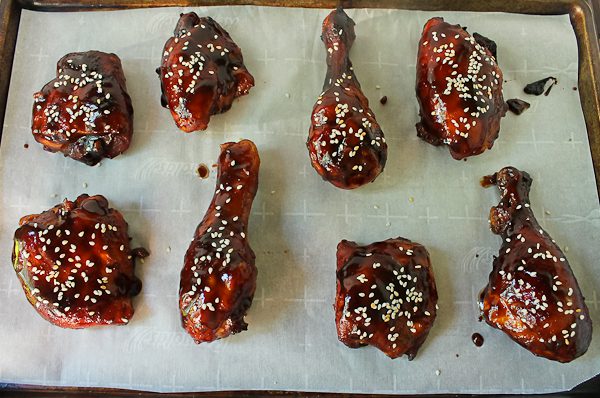 The chicken comes out moist and deliciously sticky.  I like sprinkling the pieces with sesame seeds but it's optional.  I think they look great with the seeds!
I love a cold and crunchy fresh vegetable salad with the chicken and fried rice.  This one has a marinade of rice vinegar, oil, fresh ginger, a little sugar, and salt.  Stir in sliced carrot, green onion, red bell pepper, cucumber, and then chill.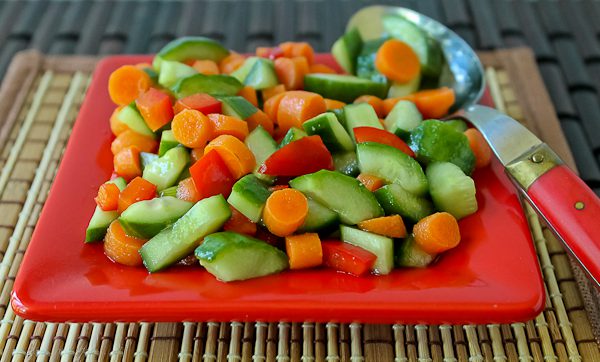 I don't really have a recipe for the fried rice.  All I do is cook some white rice, cool it down, then chill.  To prepare, heat some oil, beat a couple eggs and scramble; set aside.  Add a little more oil to the pan, stir in cold rice, sprinkle in some salt, pepper, sugar, and soy sauce, all to taste.  Stir in the cooked eggs (chopped up) then add some sliced green onion.  You can add anything you like to have in fried rice like bean sprouts, peas, chopped bacon, whatever you like.  Serve all this together and you have a really easy and colorful weeknight meal.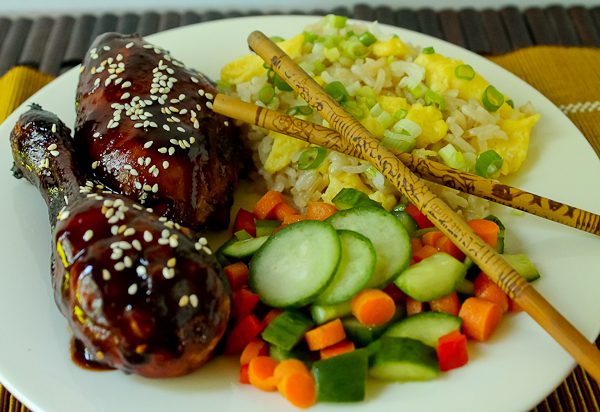 Hoisin Chicken
Ingredients
4 chicken thighs
4 chicken drumsticks
⅔ cup hoisin sauce
3 Tablespoons sake (rice wine)
3 Tablespoons soy sauce
3 Tablespoons ketchup
2 Tablespoons brown sugar
4 garlic cloves, minced
Sesame seeds, for sprinkling on baked chicken pieces, optional
Instructions
Place chicken pieces in a large zip-type plastic bag.
In a small bowl, whisk together all remaining ingredients except sesame seeds. Spoon about ⅓ of the sauce into a small container to use later for basting chicken. Pour the rest over the chicken pieces in bag and move pieces around to coat each piece. Zip bag tightly and lay flat in the refrigerator (I put it in a pan just in case of a leak). Turn bag occasionally. Refrigerate at least 8 hours or overnight. Also cover and refrigerate the reserved marinade.
When ready to bake, preheat oven to 375 degrees F. Line a rimmed baking sheet with parchment paper or nonstick foil. Lift chicken pieces from marinade and place on prepared pan.
Bake for 30 minutes and baste chicken again. Turn chicken and baste again with reserved marinade. ( I save a little to baste on right at the end). Bake another 15 minutes or until chicken is done. Sprinkle hot chicken with sesame seeds, if desired. Serves 4.
Here's the salad recipe:
In a medium bowl, whisk together 1/4 cup seasoned rice vinegar, 1 teaspoon sugar, 1/2 teaspoon canola or vegetable oil, 1/4 teaspoon chopped fresh ginger, and 1/4 teaspoon salt.  Add 1 cup sliced carrots, 3 Tablespoons sliced green onion, 3 Tablespoons chopped red bell pepper, and 1/2 of a cucumber that has been halved lengthwise, seeded, and sliced.  Stir well, cover and chill at least 30 minutes.  Stir before serving.