I love pasta salad anytime but especially in the summer.  It's easy to make ahead of time and goes great with grilling, picnics, and parties.  This particular one has always been my favorite.  I've made it dozens and dozens of times over the years and never get tired of it, plus someone always asks for the recipe.
The recipe is from the great 1983 cookbook The Joy of Pasta by the brother and sister team of Joe Famularo and Louise Imperiale, who say they were raised in a household where pasta was always being rolled up into all shapes on boards or hung up to dry.  This cookbook will give you recipes for pasta in all its forms: baked, stuffed, molded; pasta in soups and salads, with fish, cheese, vegetables, meat, and even exciting variations on classic dishes.  Both fresh and dry pasta are used in the recipes, but if you want to tackle making fresh, the authors will teach you how.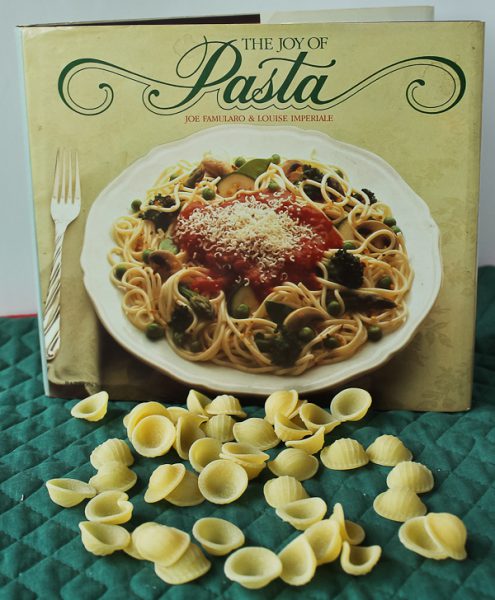 Since summer is right around the corner, let's get busy and make this delicious salad!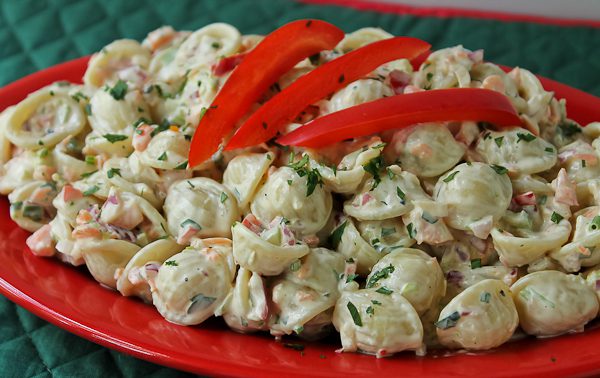 First of all, I have to tell you that the one and only thing I changed in the recipe was the pasta shape.  In the book it calls for pasta wheels which are not my favorite.  In anything.  Instead I always (and I've tried all shapes) use orecchiette in this salad.  I love how many of the finely chopped fresh vegetables hide in all the little "ears."  Use the wheels if you like, or your favorite salad pasta, but like I said, I've tried many shapes over the years and none are quite like the orecchiette.  At least that is my humble opinion!
The salad must be chilled for at least several hours for the flavors to blend.  This is really important.  Also, take it out of the refrigerator about 1/2 hour before serving.  That's important too.  I hope you will love this salad as much as I do.  It doesn't make a huge amount, enough to serve four, but is a perfect size for us.  If you would like to serve the salad with a grilled dish, I highly recommend shrimp.  The salad tastes wonderful with lemony marinated grilled shrimp along with a dry light white wine.

My Favorite Summer Pasta Salad (in the book called "Pasta Wheels in a Sweet-Sour Salad"
Author:
The Joy of Pasta by Joe Famularo & Louise Imperiale
Ingredients
2 cups pasta wheels (I use orecchiette instead)
½ red onion, chopped fine
¼ cup finely chopped red bell pepper
1 stalk celery including the leaves, chopped fine
1 small carrot, chopped fine
2 Tablespoons thinly sliced fresh chives
1 Tablespoon finely chopped flat leaf parsley
¼ cup olive oil
1 Tablespoon white wine vinegar
1 teaspoon sugar
¼ cup mayonnaise
¼ cup sour cream
1 teaspoon salt
Freshly ground black pepper, to taste
Garnish: Parsley pieces and/or red pepper strips
Instructions
In a medium pot, cook the pasta until al dente. Drain well and shake to remove water. Transfer to a large bowl and add onion, red pepper, celery, carrots, chives, and parsley.
In a medium bowl, stir together olive oil, vinegar, sugar, mayonnaise, sour cream, salt, and pepper. Using a whisk, beat hard until very creamy. Pour over pasta in bowl and mix well.
Cover bowl with lid or plastic wrap and chill at least three hours to allow flavors to blend. Remove the salad from the refrigerator 30 minutes before serving.
To serve, stir pasta again and mound onto a pretty platter. Sprinkle parsley on top, or garnish with parsley sprigs and/or strips of red bell pepper. Serves 4.