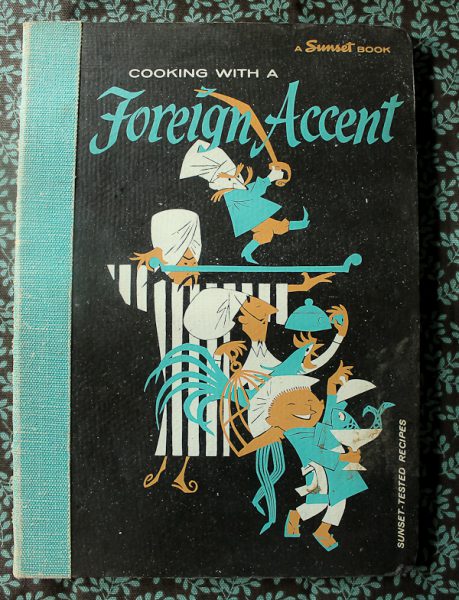 If you read my previous blog about our California trip that included visiting local wineries, and then finding a couple of fun cookbooks at a flea/antique market, I had to try a recipe I found in this Sunset book from 1952.
Cooking with a Foreign Accent caught my eye in a pile of books because I saw that it was a Sunset book.  Since I love Sunset magazine and have subscribed to it for decades and have numerous Sunset publications, I knew it had to be a good one.  Since it was also vintage, that made it even more attractive.  Even better, the person who owned it previously had her name written in the book which is also an indication that she probably jotted notes inside or at least I would find splattered pages of recipes she tried.  Yes to both.
The book has complete "Foreign Accent" menus as follows:
-Javanese Buffet
-Greek Company Dinner
-Japanese Sukiyaki Dinner
-Filipino Buffet
-Korean Dinner
-Siamese Dinner
-Chinese Festival Dinner
-Indian Curry Dinner
-Lebanese Dinner
There are also chapters for foreign dishes of soup, breads, pancakes, cereal products, fish, meats, poultry, vegetables, pastries, and desserts.  You will find recipes such as Dutch pancakes, Swedish pancakes, Stollen (yes! my favorite!), gnocchi, cioppino, curries, Balkan cabbage rolls, fried noodles, apple strudel, Baba au Rhum, Hawaiian coconut pudding, Yugoslavian Christmas cookies, Sicilian nut pudding, and the recipe I decided to make:  Wine Sticks, also known as Biscotti.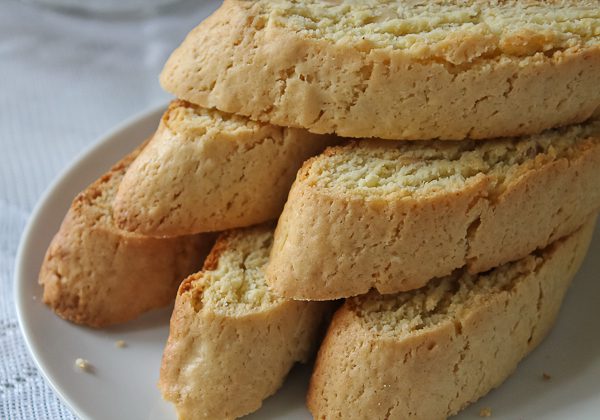 These biscotti were very simple with just chopped almonds and anise flavoring, which is perfect for dipping into wine or espresso.  They are also a beautiful color and so easy to make, not to mention much less expensive than purchased biscotti.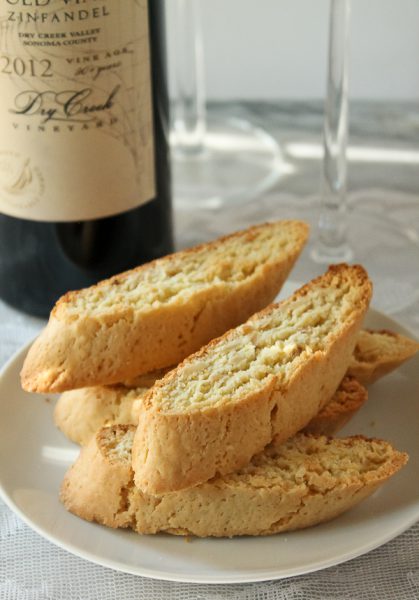 The "wine sticks" were great dipped in Dry Creek Zinfandel.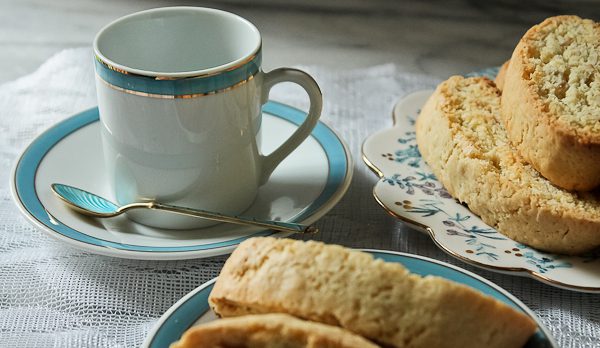 They are equally delicious dipped in espresso or coffee.  Give them a try!

Wine Sticks (Biscotti)
Author:
Cooking with a Foreign Accent (Sunset Books)
Ingredients
½ cup unsalted butter, room temperature
1 cup sugar
3 large eggs
3 cups all-purpose flour
1 Tablespoon baking powder
½ teaspoon salt
1 teaspoon anise extract
1 cup chopped blanched almonds
Instructions
Heat oven to 350 degrees F. Line a large baking sheet with parchment; set aside.
In bowl of electric mixer, thoroughly cream together butter and sugar. Add eggs one at a time, beating well after each addition.
Sift flour with baking powder and salt. Add to creamed mixture and mix well.
Mix in anise extract and chopped almonds until combined.
Turn mixture out onto a lightly floured work surface and knead briefly until smooth. Divide dough in half and form into two logs, 1-1/2 inches in diameter and place on prepared baking sheet lengthwise and a few inches apart.
Bake at 350 degrees for 30 minutes. The rolls will feel firm to the touch. Remove from oven and while still warm and using a sharp knife, cut rolls slightly on the diagonal and about ¾" thick.
Lay slices cut side down back on the cookie sheet and return to the oven for another 10 minutes. Remove to wire rack to cool completely.