Crossing the Golden Gate Bridge offers one of the most spectacular views in the country.  If you are headed north on the 101 as my husband Bill, daughters Kristina and Kara, our precious 3-1/2-month-old granddaughter Virginia Rose and I did a few days before Mother's Day on our California adventure, we had the perfect view of San Francisco on our right and the open sea to the left.  We passed through the Rainbow Tunnel, now named the Robin Williams Tunnel, into Marin County and on the way to visit my mom for Mother's Day.  Mom was expecting Bill, Kristina, and me, but did not know that Kara and her great-grandchild were coming too.  It was to be a Mother's Day surprise for her to meet her great-granddaughter for the first time.
Click on the video to see what it's like to cross the Golden Gate!
When we arrived at mom's, we had Kara and Virginia Rose wait out in the car while we went inside.  We said hello, hugged everyone, then told mom to close her eyes.  I wish I could express enough the look of joy, wonder, and surprise on mom's face when she saw her great-granddaughter before her when she opened her eyes.  Priceless cannot even explain it.  I will have that look etched into my memory forever.  It was love at first sight.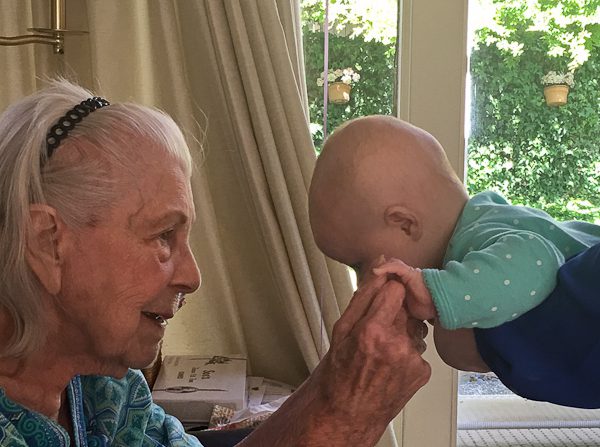 We spent our days playing with Virginia Rose, also affectionately known as Vivi.  My wonderful sister-in-law, Inga, borrowed all kinds of baby equipment to make the transition for Vivi's first trip to California easier.  One day when Bill, Kristina, and Kara decided to visit two local wineries, mom, Inga, and I got to babysit!  The winery gang had a great time and brought some home to have not only for Mother's Day, but Bill informed me that two cases were being shipped back home.
Their first stop was the lovely Benovia Winery in Santa Rosa.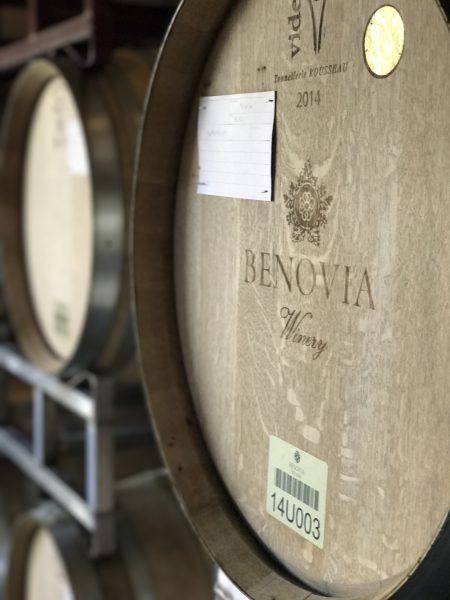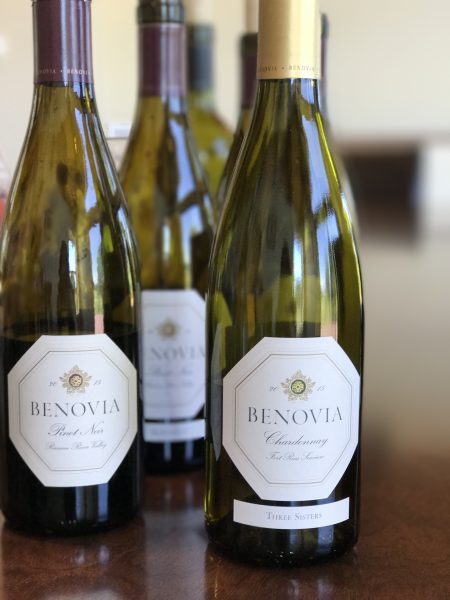 Bill, Kristina, and Kara fell in love with Benovia wines.  The winery harvests grapes from estate vineyards that span more than 71 planted acres in three distinctive locations across the Russian River Valley, Sonoma Coast, and Sonoma County.  Benovia creates small lot, superbly balanced artisan wines:  Pinot Noir, Chardonnay, and Zinfandel.  Tastings are by appointment only and the wine exclusive.  You won't find it at any store.  Check out their website and make an appointment for a tasting, then I guarantee you will have some shipped home.  Or come on over to my house now that I have a case!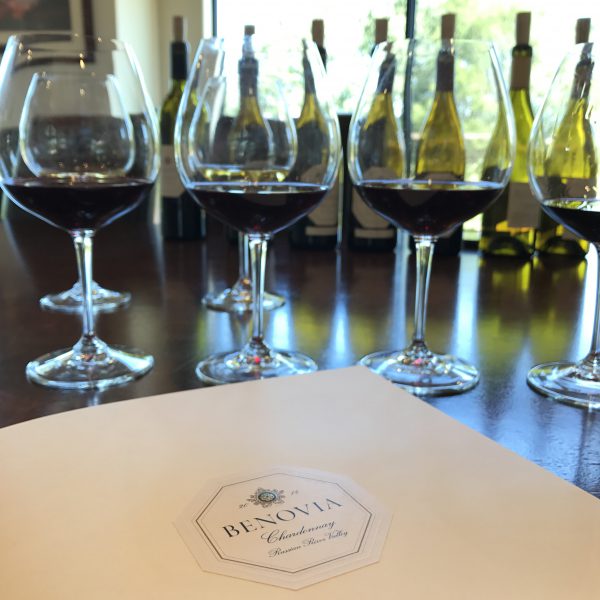 Take a look at this!  Benovia will be at the upcoming Food & Wine Classic in Aspen next month.  This bottle weighs eighty pounds and it is filled with two cases of wine, and will be making its way to Aspen!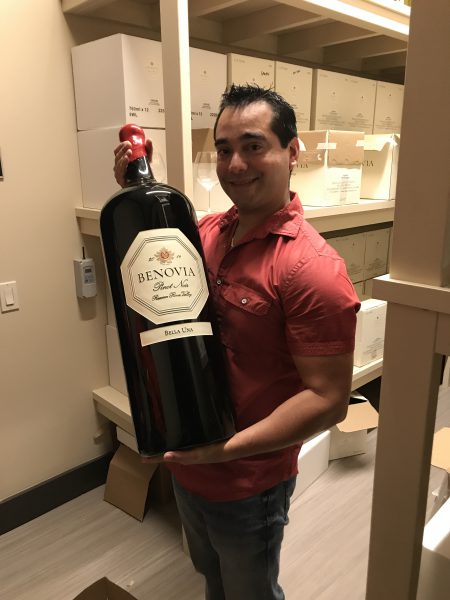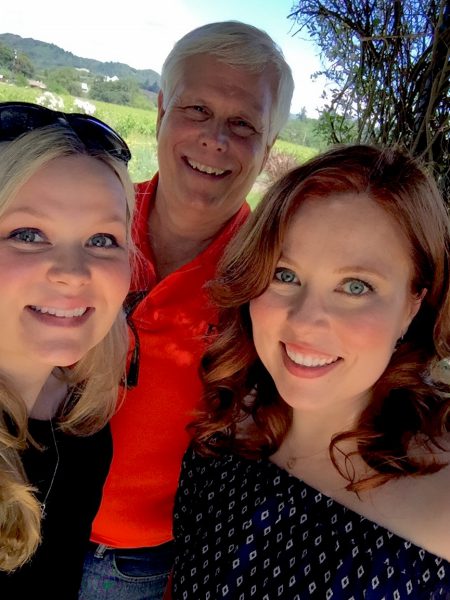 I think they enjoyed themselves, don't you think?  They look pretty happy!  But the day was not over.  Now it was onto another favorite, Dry Creek Vineyard in Healdsburg.  I wrote a blog about our adventure at Dry Creek on one of our earlier visits to see my mom, and you will find all the details and lots of photos of the beautiful winery on the blog.  Dry Creek has been a favorite ever since. We especially love the Old Vine Zinfandels.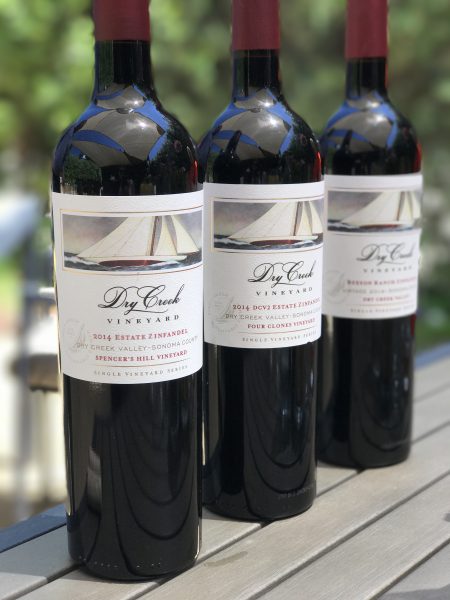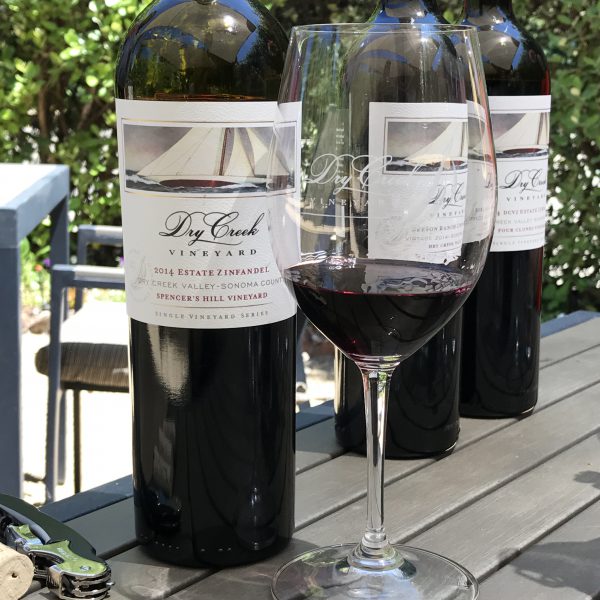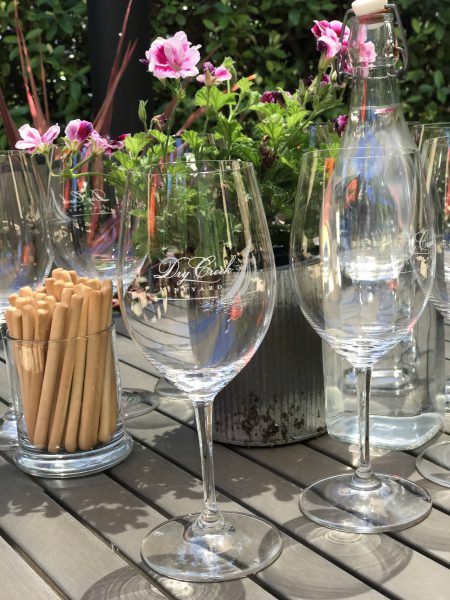 When the trio returned home, my brother Paul grilled a delicious dinner of  tri-tips and of course we had some wine paired with it.  We retired early because the next morning bright and early was the famous French Farmer's Market in San Rafael at the grounds of the Marin County Frank Lloyd Wright court building, where my mom happened to work for many years as a Court Clerk.  It's one of the best Farmer's Markets around and we make it a point to go every time we visit mom.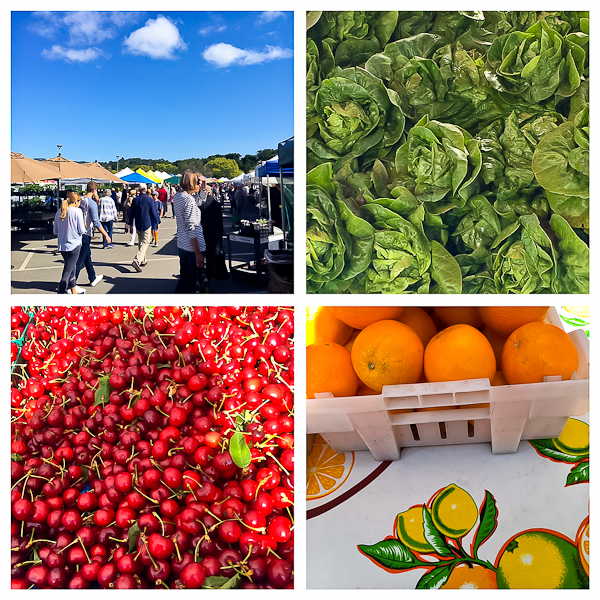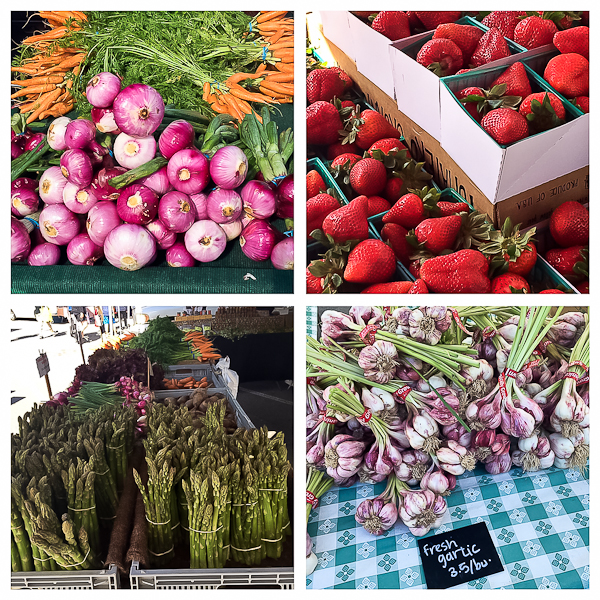 This is only a fraction of what you will find at the market.  It also happened that on this same day there was an antique market right around the corner, so of course we had to stop there too.  You'll never guess what I bought. Really? You don't know?  Cookbooks – what else?!  There weren't many, but I found two good ones that you will see in blogs soon, maybe even this week.
We left the market and headed back to mom's and everyone was just getting up and around and preparing for our Mother's Day brunch including more grilling, this time beautiful wild salmon.  It was a wonderful day with beautiful weather, but the next day it was time to head back home.  The hardest part is always saying good-bye to mom.  She had to say good-bye to all of us, but I'm sure it was extra hard to see her great-granddaughter leave.  Next time we are there, maybe Vivi will be starting to walk!
At the airport, we were all tired and stopped to get some food and water for the plane.  Tired new mommy Kara found her favorite spot in the store: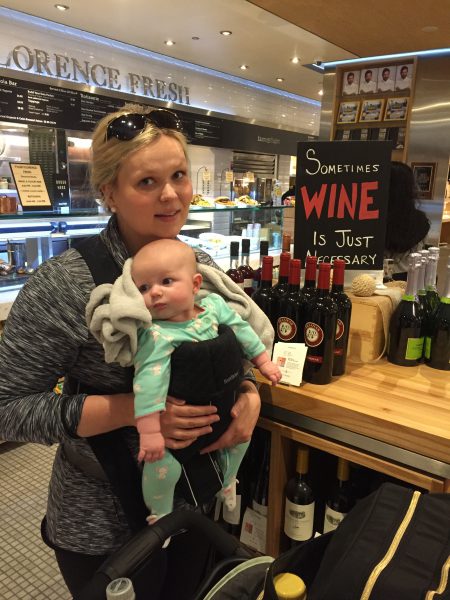 Yes, sometimes wine is just necessary, right?  Tired mommy agrees!
We were all pretty tired for days after, but living with happy memories of our trip.  Then yesterday the doorbell rang and there was the wine delivery.  We found the label highly amusing.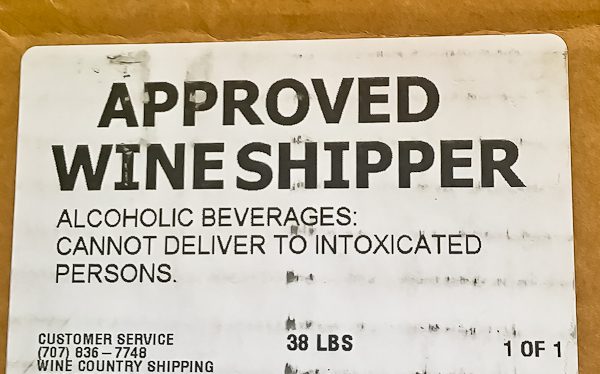 So just a reminder.  If you are having wine shipped to your home, don't answer the door with a wine glass in your hand…