Even though the subject of my previous blog was a chocolate chip cookie cookbook and a recipe for chocolate-chocolate chip cookies, I came across another chocolate chip recipe over the weekend and had to try it.  My husband Bill can never get enough, so what the heck.  Here's another one.
This recipe contained macadamia nuts which we love, but has anyone bought macadamias lately?  Wow, are they ever expensive!  They usually are but they seemed to be even higher in price at the moment.  This bag was about $30!  I'll also be using them in my favorite rosemary-scented roasted mixed nuts, but that's another blog.
The cookies are baked at a lower temperature of the usual chocolate chip cookie, and they come out with crispy edges and a softer middle.  There is a bag of chocolate chunks and 1-1/4 cups of macadamias, but otherwise the ingredients are like most chocolate chip cookie recipes.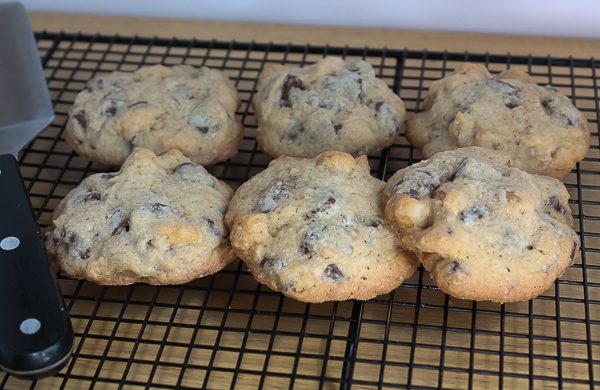 These are great with a cold glass of milk, but in the summer I also like to sandwich almost any kind of cookies together with ice cream to make ice cream cookie sandwiches that keep well in the freezer for a special treat.  I've been making ice cream sandwich cookies every summer ever since I lived near San Francisco years ago and tasted my first It's It ice cream cookie, an iconic San Francisco specialty since 1928.  But any way you serve these cookies, I think you will be happy!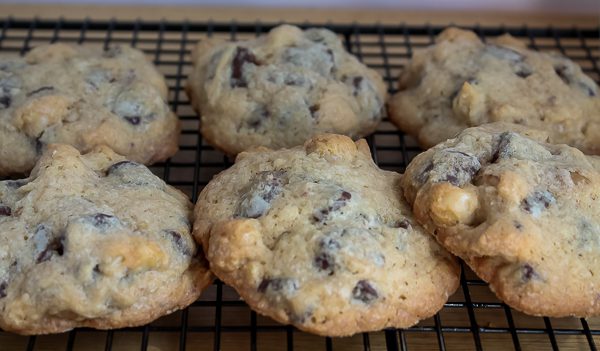 Chocolate Chunk Macadamia Cookies
Ingredients
2-1/4 cups all-purpose flour
¾ teaspoon baking powder
¼ teaspoon salt
1 cup unsalted butter, softened
¾ cup firmly packed light brown sugar
½ cup granulated sugar
2 large eggs
2 teaspoons vanilla extract
12 ounce bag chocolate chunks
1-1/4 cups coarsely chopped lightly salted macadamia nuts
Instructions
In a large bowl, stir together the flour, baking powder, and salt. Set aside.
In large bowl of electric mixer, cream together the butter and sugars. Add eggs, one at a time, mixing well after each addition. Stir in vanilla.
Gradually stir in the flour mixture until combined. Stir in chocolate chunks and nuts. Cover and refrigerate at least 2 hours or as long as overnight.
Preheat oven to 300 degrees F. Using a ¼ cup measuring cup, drop the dough by cupfuls onto an ungreased baking sheet or one covered with parchment, leaving at least 2-inches between dough mounds.
Bake for about 25 minutes or until the cookies are light brown around the edges. Remove from oven and cool on cookie sheet for a few minutes. Transfer cookies to a wire rack to cool. Repeat until all dough is used. Makes about 22 cookies. When cool, store in an airtight container, or freeze up to 3 months.