When I first began entering cooking and recipe contests, my first in the early 1970's, I would come to learn about the people who won these contests frequently.  One of them was Shirley DeSantis, a legend in the amateur cooking contest world.  Shirley knew just about everyone who was active and would learn about us newbies to the competitions.  Back then, there used to be a contest newsletter for people who were interested in this hobby.  It was sent by snail mail, of course, on a paid basis and was delivered monthly.  It would list all the current contests, who had won recent contests, winning recipes, and sometimes a profile on the winners.  Shirley's name was seen all the time as a winner.  Everyone knew Shirley.  Now there is no snail mail newsletter, but a site eventually developed online called Cooking Contest Central  (known in the contest world as CCC) which lists everything like the old newsletter, but more.  One of the areas of that developed early is called The Cooking Contest Central Hall of Fame, which honored Shirley as the first recipient.  My daughters grew up knowing of CCC and came to learn of Shirley and all my other contest friends, meeting many of them at competitions.  When the woman who originated CCC passed away, my daughter Kristina bought the website and still runs it today.
In those early days at some point my phone rang and it was Shirley calling.  I almost dropped the phone that the contest queen herself was calling me!  She wanted to introduce herself and congratulate me on a win that she had seen in the original newsletter.  We became good friends and are still to this day.  Shirley is retired from most competitions these days, but she still remains and always will be a legend.
Over the years, I had gathered endless newspaper articles and any clippings I could find about Shirley.  I wanted to post some here, but unfortunately they were all lost in the flood last summer of The Culinary Cellar.  I'll never get them back but the memories will be there always.  However, I do have a cookbook to show you from Shirley that she sent after the flood.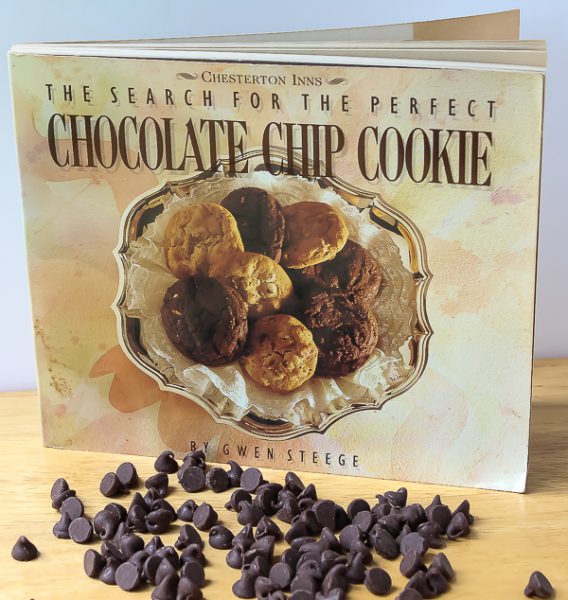 If you haven't guessed already, Shirley entered this "search for the perfect chocolate chip cookie" and her recipe is in this book.  It was the one I wanted to make but I couldn't find apple butter, which is one of the ingredients in the cookie.  I remember Shirley had an affection for apple butter and she would use it in creative ways in other contests too.  Inside the book, Shirley included the letter sent to inform her of her entry selected to be in the book,  "Apple Orchard Chocolate Chippers."
Since I couldn't make Shirley's cookie for the lack of apple butter, I made the grand prize-winning cookie called "Double Chocolate Chip Cookies."  The cookie itself contains unsweetened cocoa along with chocolate chips.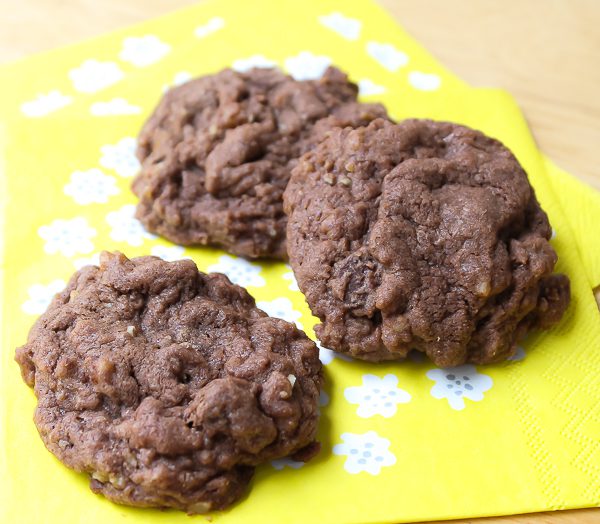 Double Chocolate Chip Cookies
Author:
Gwen Steege, from The Search for the Perfect Chocolate Cookie
Ingredients
1-3/4 cups all-purpose flour
¼ teaspoon baking soda
1 cup butter, softened
1 teaspoon vanilla extract
1 cup granulated sugar
½ cup firmly packed dark brown sugar
1 egg
⅓ cup unsweetened cocoa powder
2 Tablespoons milk
1 cup chopped pecans or walnuts
1 cup semisweet chocolate chips
Instructions
Heat oven to 350 degrees F.
Combine flour and baking soda in a medium mixing bowl and set aside.
In bowl of electric mixer, cream butter then add vanilla and sugars and beat until fluffy. Beat in egg.
At low speed beat in cocoa, then milk. Add dry ingredients and mix just until blended. Fold in nuts and chocolate chips.
Drop by rounded spoonfuls onto nonstick cookie sheet or sheet covered with parchment. Bake for about 10-12 minutes then remove from oven and let sit a few minutes before cooling on wire rack. Makes about 3 dozen.
I know that I will be getting emails wanting Shirley's cookie recipe, so here it is!
Apple Orchard Chocolate Chippers, from Shirley De Santis
1/2 cup butter, softened
1/2 cup granulated sugar
1/4 cup firmly packed brown sugar
1 egg
1 teaspoon vanilla extract
1/4 cup apple butter
1-1/2 to 2 cups unbleached flour
1/2 teaspoon baking soda
1/2 teaspoon salt
1 cup semisweet chocolate chips
1 apple, cored and shredded
1/2 cup chopped nuts (optional)
In a large mixing bowl, cream butter, sugars, egg, and vanilla until light and fluffy.  Add apple butter and mix well.  Add 1 cup of flour, baking soda, and salt, and mix until well blended.  Gradually add remaining ingredients just until dough is no longer wet and sticky.  Stir in chocolate chips, shredded apple, and nuts.  Drop by teaspoonfuls onto lightly greased baking sheets, placing dough about 2 inches apart.  Bake in a preheated 350 degree oven for 12 to 15 minutes.  Cool on rack.  Makes 3 to 4 dozen.
Congratulations Shirley, for all your winning recipes over the years, and thank you for all the encouragement you have given to others.  You are a legend to us all.  This fun hobby would not have been the same for me without you in it.