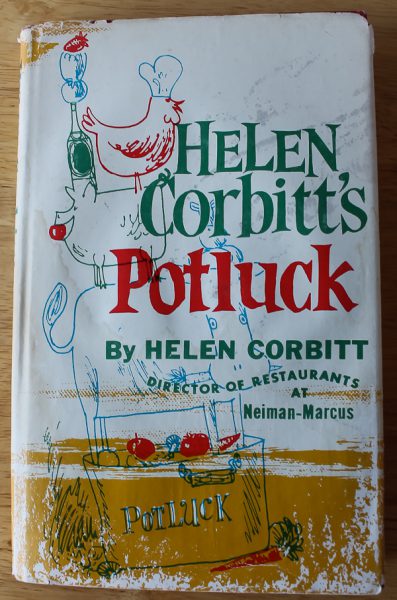 How I love vintage cookbooks.  This 1962 jewel from Helen Corbitt is one of my favorites.  In 1961, Miss Corbitt was the director of restaurants at Neiman-Marcus, where she developed recipes for their famous Zodiac Room.  She became the first woman ever to receive the Golden Plate Award, the food service industry's highest honor.  I have been taking my girls to the Zodiac Room at our nearby Neiman-Marcus since they were young, and we still enjoy dining there for lunch while shopping.  They always looked forward to the complimentary popovers served before each meal.
This cookbook has recipes for easily prepared dishes with a minimum of time and ingredients.  "Potluck," Miss Corbitt writes, "is what you decide to have for lunch, dinner, or dessert today with things on hand, or easy recipes to prepare ahead."  That certainly is what this gorgeous ice cream dessert is all about.  It can sit in your freezer all summer long, ready to pull out for a last minute treat on a hot summer day.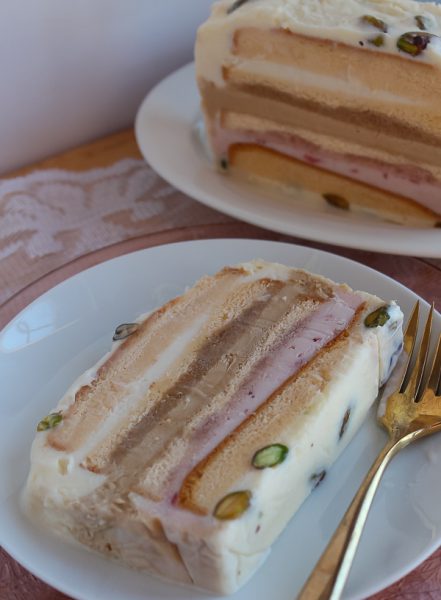 All you have to do is buy a store-bought or frozen pound cake, four pints of your favorite ice cream flavors, and four kinds of liqueur to soak the layers of cake, which is optional but I highly recommend.  The liqueurs add incredible flavor to the cake.  The pound cake is sliced, dipped in the liqueurs, and layered with the ice cream flavors and frozen, ready for you to pull out for a stunning dessert that will impress your guests.

Layered Ice Cream Pound Cake
Author:
Helen Corbitt, from Helen Corbitt's Potluck
The recipe was originally called "Frozen Holiday Pudding" in the cookbook.
Ingredients
1 pint pistachio ice cream
1 pint strawberry ice cream
1 pint vanilla ice cream
1 pint coffee ice cream
Store bought or frozen pound cake, or you can make your own
Kirsch
Creme de Cacao
Cointreau
Brandy
Instructions
This recipe is however you want to make it. Use your favorite flavors of ice cream and liqueurs, and a store bought or frozen pound cake work great. You can make it any size you wish, using more cake and ice cream if needed. You don't even need to use the liqueurs, but they do add a lot of wonderful flavor.
For a basic recipe to follow using the above amount of ingredients, first cut the pound cake into ¼ inch slices to fit a loaf pan. I highly recommend lining the loaf pan with nonstick foil with an overhang, so you can lift the cake out of the pan for easier slicing. Soak each slice briefly in a different liqueur. Pack a layer of pistachio ice cream in the bottom of pan, then place a slice of soaked cake. Alternate the layers of cake and ice cream until the pan is full, ending with an ice cream layer.
Cover the pan with foil and freeze until very firm and leave for at least two days, or as long as a couple months. When ready to serve, lift up the loaf holding the overhang of the foil, peel back foil, and cut into serving slices on chilled dessert plates.