Summer is time for fun-filled weekends and spending leisurely time with family and friends.  Today is Father's Day and I imagine there are picnics and barbecues happening in many households across the country honoring fathers old and new, and those who are missed.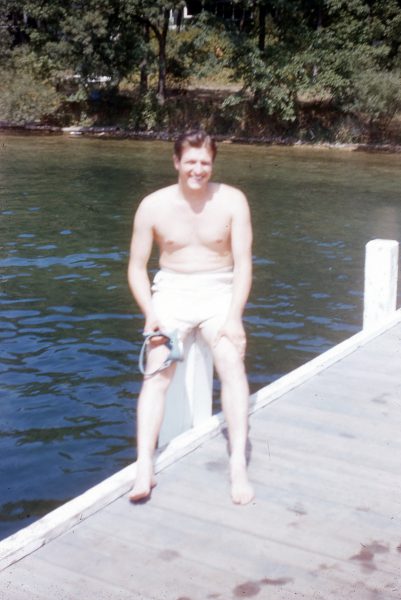 This is my dad enjoying a swim on a hot summer's day, probably a leisurely afternoon much like today.  I was just a child when this was taken but I am guessing it could be Lake Geneva in Wisconsin.  My dad has been gone for 38 years.  Sometimes I can't grasp how long it has been.  Happy Father's Day, dad.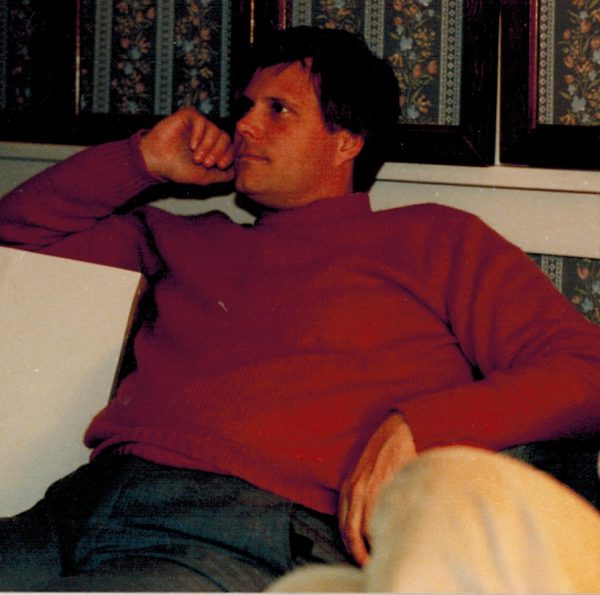 This is my Bill when he was a brand new dad.  Kristina was only a few months old at this time.  This is one of my favorite photos.  Happy Father's Day, sweetheart!
Since my mom doesn't have a Facebook page to honor her dad on Father's Day,  I thought I would put up this photo of mom with her father.  Grandpa became paralyzed literally overnight at the age of fifty from a rare disease.  This was taken at the Rehabilitation Institute of Chicago where we visited him often.  He was the best father to my mom, and grandpa to me.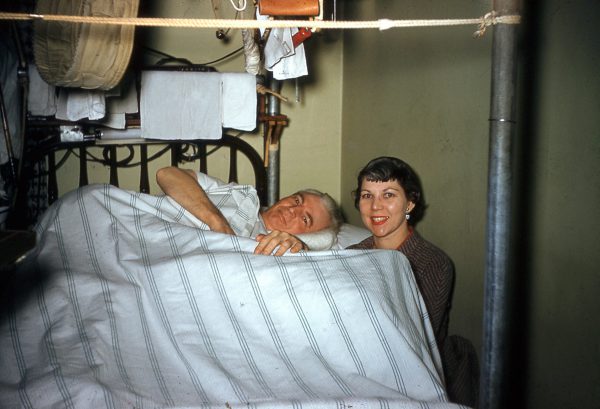 Another celebration this weekend was a delightful day yesterday with neighbors.  One of our neighbors a few doors down decided it would be nice to welcome some who are new on our street, two young couples  married not too long ago, and another couple with a darling new baby.  It was a great time that started at 3:00 and we were having such a great time, it wasn't over until the sun was setting behind us.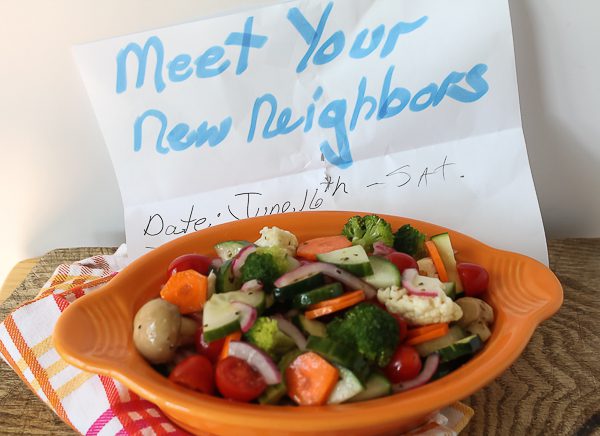 This was the invitation placed in everyone's door.  We all had to bring a dish to share and I decided on a marinated vegetable salad.  It's filled with eight kinds of vegetables and a delicious marinade.  It's the perfect dish for a picnic or other party as it can sit for hours and still be crispy and good.
Happy Father's Day!

Marinated Vegetables
Ingredients
8 cups assorted fresh vegetables:
Cauliflower florets
Broccoli florets
Cherry Tomatoes
Thinly sliced carrot rounds
Thinly sliced cucumber rounds
Thinly sliced zucchini rounds
Small whole mushrooms
Thinly sliced red onions, separated into rings
For Marinade:
¾ cup peanut oil
½ cup freshly squeezed lemon juice
¼ cup white vinegar
3 Tablespoons sugar
1 Tablespoon salt
¾ teaspoon crushed red pepper flakes
Instructions
Place vegetables desired from the list (or add other favorites) using at least five for variety, in a glass or ceramic bowl.
Combine all marinade ingredients and whisk to blend. Pour over vegetables in bowl and stir well. Marinate at least 1 hour at room temperature, stirring occasionally. Drain before serving. Serves about 8.